Legit.ng recently met up with Chocolate City artiste Koker and he talked about how his music among others.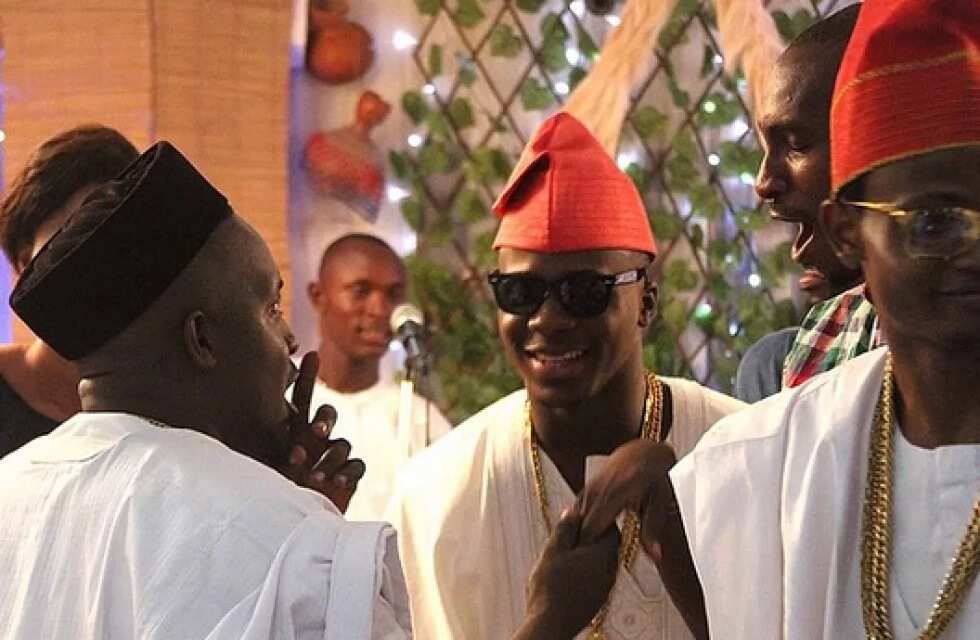 Tell us about yourself
My real name is Olayiwola Kokumo. My stage name is Koker and I'm from Ogun state. I'm a Chocolate City recording artiste and a graduate of the University of Lagos. I studied creative arts.
Describe your style of music
I call it the new school afro juju. I call it the new school afro sound. Basically, I try to infuse diversity in my music. Based on the release of my single Do Something some people have started seeing the afro juju side of me. There is also the pop side of me, the afro pop side of things. There are many sides to Koker. So I basically stand for versatility and I believe in selling my culture with my song. I grew up listening to this kind of sound in my environment. Like they say, you are a product of your environment so it's been a part of me. Back then, my dad would play songs from Ebenezer Obey and other Nigerian juju artistes. And then again, as a child, I had uncles doing music. My late uncle was into music. It started as a hobby for me and as I grew up it became a part of me.
What was growing up like?
I grew up in Lagos; Gowon Estate, somewhere around Egbeda. And growing up for me was just the way it is for every kid out there in Nigeria.
How did music start for you?
I was that boy that loved entertainment, anything music. I used to be a dancer too. Anything entertainment I'm always interested. Back then in secondary school, when it came to entertainment, they will be like: "Go and call Ola. He is the one."
There was a time my mum was heading to the market and you know that kind of thing when you just forget and think your child is walking behind you. All of a sudden, she looked back and saw me surrounded by a crowd at one DJ spot. I was dancing to the music. I was already surrounded by people watching me. That was how they knew I already had interest in music at a tender age so they were not so surprised when I started.
The music was an inborn skill but I didn't join the choir. Anytime I am at home, I am always writing. I started writing music from JSS3. I am always free-styling, singing to latest songs. Break time, I was always banging the desk. I would call my friend, he would give me the harmony and we'd sing the latest songs. To me it was just fun. I didn't know it was going to be something major. After SS3, my mum asked me what I wanted to do. I said I wanted to go into music and she said: "Okay, let's learn the basics like music production and all that." We went to a studio to meet a producer to learn how to make beats. Fortunately for me, that was about the same time my name came out on the admission list at UNILAG. You know our parents; you have to go to school. It isn't optional. So give them what they want, they give you what you want. That was my situation. I went to UNILAG, and it was big for me on campus. I have been doing shows everywhere ever since.
[article_adwert]
How did you get the contract with Chocolate City?
Everything started after I recorded Eleto with Pryse. I took the chorus but most people don't know that. I kept performing with her and gradually, I was entering the family. At some point, I was like let me just maximize the little I have, use the contacts I have to push myself. So I sent one of my songs, Vanity, to the management. I sent it to the graphics guy at Chocolate City, Tunde. I asked him to help me with graphics, let me just push it and let's see how far it'll go. The next morning, Tunde called me, he said he had been listening to this song all day and loved it.I didn't know he played it for somebody who played it for somebody that played it for the boss and said: "That is this same guy that did Eleto with Pryse? Oh cool!" That was how everything started.
How has it been so far?
It's been exciting, it's been a process. It's also been more work for me. It's like another phase of work, of my career. And I am grateful to God. This is not the right time to relax or chill. It is just like more work for me. I just need to put in work so I can match the expectations. I've had to keep recording and fine-tuning my sounds. It's been great.
READ ALSO: I Don't Have To Dress Sexy, Good Music Sells Itself - Pryse
What is an average day in your life?
Most times, I wake up, I go straight to the studio. I record at home but before then I used to record at Chocolate City. These days I have a studio at home so I go straight in and sample beats, listen to my old records, see if I can adjust anything, if there are new inspirations and all. Then I go back to the room, chill, go out in the afternoon for may be an interview and then I come back to the studio again. Basically if I'm not outside, I'm working in the studio. That's the only thing I do at home. Then maybe at night I go for a club appearance or whatever but if I'm not outside doing a show or anything, I am in the studio working.
At what point would you see yourself as a successful new artiste?
In truth, there is no level that will get me satisfied. If I can get to Michael Jackson's standard, The Billboards, BET, no problems. Back then in department of Creative Arts, my lecturer used to say you can't get to the peak of creativity. So really success for me is so much I can't envision a particular level where it ends. What I am saying is I am always hungry for more. It's very hard to say if it gets here we are good because that level that feels great is not even satisfying. Like you won't know how unsatisfying it is until you actually get it. Right now, all I need is to keep bringing out songs that will be highly accepted. Like I feel when you talk about successful songs you can talk about African Queen by Tuface Idibia, like other timeless songs like that. You understand? I was talking with my manager and told him that it'll get to a point where all I want is to perform with a live band. If you want me on you show and you aren't paying me for a live band, forget about it. But at this level you can't make such decisions. So I basically have visions for all that. That's why my sound is long term. 
What is the biggest stage you have gotten the most reception from?
The NYSC concerts, the response was mad. Even weddings, the way they turn out is incredible. You know one thing that is amazing to me is the sound. When I was writing Do Something, I was asking myself if the younger generation would accept it because it's more of a mature sound and it's faji music. And I want to make music that cuts across all ages. I am trying to strike a balance to cut across all ages for my look if possible.
We glad Do Something is doing well in the media. We just dropped a video for it and the viewership is growing already. We have had over 100,000 views already in less than three months and the video is buzzing via Mtv Base, SoundCity and all. Mex directed and shot the video for the song. We have been pushing and performing it. We are just waiting for it to peak and by God's grace it will happen soon. I'm also busy recording personal songs as well as collaborations and then shooting videos down for my next singles. So it's all work and work for me.
Who inspires you in the music industry?
I listen to the likes of Beautiful Nubia, Ebenezer Obey and all. But this new generation music, I know that TuFace Idibia is somebody dynamic. Dynamic in that he is new every year. It is not easy to be that consistent with that kind of music.  P Square is great too. They are super hard working. I also enjoy Wande Coal's music. He is one of the most talented artistes we have out here. Davido and Wizkid are also super hard-working. So I pick lessons differently from people.  
Which producers are you working with at the moment?
I have a couple of producers that I work with. L37 is one of my producers. Reinhard produced Do Something co-produced by L37 and TMXO. Chopstix and I have also worked on something with Jesse Jags but it's not officially out yet. Basically, I work with a dope producer as long as the person is willing to move at a very fast pace cuz I move at a very fast pace. I am always concerned about pace.
READ ALSO: We Have A Leader Who Is Ready To Kill - DJ Caise
Beyond music, what do you do?
Beyond the music, I am online relating with my fans. Right now, it is basically about my music. There is nothing else attached. Either I'm online relating with my fans or I'm having a conversation about maybe the next collaboration or the next show or whatever. But it all revolves around the music.
What should we expect from you in future?
A lot. There's not going to be a number of projects that I am not talking about yet. But like I said we are basically trying to increase the acceptance for Do Something. Right now I'm shooting videos for my next singles and I'm working on collaborations. Who knows, maybe an endorsement; a Koker dashiki clothing line just to expand the brand, who knows?