Saraki Is A British Citizen - UK Authority
UK authorities have revealed that the  scanned copy of a British passport supposedly belonging to the Senate President, Bukola Saraki, was forged.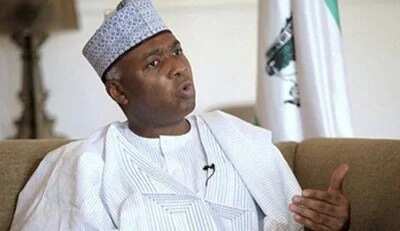 Premium Times reports that the Uk authority however admits that Saraki truly holds a British passport.
READ ALSO:Saraki States 10 Reasons For Snubbing Code Of Conduct Tribunal
[article_adwert]
Recall that news about his dual citizenship and ineligibility to hold public office in Nigeria had rocked news pages sometime back, with the controversial passport having Olybukola Saraki, and number 306077175 as the recipient.  The senate president however made it known that although he has a UK passport, he got it because he was born in the country. Saraki further clarified that the controversial passport published by the website was not his and may have been forged. Saraki went further to explain that only those who voluntarily obtain the citizenship of another country are disqualified from holding public office.
READ ALSO: NEWSPAPER REVIEW: Saraki's Ordeal, HID's Death Dominate Front Pages
When the UK Passport Office was contacted to investigate the "act of criminality,"  Her Majesty Passport Office confirmed that the published passport was forged.
The letter, made available to PREMIUM TIMES by Mr .Saraki's media aide, Yusuph Olaniyonu, with reference number, Disc/Info/SARAKI/030915 and signed by C. Emery of Disclosure of Information department of HM Passport Office, confirmed that Mr. Saraki was issued a British passport on June 29, 2006, which will expire on 29 June, 2016. The number of Saraki's genuine passport was, however, edited in the letter. The letter confirmed that the number on the scanned published passport does not relate to Mr. Saraki.
READ ALSO: Anti-Corruption War: What Prof Sagay Wants From Code of Conduct Bureau
"I can further confirm that the number on the copy of the passport you supplied (marked 2 by yourselves) does not relate to Mr. Saraki," the letter stated.
It however declined to provide detail on who owns the passport number on the published passport saying that it can only disclose such information "upon production of a United Kingdom court order" directing the department to release the information.
Meanwhile, Saraki, has dismissed reports and insinuations on micro blogging site, Twitter, about the possibility of him decamping from the APC following the removal of the logo of the APC from his verified twitter page.
Source: Legit.ng