Nollywood Actor Admitted To US Hospital, Responding To Treatment
The veteran Nollywood actor, Bruno Iwuoha, who was recently admitted to a US hospital for an undisclosed illness, has been responding to treatment, according to reports.
[article_adwert]
Sometime last month, July 2015, news went round that the thespian had been diagnosed as having diabetes.
Following this, Iwuoha was said to required the sum of N3.5 million for corrective eye surgery.
The actor revealed that he had visited a number of places, within and outside the country, for treatment until it was discovered that he had diabetes, a condition that was already affecting his sight at the time, thereby reducing his ability to read through movie scripts well enough.
READ ALSO: 10 Things You Need To Know About New James Bond Actor, David Oyelowo
'As I look at you now, I'm using only one sight. They call that glaucoma. And gradually, it's affecting the other one [eye]. So, naim make, apart from places…the people who call me atimes, both the little cash they can give me…drugs and all that…but I discovered that this thing [the illness] is a lifetime something.
It has robbed me of the job [of acting]. And now, if I get a script, it will be hard for me to read it very well. And if I read it, if I strain my eyes for so long, it would look as if someone would lead me around the house or anywhere I want to go because it will affect the only one [eye]. So that's my problem,' he said.
In a new development however, a statement has been released in respect to his current health status.
According to the release, Iwuoha is gradually recuperating, but will need some more time off any physical or strenuous activities in the coming months, for his health to stabilize fully.
"You can recall last two weeks Mr. Bruno Iwuoha was calling for medical help.
READ ALSO: Segun Arinze To Direct 2015 Best Of Nollywood Awards
"After that the CEO Morgan Entertainment, Emeka Morgan Nwanne Oguejiofor Jr invited him to the US and took him to one of the best hospitals and paid all the bills including hospital bill feeding and medication bill.
"When Mr Iwuoha arrived the US, he was on wheel chair but right now he is very healthy.
"According to the doctors, Bruno will not be able to work or do certain things for 6-12 months, to give room for proper healing," the statement reads.
Below are images of him at the US hospital: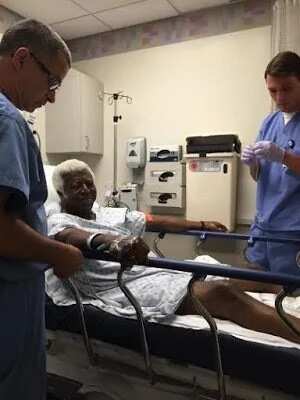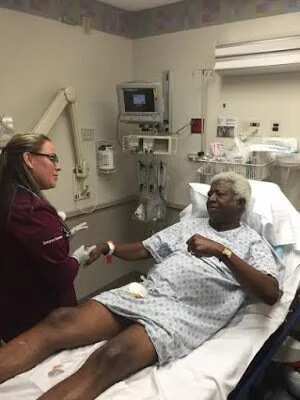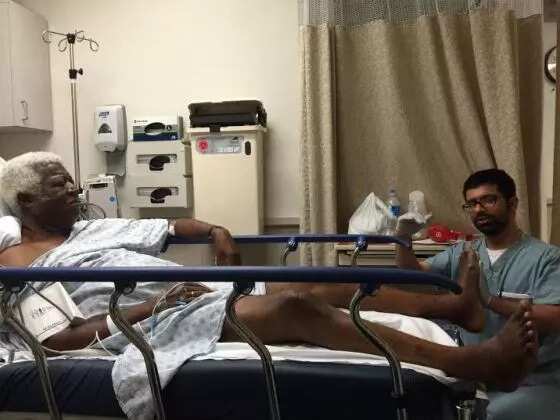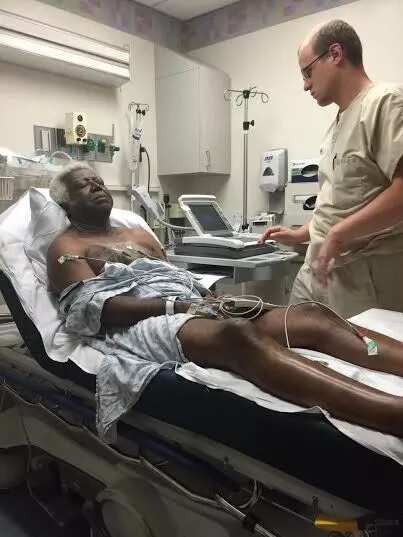 Bruno Iwuoha is a seasoned player in the Nigerian movie industry more commonly referred to as Nollywood.
He has a large number of movies to his credit, and he won the Best Supporting Actor award at the third Africa Movie Academy Awards in 2007.
Source: Legit.ng