200 African Immigrants Dead On Thier Way To Europe
About 200 people are feared to have drowned after a boat packed with 700 migrants capsized in the Mediterranean.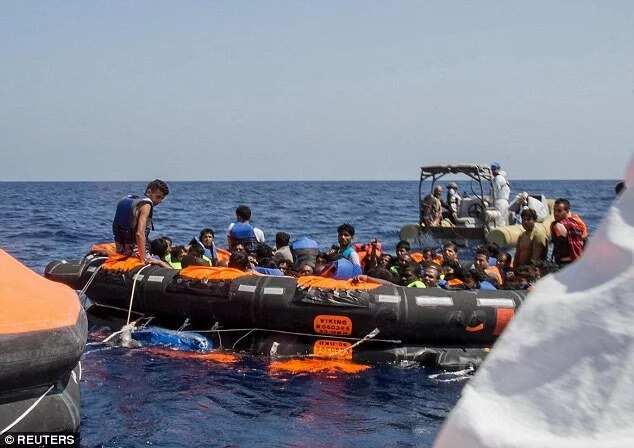 A fishing boat, which was carrying scores of people, including women and children, overturned about 40 kilometres (25 miles) off the Libyan coast just before midday on Wednesday, August 5.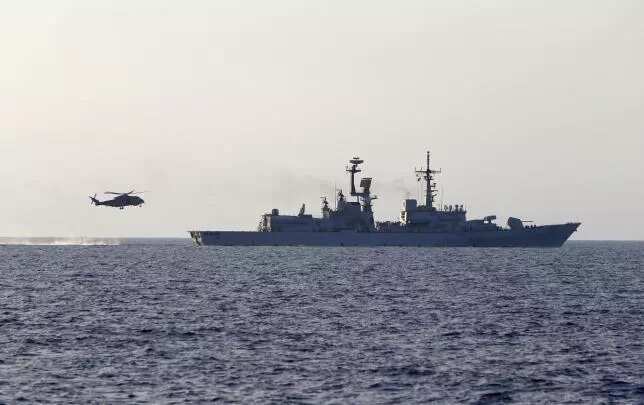 Officials say about 400 people were rescued from water. 25 bodies have been recovered in the first hours of the search and rescue mission.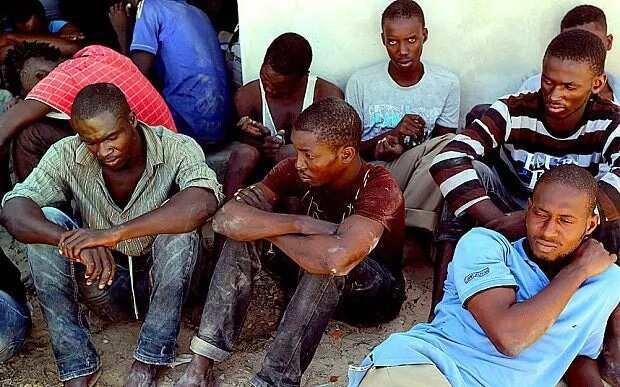 The death toll is expected to rise in what has now become one of the worst tragedies on the Mediterranean this year.
READ ALSO: 27 Dead, 200 Injured, Dozens Missing In Twin Train Derailment (Photos)
Drastic measures were taken to rescue the migrants, who had been heading for Europe. The Italian air force were dropping life rafts into the sea, while three ships rushed to the area where the boat went down.
According to Daily Mail, the Irish patrol vessel LE Niamh and a ship deployed by medical charity Doctors Without Borders (MSF) were among the first to be deployed.
Irish authorities say that 367 people, including 12 women and 13 children, have been rescued.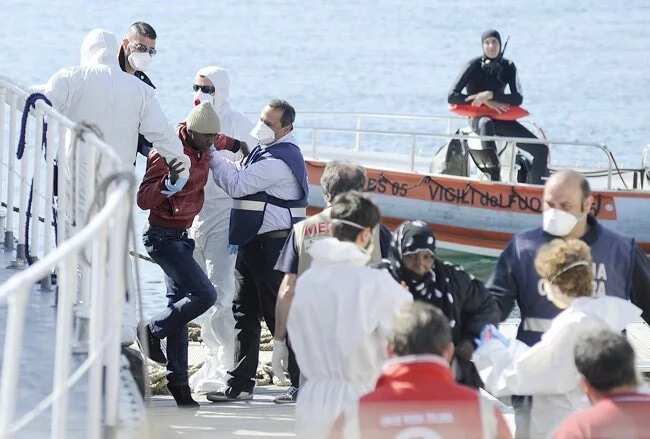 A spokesman in Italy for the UN refugee agency said, six other people, including a baby no more than a year-old and a survivor with a broken leg, were taken to the Italian island of Lampedusa.
READ ALSO: Breaking: Two Children Die As Boat Capsizes After Collision
He added that while the sea was very calm, "the boat overturned and sank quickly because it was made of metal."
Melissa Fleming, the agency's chief spokesperson said: "100 (migrants) were in the hull of the fishing vessel when it capsized."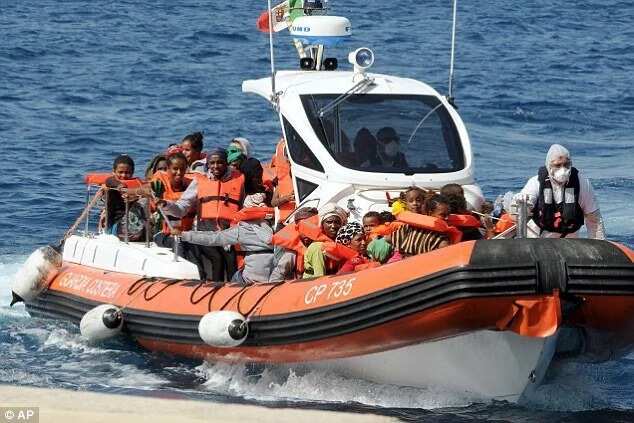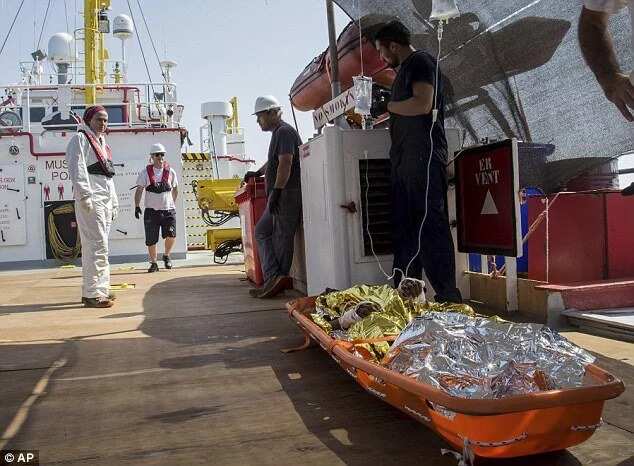 Seven ships, several helicopters and a drone were helping search for survivors.
Simon Coveney, Ireland's defence minister, confirmed that the Niamh was diverted to the scene at 7am and warned the loss of life is likely to be significant.
READ ALSO: Photos/Videos: 25 Dead, Scores Injured As Warplane Crashes Into Market (Updated)
He said in a statement: "The crew of the Niamh are working flat out with their counterparts to rescue as many as possible."
Nawal Soufi, an Arabic-speaking Italian based in Sicily who is often contacted by migrants in distress, said she had received a call earlier on Wednesday about a boat in trouble with more than 600 people on board.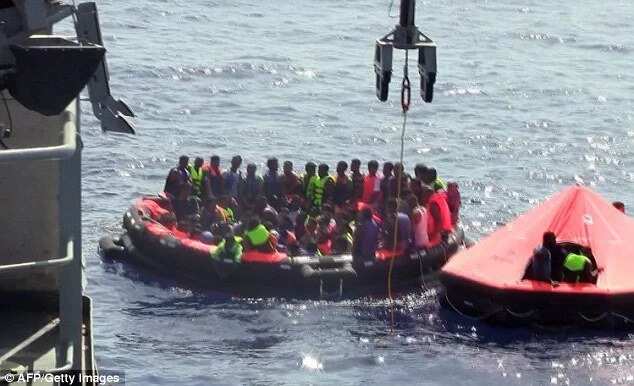 She said she was called by someone onboard who said the fishing boat, carrying men, women and children, was in trouble because its engine room was flooded.
Marini confirmed it was probably the same boat.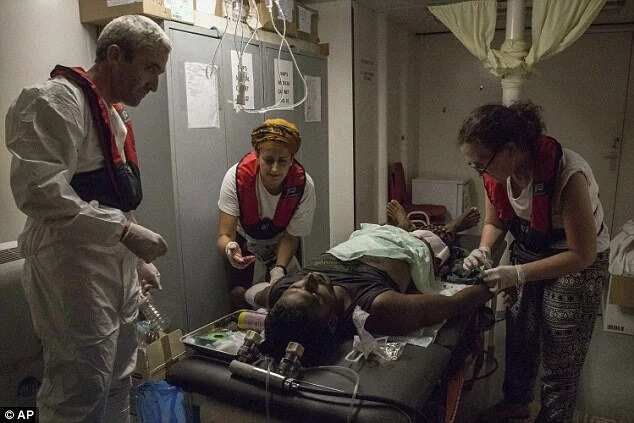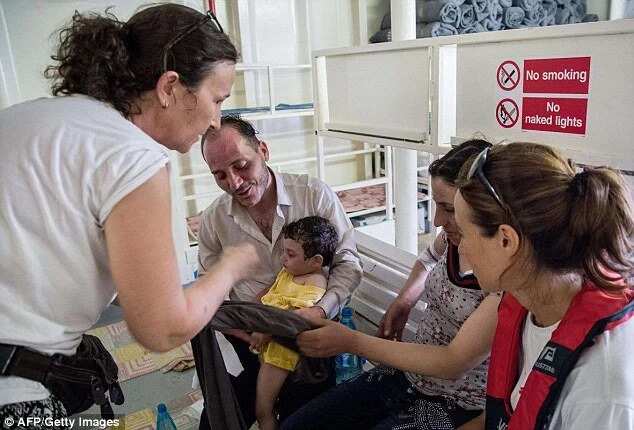 The Mediterranean sea has been described as the world's most deadly border area for migrants.
It is recalled that in April, a fishing boat carrying about 800 migrants sank off the coast of Libya where smugglers operate, only 28 survivors, including two alleged smugglers, were found in that tragedy; in what the UN called the deadliest incident in the Mediterranean ever recorded.
The leaders of the EU agreed to increase spending on its search and rescue operation in the region after that incident, but smugglers continue to send desperate migrants on the dangerous journey.
Earlier this week, the International Organization for Migration (IOM) warned that the number of migrants attempting to make the crossing is much higher than in the same period last year.
The IOM director general, William Lacy Swing, said: "It is unacceptable that in the 21st Century people fleeing from conflict, persecutions, misery and land degradation must endure such terrible experiences [...] and then die on Europe's doorstep."
Source: Legit.ng