Breaking: Boko Haram Chief Recruiter Arrested
Authorities in Chad have arrested Bana Fanaye also known as Mahamat Moustapha, who is said to be the mastermind of Boko Haram operations in Chad and northern Cameroon.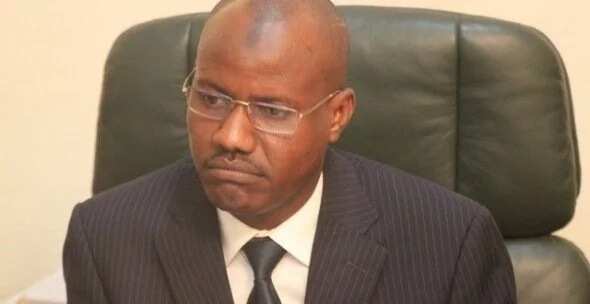 According to Osun Defender, Fanaye was arrested on Friday afternoon. Recovered from his residence were assault weapons, and phone SIM cards for various countries, including Nigeria, Cameroon, Chad and Niger.
Reports from the media quotes Chadian officials as saying that Fanaye is in charge of recruiting Boko Haram terrorists, arms purchases and planning of terrorism targets and operations in Chad and northern Cameroon.
READ ALSO: Nigerian Airforce, Army Repel Boko Haram Attack In Borno
Chadinfos.com reports that weapons of different kinds and assorted communication gadgets were found in his house, including more than 50 SIM cards from different countries in the sub region,
It was gathered his arrest that helped security forces locate other Boko Haram members housed in an area called Diguel Diguessou in the 8th district.
According to Chadinfo.com, the attack that lead to his arrest was a very bloody offensive that left many dead.
READ ALSO: Troops Uncover Boko Haram Bomb-Making Factory In College
In a related development, Reuters has reported that Cameroon officials have arrested three suspects carrying a bag containing improvised explosive devices in the northern town of Maroua suspected Boko Haram suicide attacks killed at least 40 last week.
A senior military source with the Central African nation's special forces in Maroua, told Reuters, that the men were caught on Thursday, July 30, at the entrance of the city following a tip-off.
READ ALSO: Army Captures Boko Haram Commander And Rescues 178 Captives In Bama Axis, Borno (PHOTOS)
Another senior local government administrator said by telephone from Maroua that: "The suspect who was carrying the bag with the explosives is a Nigerian. The other two are Cameroonians, according to their identity card."
He said the young men, aged about 20, were suspected Boko Haram militants who were planning another attack.
Meanwhile, Cameroon has increased troops and tightened security in the northern regional capital following the suicide bombings by suspected Boko Haram militants from neighboring Nigeria.
It is reported that Cameroon security officials also carried out a raid on Thursday, July 30, in Kousseri, some 220 km north of Maroua, where some 2,000 Nigerians who were living in Cameroon without permits were loaded in trucks and taken across the border.
According to a local administrator, the raid was part of measures aimed at improving security and controlling movements along the border region.
Meanwhile, the leaders of both countries have pledged to work together to crush the six-year insurgency which has killed thousands, spread to neighboring countries and threatens the stability of the Lake Chad region.
This agreement was reached on Thursday, July 30, following a summit in Yaounde.
Boko Haram is fighting to establish an emirate in northeast Nigeria. The sect which calls itself the Islamic State's West Africa Province (ISWAP), have been said to have become more offensive since pledging allegiance to the militant group that controls large areas of Syria and Iraq.
Source: Legit.ng