Nigerian Army To Review Cases Of Dismissed, Sentenced Soldiers
The Nigerian army is to review the cases of soldiers dismissed from service over cowardice, insubordination, mutiny, and related allegations.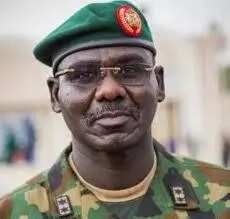 The Punch reports that the process of revisiting cases against military officers and soldiers previously involved in the ongoing operations against the Boko Haram insurgency in the north-east has been initiated by the new chief of staff, Major-General Tukur Buratai.
Buratai, according to The Punch sources, had dissolved the active general military courts-martial in Nigeria and constituted a committee to review the cases of soldiers either convicted or still facing trial before the courts-martial in Kaduna, Lagos and Abuja.
"I think the directive involved those dismissed without trial in their various formations, those tried and dismissed and those still facing trial," said The Punch's anonymous source.
A number of the soldiers might be given a second opportunity to continue their careers in the military after being detained, sentenced or dismissed. They are to undergo a short retraining exercise and report at the Nigerian Defence Academy, Kaduna, for the screening exercise.
The committee is expected to start its activities on August 7 and sit for 25 days.
Colonel Sani Umar, acting director of public relations of the Nigerian army, said they were reviewing "all recent disciplinary cases due to a wave of litigation by some aggrieved personnel," adding, however, that the directive does not mean a total recall of dismissed and deserting soldiers.
Buratai was appointed chief of army staff by President Muhammadu Buhari on July 13. He has made significant changes within the ranks of the Nigerian army.
Source: Legit.ng