President Mugabe's Wife Reveals Robert's Favorite Bedmate
Robert Mugabe's wife, Grace Mugabe, has opened-up on who her husband's favorite bed mate is.
Grace told Zimbabwe's state newspaper that when she is away, the president's last born son, Chatunga Bellarmine, 18, becomes his father's favourite companion in bed.
READ ALSO: HILARIOUS: Twitter Explodes With Messages Under #IfAfricaWasABar Hashtag. Nigerians Keep Up!
"Sometimes when I am not around they share a bed and talk. Bellarmine is unlike all my other children, he does more talking and he enjoys asking questions," Grace told a reporter of The Sunday Mail.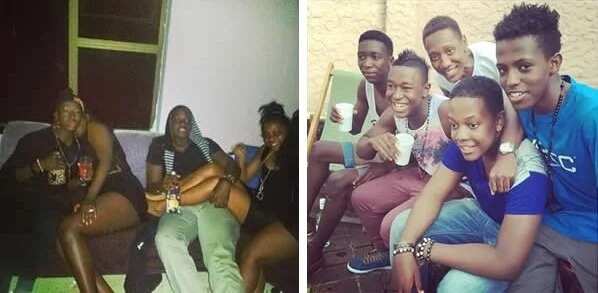 According to Mugabe's wife, the topic of their discussions revolved around the fact that Bellarmine is sitting for his A Levels this year.
READ ALSO: Photos/Videos: Obama Makes History In Ethiopia
Meanwhile, New Zimbabwe reports that Bellarmine failed his grade 7 exams, flunked his O levels and got expelled from school for truancy. This development made President Mugabe unhappy, but he remained cool:
"I don't quarrel with him, nor do I raise my hand to slap him. Never! I leave that to the mother.
READ ALSO: PHOTOS: Checkout 5 Politicians Who Were Caught Sleeping On Duty
"But he has not made me happy in the way he takes his studies."
According to Times, Mugabe was similarly unhappy when his other son, Robert Jnr, failed to get his O levels, saying he was an "undertaker" - a Zimbabwean slang meaning 'underachiever'.
Zimbabwe's 90-year-old president, Robert Mugabe, is often in the centre of controversy. Recently, he has publicly proposed marriage to the US President Barrack Obama. This proposal follows the wake of the legalized gay marriage in the USA.
On Friday, June 26, the Supreme Court of the United States of America has finally legalised same-sex marriage throughout the whole country.
Source: Legit.ng