Senate Passes Vote Of Confidence On Saraki
The majority of Nigeria's Senate, 81 members, have passed a vote of confidence on its president Bukola Saraki.
On his own turn, Bukola Saraki while resuming the plenary on July 28, stated that it's time to move now.
Saraki added that the lawmaking arm will be capable of producing watershed legislative interventions.
READ ALSO: NASS Crisis: Saraki, Ekweremadu Will Be Impeached Next Week – Marafa
See the names of senators who passed confidence for Senate president: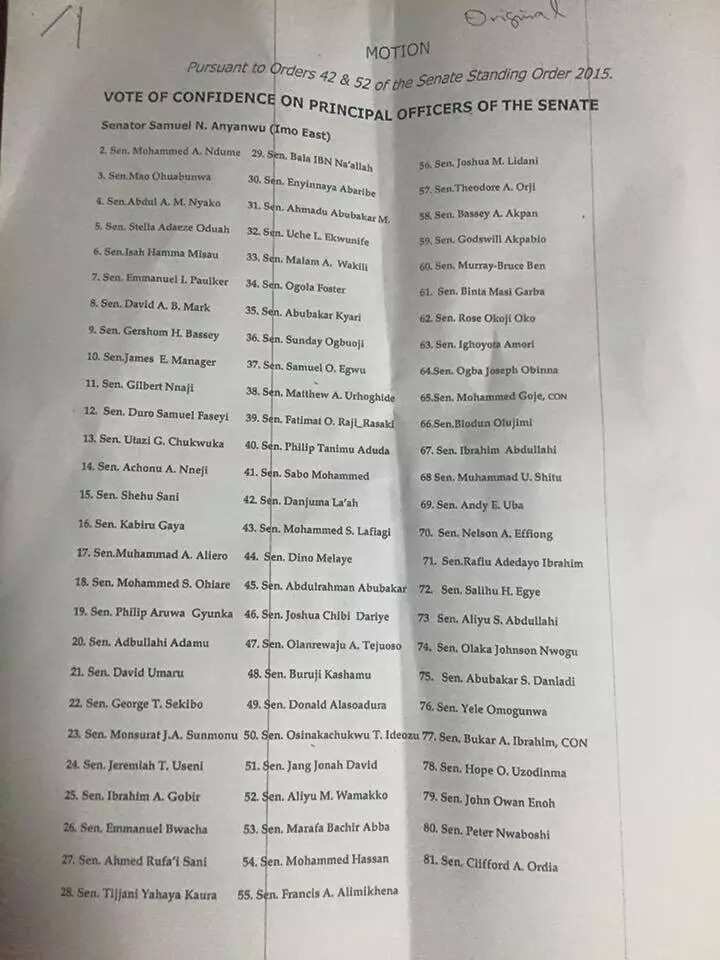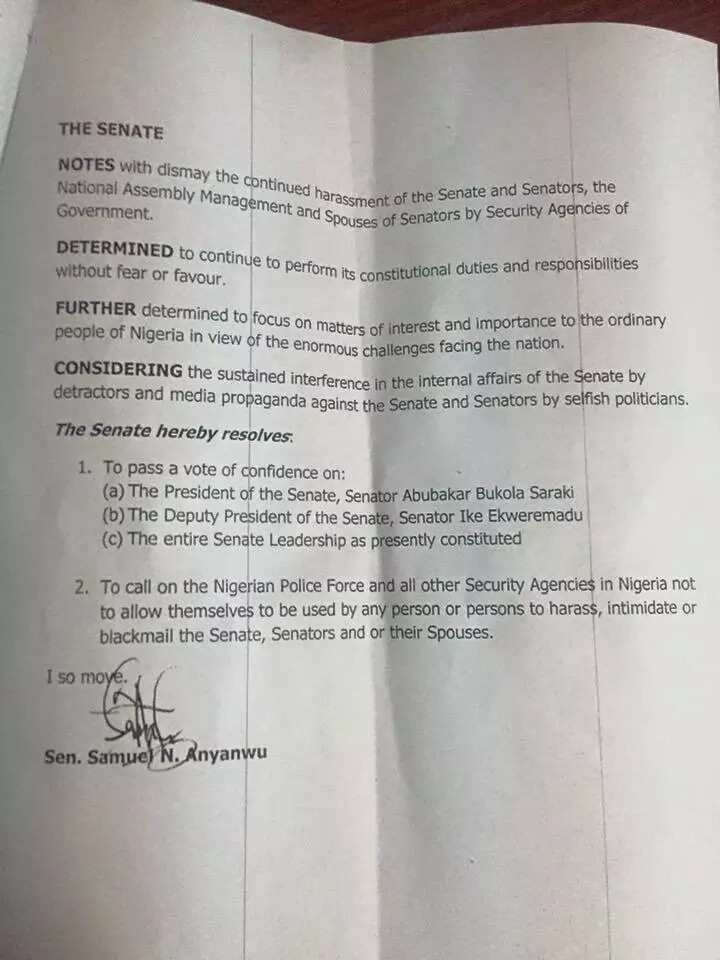 His words: "As the Senate resumes today, it's expected that the recess would, have in no small measure help us consolidate stability of National Assembly.
 "Now is time to move as one house in one direction to fulfill the promise we made to our constituencies that gave us our mandate.
"It is time we remind ourselves of the solemn promise to deliver real change, which can't be achieved in atmosphere distracted politics.
"Elections are over; Nigerians didn't put their lives on the line for politics but for responsible leadership that can deliver good governance.
"Our mandate is not to come & play politics; our mandate is to be solution providers for the numerous challenges that bedeviled our country.
"We have insurgency threatening very existence of our country & fabric of its unity from NE, we are facing dire streak due to mismanagement.
"We have leadership task of turning challenges around through purpose driven lawmaking & Nigerians will not forgive us if we abdicate.
READ ALSO: Meeting Between Buhari, APC Members Ends In Deadlock
"We can only achieve real change by working together & time is now. Before recess, we started process of laying down marker for new Senate.
"8th Senate would be a much more focused legislative session, capable of producing watershed legislative interventions," Saraki said.
Read the full speech below:
Distinguished colleagues, it is my pleasure once again; to welcome you back to the Senate Chambers after a short recess. It is expected that the recess would have in no small measure helped us consolidate the stability of the National Assembly. Now it is time to move as one house in one direction to fulfill the promise we made to our constituencies that gave us our mandate to deliver real change.
Distinguished colleagues, before we went on recess, we started the process of laying down the marker for the new Senate by inaugurating the Ad Hoc Committee on Senate Finances and the Committee on Legislative Agenda. We expect the reports of Committees to refocus the energy of the Senate on the challenges ahead. We want to show and indeed must show that this Senate is alive to its lawmaking, oversight, policymaking and representation duties.
While we may have adjourned plenary the Senate continued to work within, proactively reaching out to key public institutions including the ICPC, the NBA, NLC, CBN, the IOCs, the FIRS, and many other agencies of government for briefings on the state of the nation and their various agencies as part of a broader Senate strategy to understanding the legal regulatory and institutional gaps that may be holding these agencies back in fulfilling their mandate. This we see as a preliminary step towards closing areas of identified leakages in the revenue system.
Our revenue profile has taken a great hit with the economic realities we face today. Aside the drop in the oil receipt, we have seen revenues plummet due to oil thefts, indiscriminate grants of numerous import duty waivers, concessions and grants. Nigerians want to see the National Assembly tackle these obscenities in our revenue systems as it denies our people the right to good governance.
Distinguished colleagues, our country is passing through a difficult time. We cannot afford to watch the mindboggling leakages in our oil receipt to go on, this Senate is in tandem with Mr. President on this and is determined to turn every stone and shift every rock to ensure that all revenues due to the country from oil are recovered. We are not the only oil producing country in the world; oil theft cannot therefore become an acceptable part of our oil business.
Furthermore, Nigerians are tired of the inadequacies in the power sector and want to see a reinvigorated power sector capable of delivering enough energy to power the new Nigerian economy. Our people dream to see a more open economy, they want to see legislative instruments that will help to open and stimulate private sector investment in infrastructure development, and enhance the ease of doing business in the country.
Distinguished colleagues, in recent times, we have seen resurgence in the activities of Boko Haram and some other criminal elements in our society leading to the death of many of our citizens. We cannot continue to let senseless groups cause untimely death to our citizens without hindrance. This is another sad addition to the cocktail of security challenges we can ill-afford at this time. In the coming days, I will constitute a high powered Senate delegation to visit our troops on the battle line and some of our internally displaced persons in the North East to have a firsthand appreciation of the challenges, the suffering and plight that has befallen our people in the area. Soon afterwards we shall, working together with the House, develop concrete steps towards the rehabilitation and renewal of the battered local economy of the North East.
Make no mistake about it, the aim of these militant groups is simple, to test our resolve and disintegrate our unity. But let me reiterate the readiness and willingness of the National Assembly to support and work with President Muhammadu Buhari to comprehensively rout Boko Haram. We join Mr. President in saying "that we will defeat terrorism in our country and region, because we have the will to win this fight." Our resolve is collective, we urge all friends of Nigeria including the United States and the entire international community to join us.
Distinguished colleagues, we have our work cut out for us, we cannot afford to frolic. Nigerians did not give us our mandate to come and pursue leadership, their mandate was for us to pursue governance and bring solutions to their burning issues. It is time we remind ourselves of the solemn promise to deliver to our people real change. Leadership is secondary to our primary responsibility of good governance. As Senate President you have given me responsibility to ensure that our primary responsibility is placed on the table not under the table. Nigerians did not put their lives on the line for politics but for the delivery of good governance.
My distinguished colleagues, the Job of changing our corporate destiny starts today. Though the challenges are huge, they are not insurmountable. Let this challenges inspire us as leaders to show courage, statesmanship and valour. We have taken the right first steps out, we must now set out at dawn. We do not have all the time indeed our clock is ticking.
Distinguished colleagues, it is time, lets get started and deliver meaningful change to our people.
Thank you for your attention and God bless Nigeria.
There had been reports that following the crisis over NASS leadership Senate president and his deputy Ike Ekweremadu would be impeached.
It should be also noted that the meeting between President Muhammadu Buhari and APC legislators failed to resolve the crisis as the two factions in the House of Reps stick to their different positions.
Source: Legit.ng