Why President Buhari Fired Service Chiefs
According to insiders, President Muhammadu Buhari's sack of the service chiefs and his forthcoming trip to the United States of America for extensive bilateral, economic and financial discussions with President Barrack Obama seems to be connected.
According to Vanguard, Buhari is scheduled to answer certain questions about the terrorism challenges as well as Nigeria's military capability to tackle the menace conclusively with his US counterpart and this necessitated the sack of the service chiefs.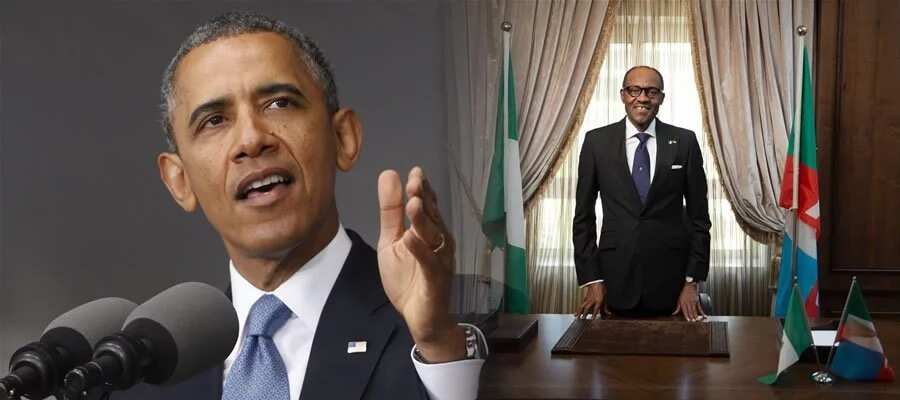 Sources told reporters that Buhari knew that Obama would demand to know the why after so much money was devoted to the war on insurgency, including foreign contributions, the Boko Haram terrorists were still holding sway.
"America will ask President Buhari why the Military Commanders (Sacked Service Chiefs) were still in place, when after several months of being in control and getting huge financial support from the Jonathan administration, Boko Haram is still biting hard.
READ ALSO: Boko Haram: What Kenneth Minimah Promised But Failed To Fulfill
"They will present Buhari with the figures and ask how this huge amount of money was spent, and for what purposes? Why is the result not showing?
"This is because America will tell President Buhari pointblank, that we have a package to assist you conquer this menace but it will be on the grounds that you have a new team with thinking faculty, a team that is tested and will spare no effort in ending the Boko Haram mayhem."
READ ALSO: Saraki Makes U-Turn Over Senate Screening, Confirmation Of Service Chiefs
The source suggests that Buhari will now look Obama in the face and say, "I have a new team in place. Trusted, with integrity, and primed to actualize my mission of ending Boko haram insurgency".
He said: "Buhari will tell the Americans that he has set machinery in motion to investigate how the huge amount of money so far released to fight insurgency was spent and why after such releases to the security agencies, many of the equipment promised, to deal with Boko Haram, are nowhere to be seen.
READ ALSO: APC Exaggerates Achievements Of President Buhari – PDP
"President Buhari will also show the Americans a blueprint of how he intends to employ new resources improve and equip the armed forces, putting in mind accountability, to ensure that any suspected corrupt tendencies are nipped in the bud," the source added.
Boko Haram attacks in Nigeria has increased in recent weeks following a surge in suicide attacks in the Northern part of the nation.
Source: Legit.ng