Imo Police Discover Baby Factory, Rescue Pregnant Girls
The Imo state police command has discovered a 'baby factory' allegedly operated by one Chief Emmanuel Eke, a senior civil servant in Abia state.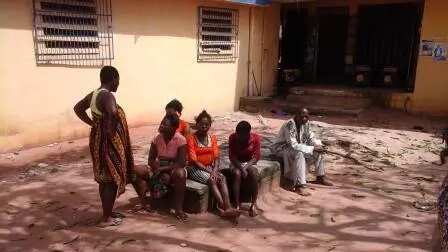 As a result of the successful operation, the police officers rescued five pregnant teenagers, including a deaf and dumb victim, Blessing Nwabekee.
The Nation reports that the teenagers, who were at various stages of pregnancy, were rescued in Abia state, where they were kept until they delivered their babies.
Parading the suspects, Austin Evbakavbokun, the state police commissioner, disclosed that a 20-year-old Ibuchi Okafor, from Ihioma in Orlu local government area of Imo state escaped from her home being 9-month-pregnant.
She was found in the premises of the suspect at Isiala Ngwa South, Abia state, after she had delivered and sold her newborn baby at N500 000 to a yet to be identified buyer.
READ ALSO: Three Pregnant Teens Rescued From Baby Factory In Ogun; Building Burnt
According to Evbakavbokun, the police started the investigation after the report of the missing teenager. During the search activities, they found four other pregnant girls: Nkasiobi Uchenna 23, Ela David 24, Oluchi Victor 25, and the deaf and dumb waiting for delivery at the home of the suspect.
The police commissioner revealed that the owner of the baby factory confessed that he had sold the baby delivered by Ibuchi for N500 000.
Evbakavbokun further stressed that that the state police command would take serious measures to chase out all traffickers and kidnappers in the state.
Meanwhile, the suspect told journalists that he made the confession under duress. According to him, the illegal business belonged to his late wife, who he said died seven weeks ago.
Earlier this month, Enugu police also discovered a baby factory at Udi local government are of the state and rescued nine pregnant victims.
Source: Legit.ng