Ex- First Lady Allegedly Loots N100M Worth Of Property
According to Sahara Reporters, there was a raid on the Benue State Liaison Office in the Asokoro area of  the federal capital territory, which was allegedly orchestrated and directed by the former First Lady of  the state Yemisi Suswam.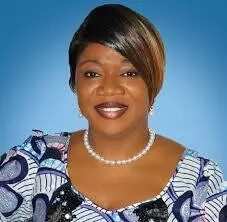 Witnesses said that the raid was conducted by close associates of Suswam operating under the cover of darkness.
These witnesses said that Suswam's associates drove two large trucks to the liaison office, with the intention of carting out and stealing all the expensive furnishings.
READ ALSO: Bauchi Recovers 51 Stolen Vehicles From Officials Of The Past Government
It was also learned that Suswan and her sister received a contract from the Benue state government to furnish and design the state's liaison office in Abuja.
Sources say it was an unlawful government contract due to conflicts of interest.
There is speculation that because the former First Lady and her sister furnished the office, they knew the exact items to steal.
READ ALSO: APC Crisis: Read What APC Lawmakers Did To Party Leaders
A source revealed that the night-time assailants, who allegedly operated under Suswan's direction stole everything they could fit into their trucks.
Although most of the things stolen were expensive gadgets, electronics, and home-office accessories, according to the source:"Television sets, refrigerators, rugs, plates, pots, DSTV decoders, and bed sheets were not spared."
It was also reported that the Federal Capital Territory police command have identified a police sergeant, Shola Adeniyi, and another unknown associate of the former First Lady, as suspects in the raid.
Investigations have begun into these leads.
READ ALSO: Buhari Is Destroying This Nation- ADC Chairman
However, Shola Adeniyi, the former orderly to Benue's First Lady, denied the allegations of theft while being questioned by the police.
Two security guards and their supervisor have made statements regarding the theft to police at old Central Bank in Abuja.
The ex-governor Gabriel Suswam and his wife were allegedly out of the country at the time their alleged associates ransacked the Liaison Office.
Samuel Ortom the Benue state governor has sparked an uproar with his list of 13 commissioner nominees.
Source: Legit.ng