Saraki Reveals Actual Amount For Wardrobe Allowance
Senate president Bukola Saraki took to twitter to react to the claim that national assembly members will be receiving N8.64 billion as wardrobe allowance.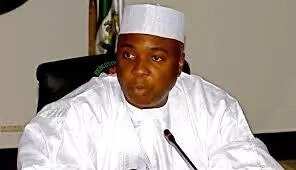 The senate president denied the claim stating that the actual amount is N506,600 per year for each senator. This means, during the four-year tenure the allocated sum is N506,600 x 109 senators  x 4 years = N220,866,700.
READ ALSO:  NASS Allowance: Nigerians Criticise Ben Bruce
  He said that the sole responsibility of the appropriate remuneration for holders of political offices was the responsibility of the Revenue Mobilisation Allocation & Fiscal Commission (RMAFC)
He further stated that with the current economic challenge that the country is going through; there would be a review of the amount to reflect the economic trend of the nation.
Using the tag #openNass, the senate president also said that the details of the allowances would be published on the website of RMAFC.
Earlier, it was reported that the National Assembly members would receive a total of N8.64 billion as wardrobe allowance next week.
Source: Legit.ng