Aisha Buhari, Dolapo Osinbajo Shed Tears
The whereabouts of over 200 missing Chibok school girls have been of serious concern since the incident occurred over a year ago.
Emotions rent the scene when President Muhammadu Buhari, his wife, Aisha and the wife of the Vice President, Dolapo Osinbajo, on Friday, June 12, met with two women whose daughters are among the over 200 missing Chibok girls.
The two women, who earlier had a meeting with Aisa Buhari and the wife of the vice president were ushered into another meeting with the president at the Defence House, Abuja.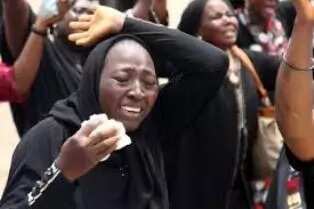 Punch reports that while they posed for photographs, the wearied women broke down in tears.
Moved by their plights, Mrs Buhari consoled the women while Mrs. Osinbajo could not hold her emotions as she shed tears.
Mrs Osinbanjo later talked about the essence of their meetings with the mothers "Hajia Aisha Buhari had, for many months, wanted to visit Chibok. She also wanted to meet with the mothers. Hajia, being a mother, met with them, held them and they cried, everybody cried. What only a mother will do is to say 'wait, I want you to see your father and see what your father will do''
."We were all extremely overwhelmed that at this time when the President is so busy, he had time to meet with the women from Chibok. So, today, we have had the opportunity for the President and Hajia to show that they are our father and mother, for that we are glad."
READ ALSO; PHOTOS: U.S Congress Hosts Escaped Chibok Girls
Over a year ago, Boko Haram sect stormed Government Secondary School,Chibok, Borno and abducted the girls. Since the girls were reported missing, attempts have been made to rescue the girls but all have proved abortive.
Source: Legit.ng