Two Nigerian Teenagers Create Mobile Web Browser
Two Nigerian teenagers, a 13-year-old Osine and 15-year-old Anesi Ikhianosime have built a web browser named Crocodile Browser Lite.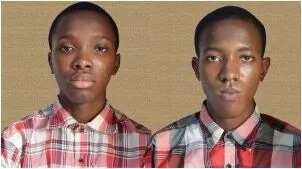 The browser is reportedly created to load faster and serve as an alternative to Google Chrome which takes more time to load.
Vanguard reports that young intellectuals are brothers, who attend Greensprings school, Anthony Campus in Lagos. Their parents believe in education and technology, therefore, they raised the boys with high aspirations in their mind.
Osine and Anesi began their tech career at the age of 7 and 9 after being inspired by the Microsoft Windows platform. They decided to create a technology company and named it Blu Doors. Continuing their self-development, the brothers started learning coding at age 12 and 14 and were able to build a web browser at 13 and 15.
READ ALSO: Nigerian Teen Accepted By 8 Prestigious Universities
The boys are dreaming to study in the United States of America, where they hope educational opportunities, resources and access to technology for the career development would be available.
The talented teenagers said that Crocodile Browser Lite was developed when they got tired of waiting for Google Chrome to load on their mobile phones. Therefore, they decided to find an alternative by applying their knowledge of coding.
Earlier this year, we reported about Adebambo Oyekan Oyelaja, a Nigerian-born software developer, who founded a social network that allows users to share prayer points, testimonies and religious activities with friends and people from around the world.
Source: Legit.ng