Nollywood Actor Sells His Son, Narrates Ordeal
Nollywood actor Kanayo Awurum was arrested by the Special Anti Robbery Squad for selling his two-year-old son.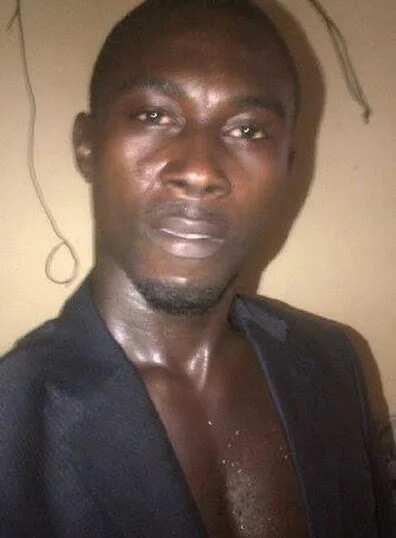 Vanguard reports the 29-year old upcoming star, who has already featured in seven movies, sold his child for N350,000.
The suspect narrated that his friend, one Emmanuel suggested the idea and also introduced him to the buyers. Nkechi Obi and Gladys Nwobodo came from Port Harcourt to Owerri, where the operation took place.
His wife Ugochi Kelechi, pregnant with their second child, was also detained, The Sun adds.
The two were subjected to thorough interrogation, in the course of which they narrated the shocking stories.
A police source disclosed that Kanayo had impregnated Ugochi with her first child and ran away two years ago. However, her returned last October and proposed to the woman, following which she got pregnant again. Soon the upcoming actor convinced his wife to relocate to Lagos state, when they save enough money (according to a source).
READ ALSO: 5 Things You Need To Know About Nollywood Actor Segun Arinze
In order to do that, he persuaded the pregnant woman to use their son as a collateral to collect a loan that will be paid back in three months. After having completed the deal, they relocated. Two weeks later Kanayo left his lover saying he needed to return home for two days. However, the suspect vanished into thin air.
Although the man was calling her, she became extremely concerned when he once said that their son Samuel might never return again. The woman narrated ordeal to a family friend, who alerted the police of the situation.
Kanayo's story
"I met Ugochi during our sec­ondary school days in Amakaohia Compre­hensive High School, Ikeduru, Imo state. We became lovers and continued our rela­tionship after graduation. Fortunately, she got pregnant in 2012. I asked her to keep the baby because I loved her so much and wanted her to be the mother of my children. I met her brother who told me what to do to legalize the relationship. Sincerely, I want­ed to legalize it but, I did not have much money so I left Ikeduru for Owerri. I am a trained painter and was also fortunate to be allowed to feature in some Nigerian mov­ies. During that time, I called her severally to explain why I had to run to Owerri. She was angry and refused to pick my call or see reasons with me."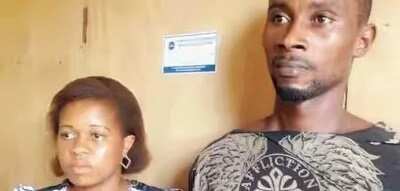 "With the little money that I had, I was ready to marry Ugochi. I pleaded with her severally and luckily, she accepted. I made another attempt to ask for her hand in marriage and her family vehemently refused. They threatened to get me arrested if I dared to come close to their sister again. But be­cause she loves me so much, we continued our relationship till she became pregnant again.
"At this point we needed to leave town before her family would notice that she is pregnant again. I convinced her to elope with me to Lagos where we will start our lives together till her family is ready to accept me as their in-law.
"I was already broke and was sourcing for loan. My plan was to travel to Lagos and contact my mentor, Jerry Leonard who is also an actor and film producer. All the persons that I met for a loan refused but another actor, Emmanuel, gave me the only way out.
"He told me to use what I have to get what I don't have. Initially, I wanted to use my son as a collateral to get a loan but Emmanuel said that outright sale will be the best. He was the one who contact­ed, Mrs Ogechi from Port Harcourt with the promise that I will pay him N50,000. I simply told Ugochi that the baby will be kept with one woman till we settle down. Since we were eloping, there was no need to contact any family member. Luckily, the woman paid N350, 000 and I gave Emma­nuel Ibeh, N50,000.
"I contacted my mentor, Jerry and he was able to secure an accommodation for us in Ikotun area of Lagos.
"I know that what I did was bad but I did it to protect my fian­cée. She will be an object of ridicule by her family if they discovered that she is preg­nant again without a husband. I returned to Owerri when my brother called me that there is a big painting job. My plan was to also raise money to buy back our son.
"Meanwhile, we were having several issues with the house and I asked the landlord to refund us part of the money we paid. Un­fortunately, I never knew that Ugochi had reported me to the police. I was arrested when I returned to Lagos to collect part of the money we paid for that house at Ikotun. I am sorry but all I did was out of love."
Ugochi did not know about the plans to use the child as col­lateral, she insisted
"I am pregnant and he convinced me that travelling down to Lagos with a small child would be stressful. He told me that my son Samuel will be kept in his sis­ter's house for about two months when we would have settled down. It was also his son, so I felt that whatever plan he has was for our own good. I never knew that he was having money problem. We just reconciled and he was taking good care of me and my son ever since he returned. He only told me that the process of settling down is very stressful.
"When we got to Lagos, I kept remind­ing him of our son and he told me that he would soon return to Owerri to pick him up. Towards the end of April, he travelled home for a painting job and left me with little or nothing to eat. Life was hard and I relied on the landlord, neighbours and his mentor Jerry to survive. I pleaded with him to return our son and he kept telling me that I should not be in a hurry. I was forced to confess to the police when I learnt that he wanted to collect back the money he paid for the house that we were living in. I felt he had abandoned me, that was why I opened up to his mentor Jerry. I am aware that he wanted us to relocate from that house but he was no longer providing for me."
READ ALSO: Popular Nollywood Actress Reveals What She'll Do If Still Unmarried At 30 (Photo)
Ugochi recalled how their relationships had started:
" I was and I am still in love with him. I have dated him for more than 10 years and so far he is a caring gen­tleman. When I got pregnant in 2012, he asked me to keep the child. He also made effort to see my family but when he was given the list of things to buy, he ran away. I was devastated and refused to pick his calls when he tried to get across to me. He even sent his friends to me.
"My family protect­ed me till I gave birth in November 2012. Sometime in October 2014, he returned and started begging again. I love him, so I had no choice but to accept him back. He was actually ready to marry me but my family members refused. They even sent my brother to their house to drop a piece of kolanut. What that meant was that they are at liberty to beat him up, if he dares to come around seeking for my hand in marriage. I love him and I am pregnant again. I cannot bear the shame for the second time that was why I agreed to elope with him.
"This was why I did not even contact my family when I was dying of hunger and it was obvious that my baby might not return. He actually called his mentor and told him that our son died in a car accident while they were on their way back to Lagos."
The woman said she could not believe that Kanayo could sell their son. Still, she confessed:
"I miss my son and I want him back. He was fooling me all this while, but I love him."
Source: Legit.ng