Top Four Big Spenders on Product Promotion in Nigeria - Ads Gulp N270.95 billion
The top four big advertising spenders in Nigeria are Dangote Cement, network provider, MTN Nigeria, Nestle Nigeria and BUA Cement
Dangote Cement, network provider, MTN Nigeria, Nestle Nigeria and BUA Cement were chosen based on the top five most capitalised companies in the country
The four companies, which cut across various sectors, including manufacturing and services, spent over N270.95 billion on advertising and distribution
Marketing, advertising, sales promotion make a company competitive, reason why it gulps millions and billions of naira from Nigerian companies yearly, as they battle for revenue share through market exposure.
Last year, a study reported by Statista disclosed that $586.5 billion was spent on advertising globally, despite the COVID-19 pandemic shrinking business operation, and knocking revenue down.
While GroupM, a media investment company, said global ad spending in 2020 was even higher, putting it at $628 billion, down by 3.5%, while projecting 2021 ad budget will hit $749 billion.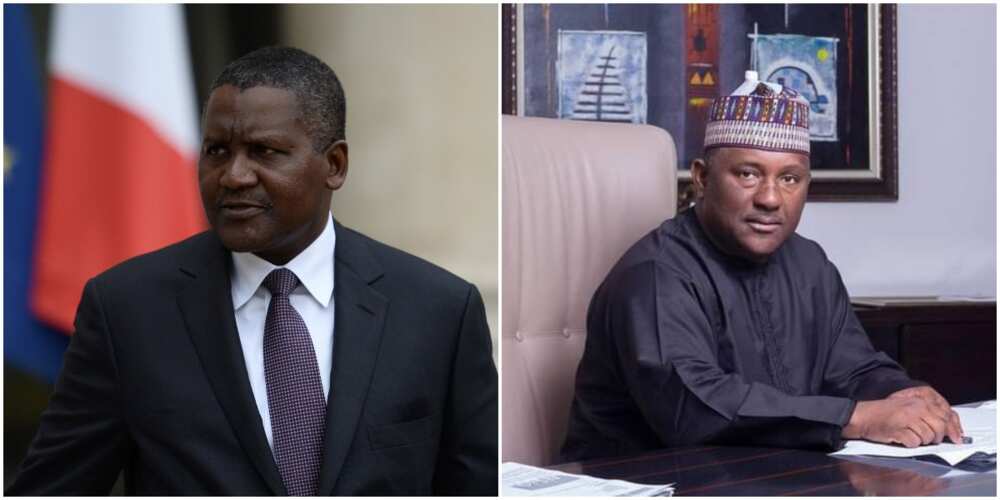 Advertising in Nigeria, and the big spenders competing with ads
It was gathered that the bulk of these global advertising revenue (including political ads) will be going to U.K and Brazil, which will account for 24% each, China gets 23% and United States 17% in 2021.
Do you have a groundbreaking story you would like us to publish? Please reach us through info@corp.legit.ng!
But narrowing the ads spending to Nigeria, the country is a small fish in an ocean, however, that doesn't mean Nigerian companies don't spend substantial amount on ads or marketing of their goods and services.
In an industry analysis by Legit.ng, it was gathered that four of the top five most capitalised companies spend about N270.95 billion on ads, which also falls under selling and distribution expenses depending on the industry's segmentation.
For MTN, the network spends N68.52 billion on Advertisements, sponsorships and sales in 2020, marketing and distribution gulped N43.84 billion from Nestle.
The cement industry group their ad spend under selling and distribution expenses, and both Dangote Cement and BUA Cement spent N153.71 billion and N4.86 billion in 2020.
Airtel, which is one of the top five most capitalised firms in Nigeria wasn't mentioned as its figures are combined with other African subsidiaries.
Who are the beneficiaries of these ads?
If four companies spend about N270.95 billion in twelve months just to give their products or services visibility in the market, the next question is, where is this large amount going to in Nigeria - who are the beneficiaries?
In an interview with a part-time media buying professional, Ukhueleigbe Zaccheus, he told Legit.ng that TV takes the largest bulk of a company's media ad spend.
Although he said sometimes, the channel that accounts for the largest or lowest ad revenue is dependent on the promotion direction or target audience.
Ad space are purchased across various medium; TV, Radio, Newspaper, and the Digital space, which includes Internet-based companies, Connected TV, Audio Streaming platforms, Social Media, Websites and more.
But while T.V might accounts for the largest revenue per ad, intenet-based media companies are cashing in big based on volumes of ads received, Legit.ng understands this makes them the largest ad revenue puller.
And this is confirmed by data and analysis agency, Zenith, which stated Online advertising is now the home of world's largest ad medium, overtaking Television.
The least ad banner on, say a digital news media, is N100,000, for a month, while average ad on Radio station like Rhythm FM in Nigeria is N5,000 per 30 seconds, and an average run period is twice a day, and N27,000 for 60 seconds.
Channels TV in Nigeria charges above N20,000 for a 15 seconds ad, while its highest fee is N492,972, while for Newspaper, such as Punch, the lowest ad rate is N3,962 for 1×1 size, while the highest is N773,105 for a double spread.
Ad rates are determined by various factors
Note that these ad rates are determined by many factors in TV, Radio, Internet-based companies and Newspaper, as they are unique in their mode of operation.
Some of these factors includes type of conten, number of words, size, location of audience, page, time of ad run, weekday, weekend, type of programme the media buyer wants the ad to run after or before or during.
There's also the familiarity part during negotiation of ad rates and compensation.
Rising Dollar Rate: Four Ways it Affect Every Nigerian as CBN Battles Bureau De Change Operators
Despite the rising exchange rate in Nigeria, advertisers will continue to spend big on marketing of their products just to ensure their products catches the attention of customers.
The forex rate will also affect their expenses just like it is affecting every Nigerian according to a new report by Legit.ng on Friday.
There are four ways that the weak naira and strong dollar is affecting you, which you may or may not know.
Source: Legit