Buhari is a Man of God, a Man of Honour, Says Primate Ayodele
- President Buhari has been praised by Primate Ayodele who claimed the president would not attempt to hold on to power for a third term
- Ayodele also claimed that he had earlier warned Nigerians that the second term of Buhari will be difficult
- Meanwhile, the cleric blamed politicians for the kidnappings and killings going on in the country
PAY ATTENTION: Join Legit.ng Telegram channel! Never miss important updates!
Prophet and senior cleric of INRI Evangelical Spiritual Church, Lagos, Primate Elijah Ayodele, has argued that Nigerians should forget the idea that President Muhammadu Buhari would want to go for a third term in office.
According to him, the president is a man of God and a man of honour that would abide by the constitution of the Federal Republic of Nigeria.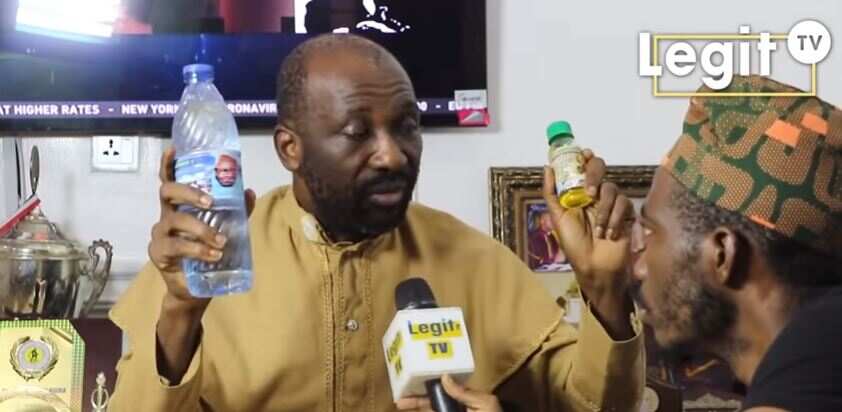 Ayodele disclosed this when he spoke with Legit.ng at his office in Lagos state. He said he had earlier told Nigerians that things would not be fine during Buhari's second term in office and that his prediction has manifested.
Going further, the cleric said the ruling All Progressives Congress (APC) must be conscious of the fact that there are lots of things wrong at the Presidential Villa.
Primate Ayodele also claimed that there are some hidden things the government needs to tell the world that they have not done.
He added that there are 'bundles of lies that have been cooked in respect of what is going on at the villa'.
Kidnappings and insecurity
In fact, the man of God said the reasons for all these kidnappings and insecurity in the country are that the villa is not getting it right.
Ayodele also blamed politicians for the kidnappings and killings going on in the country.
"President Buhari is a man of honour, President Buhari is a man of God, he will honour his words, he will not go for a third term. He won't think about it. He is even tired already."
Going further, the cleric spoke on the issue of seeking greener pastures abroad. According to him, he cannot relocate from the country.
He said:
"I can't relocate from Nigeria. This is where I am going to die. I will stay here, make it Nigeria, die in Nigeria and buried in Nigeria."
Legit.ng had reported that Ayodele told Nigerians to get ready for more woes.
In a prophetic declaration on Sunday, March 21, Primate Ayodele said Nigeria is about to witness massive protest and food scarcity.
The famous Christian cleric went on to say that he foresees harsher economic conditions that will come alongside a high level of insecurity throughout the country.
Source: Legit.ng