Jon Zherka's biography: height, age, social media, Twitch ban & more
Jon Zherka is a well-known Twitch streamer and content creator. He is best known for the videos he streams on his Twitch account. He often features female Twitch stars on his streams. He engages with thousands of fans and followers on his accounts.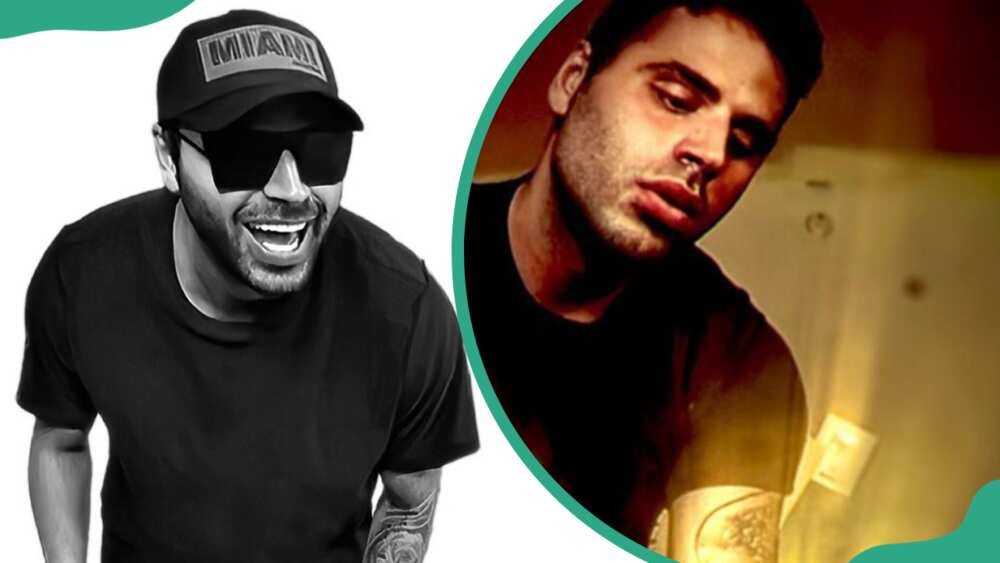 Jon Zherka went viral on Twitch when he received at least 500k views on his debut video. He was the first streamer to achieve this feat. Below are more details of his life and career.
Profile summary
| | |
| --- | --- |
| Full name | Jon Zherka |
| Gender | Male |
| Date of birth | 23rd February 1995 |
| Age | 28 years (as of 2024) |
| Place of birth | Canada |
| Current residence | Canada |
| Nationality | Canadian |
| Ethnicity | White (Albanian) |
| Zodiac sign | Pisces |
| Religion | Christianity |
| Sexuality | Straight |
| Height | 6 ft 5 in (196 cm) |
| Weight | 188lb (85 kg) |
| Body measurements | 44-32-38 in |
| Hair colour | Dark brown |
| Eye colour | Dark brown |
| Marital status | Single |
| Girlfriend | Jenna Twitch |
| Siblings | 2 |
| Profession | Bouncer, Twitch streamer, comedian, and content creator |
| X (Twitter) | @ZherkaOfficial |
Who is Jon Zherka?
Jon Zherka is a famous bouncer, Twitch streamer, comedian, and content creator. He gained prominence after his debut video garnered over half a million likes overnight.
How old is Jon Zherka?
Jon Zherka's age is 28 years as of 2024. He was born on 23rd February 1995, and his Zodiac sign is Pisces.
Where is Jon Zherka from?
The Twitch streamer was born and raised in Canada. He spent most of his childhood in Vancouver, British Colombia. He resides in his home country to date, and his nationality is Canadian.
Jon Zherka's ethnicity is White (Albanian).
Who are Jon Zherka's siblings?
Details of the Twitch Streamer's family remain scarce, but it is known that Jon has a sister named Julia. He also has a fraternal twin brother.
He has two step-siblings: a stepsister named Mia Malkova and a stepbrother whose name remains undisclosed in the public domain.
What does Jon Zherka do for a living?
Jon Zherka was a full-time nightclub bouncer before transitioning into a Twitch streamer, comedian, and digital content creator.
When he streamed for the first time on Twitch, his content went viral, and he received over half a million views. Jon Zherka's Twitch stream made him adopt the nickname Most Viral Man on Twitch.
He was the first-ever streamer to attain such a high number of views. Going viral inspired him to continue streaming. He often streams Fortnite, GTA V, and Apex Legends.
He also holds "just chat" streams where he interacts with his fans, followers, and other streamers. The content creator also streams on Kick, a live-streaming platform founded in late 2022. Jon Zherka's Kick account has several streams.
In addition, he is the host of The Zherka podcast. He invites guests on the podcast to discuss a wide range of topics, ranging from politics to gaming.
Besides the above, he also runs an eponymous YouTube channel with over 144k subscribers. He uploads vlogs, highlights, pranks, and podcasts on YouTube and often features other streamers in his videos.
As a comedian, Jon thrives on pushing boundaries. His humour explores controversial topics, including race, gender dynamics, religion, and sexual orientation. His comedy is for laughs, not for hostility.
Does Jon Zherka have an Instagram account?
He did before. Jon Zherka's Instagram was allegedly deleted after he leaked a couple of direct messages. Although he is no longer active on IG, Jon Zherka's X (Twitter ) account is quite active.
The digital content creator has a website dedicated to dating and relationship advice. He helps his fans to understand deep and dark psychological attraction triggers in women's brains.
Who is Jon Zherka's girlfriend?
The Twitch streamer is currently dating Jenna Twitch. Jenner is also a Twitch streamer and social media personality based in Vancouver, BC, Canada. She also streams on Kick Runescape and FPS fanatic Car.
He first met Jenna on Rajjchelor in 2019. The two started dating shortly after their first meeting. Today, the two are among the most popular couples in the streaming community.
Why was Jon Zherka banned from Twitch?
The Twitch streamer has been banned from Twitch a couple of times since he started streaming. Twitch normally serves bans to users whose content is inappropriate or goes against the user guidelines.
His first ban was in June 2019 because he violated user policies by showing a violent clip of another streamer who has been banned.
In March 2021, he was banned again from the platform for a month. This ban came after he clicked a photo of a girl in a bikini on a stream for an extended period. He received a two-week ban in January 2023 because his content was too edgy.
Alleged substance use
Jon is a boxer who participates in boxing matches. In September 2023, internet personality Nicolas "Nico Sneako" Kenn De Balinthazy accused Jon of using substances before his boxing match against Izi Prime.
Nico Sneako disclosed this information during a call conversation with Adin Ross. The streamer went on to say that he was not leaking undisclosed information about Jon.
Jon Zherka's height and weight
The online content creator is known for his towering height of 6 ft 5 in or 196 cm. He has a slim frame and weighs about 188lb or 85 kg. His hair and eyes are dark brown, and his body measurements are 44-32-38 inches.
Trivia
He once joked about having a crush on Pokimane, a female streamer.
He has received criticism and judgment from other streamers.
Tyler1 and GreekGodX inspired him to start streaming on Twitch.
Jon Zherka is one of the household names in the streaming world. He is known for his content, which has gone viral on multiple occasions.
Legit.ng recently published Amanda Markert's biography. Markert is a former VIP waitress who came into the limelight for being the mother of Pauly D's daughter, Amabella Sophia.
Little was known about Amanda Markert until she had a child with American DJ Pauly D. She hails from New Jersey, United States of America.
Source: Legit.ng