Saraki, Experts Identify Reasons for Incessant Fire Disasters in Nigeria
- The Grow Nigeria Conversation (GNC) founded by Dr. Abubakar Saraki is the latest ideas-sharing platform in town
- The platform gives an opportunity to experts to discuss possible people-centric solutions to the myriad of challenges confronting Nigeria
- A conversation on the incessant fire incidents in the country was the theme of the GNC's latest intervention
PAY ATTENTION: Join Legit.ng Telegram channel! Never miss important updates!
Experts have noted that insurance, proper planning, and a central electricity generation system are important steps in curbing the disturbing spate of market fires across the country.
This was the consensus at the second edition of the Grow Nigeria Conversation (GNC) in Abuja on Thursday, May 27 monitored by Legit.ng.
The two-hour event was convened by the former Senate President, Abubakar Bukola Saraki.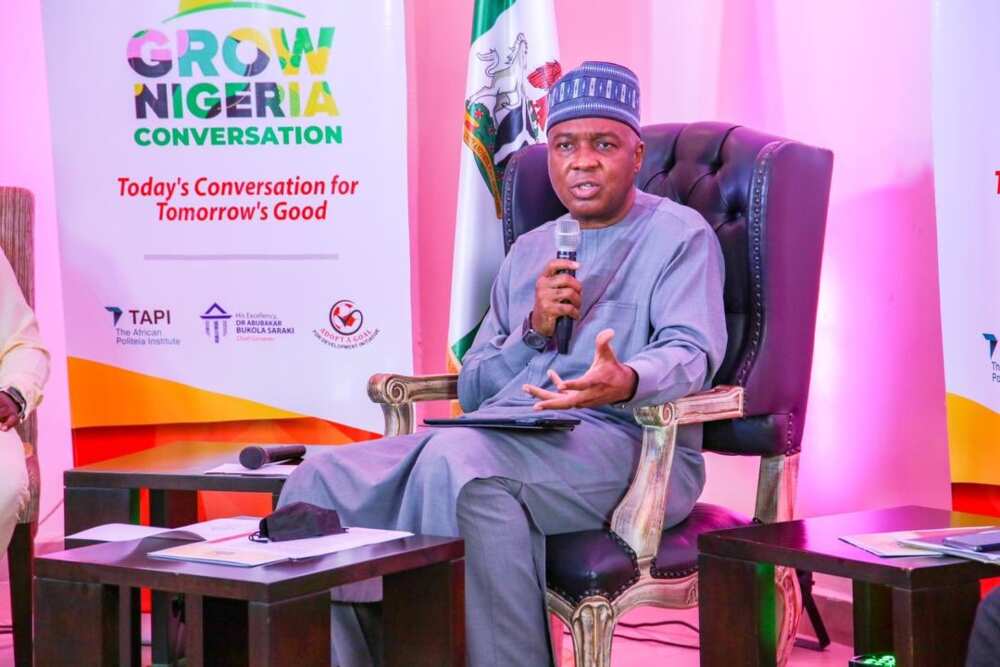 PAY ATTENTION: Install our latest app for Android, read the best news on Nigeria's #1 news app
Engr Joseph Garba Anebi; former past Controller General of the Federal Fire Service (represented), Debbie Windele, a fire safety expert; and Dr. Taibat Lawanson, urban planning, and development specialist at the University of Lagos were part of the panel.
Others were Dr. Usman Ado Kibon; director, Centre for Disaster Risk Management, Ahmadu Bello University, Zaria, Ebose Austin Osegha, CEO/MD Anchor General Insurance Company, and McDonald Ifeanyi, an IT specialist.
Osegha said:
"The general belief among most shop owners is that insurance does not work in Nigeria. When a market fire incident occurs, you'll see politicians donating hundreds of millions for rehabilitation and reconstruction.
"Most times, these monies do not even get to the intended beneficiaries. A fraction of that amount would have been used to secure the market and ensure that needed infrastructures are in place to ensure that losses are minimized."
Windele harped on the use of centralized electricity generating system, advocacy, and sensitization of market leaders and traders on the need to insure their wares and proper use of fire fighting equipment like the fire extinguishers, the location of fire stations close to markets in order to reduce the response time in the event of an outbreak.
On her part, Dr Lawanson said:
"Apart from having a central electricity generation system, let's also begin to look at tapping into renewable energy sources like solar in our markets."
For Dr. Saraki, market reconstruction is key. His words:
"I recollect that during my tenure as the governor of Kwara state, our administration in Kwara state had to totally reconstruct the Kulende Market as a way of showing our commitment to traders.
"As a senator, my constituency office had to help reconstruct 25 stalls in Baboko Market, Ilorin after it suffered a fire incident. We also provided street lights around and inside the market to discourage untoward practices.
"I also made personal donations to assist traders who lost wares in a market fire incident in Owode market, Offa in 2018."
The Grow Nigeria Conversation was organised and hosted by The Africa Politeia Institute and the Adopt a Goal for Development Initiative.
The GN had earlier informed Nigerians that it is bringing together experts to address the disturbing spate of market fires, its tolls on the ordinary people, and the deepening poverty level in Nigeria.
This was disclosed in a statement sent to Legit.ng on Tuesday, May 25 by organisers of the conversation series.
Meanwhile, civil society organisation, Yiaga Africa, has expressed worry about the recent 'coordinated and premeditated' attacks on the facilities of the Independent National Electoral Commission (INEC).
The organisation, in a statement sent to Legit.ng on Saturday, May 22, noted that the attacks are dangerous signs for Nigeria's fragile democracy, warning it will not just affect INEC's preparation for upcoming elections but also diminish citizens' confidence in the electoral process.
Source: Legit.ng