Full Profiles, Photos of the 10 Military Officers Who Died Alongside COAS Attahiru in Plane Crash
On Friday evening, May 21, Nigeria received "one mortal blow" to its "underbelly"; the nation's Chief of Army Staff, Ibrahim Attahiru, died in a military plane crash in Kaduna state.
PAY ATTENTION: Join Legit.ng Telegram channel! Never miss important updates!
He died alongside "10 other officers", including the members of the crew.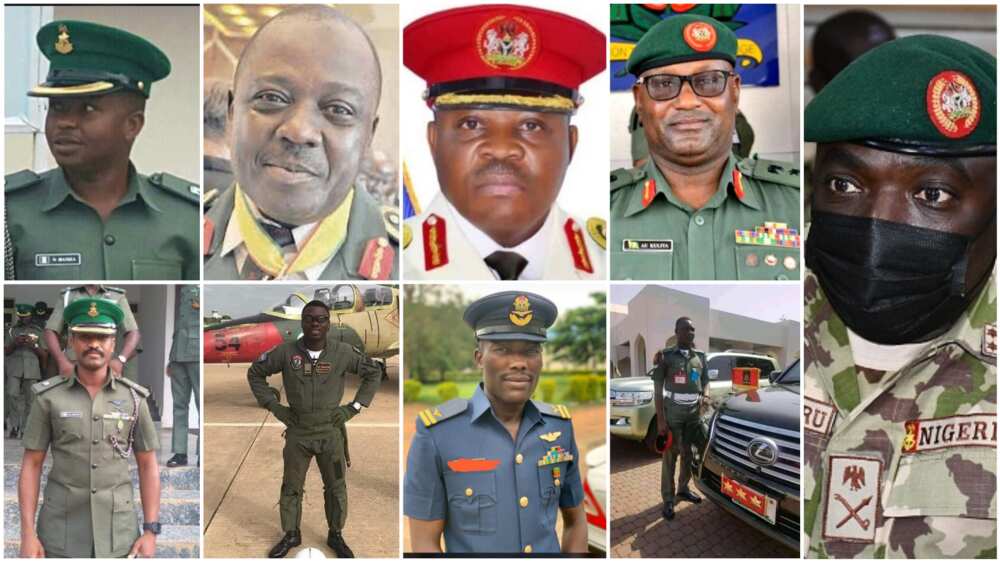 However, being the Chief of Staff, major statements from the presidency, the Nigerian Army and even media reports have focused on Attahiru while the remaining victims were described as "10 others".
In honour of their memories, this piece provides brief profiles of all the deceased heroes, including Attahiru, who "paid the ultimate price for peace and security in the land," citing reports from BBC Pidgin and the Nigerian Army's website.
1. Lieutenant General Ibrahim Attahiru
Lieutenant General Ibrahim Attahiru was born on 10 August 1966 in Doka, Kaduna North local government area, Kaduna state.
He is a graduate of the Nigerian Defence Academy, Armed Forces Command and Staff College and Nigerian Army School of Infantry.
General Attahiru commenced cadets training in January 1984 and was commissioned in the rank of Second Lieutenant in December 1986 as an Infantry Officer.
He has held several appointments on the staff, instructional and in command in the course of his military career.
The late COAS was a one-time Theatre Commander Operation LAFIA DOLE (the Counter-Terrorism and Counter-Insurgency Outfit in North-Eastern Nigeria).
General Attahiru was Deputy Director Military Secretary 2 at the AHQ MS (A) and one-time Director Army Public Relations and Spokesperson of the Nigerian Army.
The General had several honours and awards to his credit. He had a Masters degree in Strategic Management and Policy Studies from the Nigerian Defence Academy, Masters of Science in Human Resources Management and Development from Salford University in the United Kingdom and a Graduate Diploma in International Studies from the University of Nairobi, Kenya.
The General was happily married and blessed with children.
On Tuesday, January 26, General Attahiru was appointed Nigeria's Chief of Army Staff.
2. Brigadier-General Mohammed Idris Abdulkadir
Brigadier-General M.I. Abdulkadir was born 19 April 1971 in Kaduna state. He, however, hailed from Niger state in the north-central region.
According to BBC Pidgin, he became Brig-Gen on 17 August 2017. Until his death, he was the Chief of Staff to Lt-Gen Attahiru Ibrahim.
The late Brig-Gen Abdulkadir had several honours including the United Nations operations medal.
3. Brigadier-General Olatunji Olayinka
Brigadier-General Olatunji was born January 13, 1970. The late senior military officer was from Ikorodu in Lagos state.
He was the Provost Marshall of the Nigerian Army and also received a medal of honour from the United Nations.
4. Brigadier-General Abdulrahman Kuliya
Born on February 2, 1968, in Kano, Brigadier-General Abdulrahman Kuliya was the Acting Chief of Military Intelligence. He rose to the rank of Brigadier-General on September 10, 2017.
Kuliya had a Bachelor of Science degree in Mathematics and a Masters degree in National Resource Strategy as well as Strategy and Security Administration.
5. Major Nura Hamza
Major Nura Hamza was born on November 20, 1979, in Kano State. He, however, hailed from Gusau local government area of Zamfara state.
Major Hamza attended Bayero University, Kano from 1999 to 2003, where he obtained a Bachelor of Science degree in economics.
He also bagged a Master's degree in Economics, Business Administration and was an associate member of the National Accountants of Nigeria (NAN).
Hamza became a Major on December 2, 2015, and was in office as acting deputy director of finance before his death.
6. Major Lawal Aliyu Hayat
Born 11 April 1979, Major Lawal Aliyu Hayat hails from Zaria local government area in Kaduna state.
Late Major Hayat bagged a Bachelor of Science degree in Economics and Accounting and held several command positions.
He was promoted to the rank of major on September 27, 2017.
7. Flight-Lieutenant Alfred Ayodeji Olufade
Born on February 19, 1992, Flight Lieutenant Alfred Ayodeji Olufade hailed from Ijumu local government area of Kogi state.
Olufade joined the Nigerian Airforce on August 15, 2009, and was promoted to the rank of Fl-Lt on August 15, 2019.
He bagged a Bachelor of Science degree in Accounting from the Nigeria Defence Academy (NDA).
Friends and sympathisers have expressed sadness over the demise of Olufade, who got married about three months ago.
Hours after the confirmation of his death, pictures and videos from his wedding in February began to circulate on social media. One of his friends said he was heartbroken over the news.
According to him, the deceased often teased him to get out of bachelorhood. He also shared their conversation on Twitter.
8. Flight-Lieutenant Taiwo Olufemi Asaniyi
An indigene of Ibadan in Oyo state, Flight Lieutenant Olufemi Asaniyi was born on February 25, 1992. He joined the Nigerian Air Force on August 14, 2010.
Asaniyi had a Bachelor of Science degree in Biology from the Nigerian Defence Academy. He reportedly married about two months ago.
He became a pilot officer on 12 September 12, 2015, before being promoted to the rank of Flight-Lieutenant on August 14, 2020.
Asaniyi, the pilot of the ill-fated Beechcraft 350 plane, was reportedly preparing to walk down the aisle with the love of his life in October before death came knocking.
In a Twitter post on Saturday, a day after the sad incident, Asaniyi's friend, Adedeji Adeniyi disclosed that they recently discussed arrangements for the wedding coming up in a few months time.
According to him, the deceased was planning to marry a dear friend, unfortunately, life had other plans.
9. Sergeant Umar Saidu
Born on December 11, 1985, Sergeant Umar Saidu hailed Das local government area of Bauchi state.
He enlisted in the Nigerian Army in 2006 and was posted to the Army Corps of military police afterwards.
He was serving as orderly to the Chief of Army Staff.
10. Sergeant Adesina Isaiah
Sergeant Adesina Opeyemi Isaiah was born in April 1989 in Kaduna state.
He was recruited into the Nigerian Air Force on November 2, 2012. He was promoted corporal on November 2, 2012 and became sergeant in September 2016.
11. Aircraftman Oyedepo Matthew
Oyedepo Matthew was born on March 20, 1998, in Osun state.
He joined the Nigerian Air Force as a non-tradesman. He was granted the rank of an aircraft technician.
After he completed his basic military training at the Military Training Centre in Kaduna, he was posted to 203 Intelligence, Surveillance and Reconnaissance Group in Yola, and later to Abuja before he died.
PAY ATTENTION: Install our latest app for Android, read best news on Nigeria's #1 news app
Attahiru, others buried
Meanwhile, Attahiru and other officers who died in the plane crash have been laid to rest at the National Military Cemetery, Abuja on Saturday, May 22.
Honour guards performed the 21-gun salute for the late COAS at the graveside.
A live video from the burial ceremony of the deceased heroes was posted on the Facebook page of the Nigerian Army.
Nigerians mourn Attahiru, others
Former minister of aviation, Femi Fani-Kayode, @realFFK, said:
"The Chief of Army Staff of the Nigerian Armed Forces, General Attahiru Ibrahim, has been killed in an air crash together with a number of his officers and aides. This is a monumental tragedy and a big blow to our nation. May their souls rest in peace & may God help Nigeria."
Bello Shagari, @Belshagy, said:
"The death of Chief of Army Staff Lt.Gen Ibrahim Attahiru is shocking. We belong to Allah and to Him we shall return."
B h a d o o s k y, @BhadmusAkeem, said:
"Barely four months into his appointment, Nigeria Chief of Army Staff, Lt. Gen Attahiru Ibrahim died in a plane crash in Kaduna alongside other senior military officers. May their souls Rest In Peace! This is not a good news."
Samuel Ogbonna said:
"So sad his authority was short-lived,, it's barely 6months since he was sworn in,,jan26,so sad,,"
Sikiru Bola said:
"May his soul rest in person,we come to this world with nothing and we shall return to our creator with nothing. May God Almighty console the family he left behind ( Amen)"
Source: Legit.ng