This is a Monumental Tragedy: Nigerians Mourn, React as Chief of Army Staff, 10 Others Die in Plane Crash
- Nigerians have taken to social media to mourn the death of Chief of Army Staff, General Ibrahim Attahiru
- Attahiru was said to be one of the 11 people who died in the military plane crash in Kaduna on Friday evening
- Former aviation minister, Fani-Kayode, is one of those who have reacted to Attahiru's death on social media
PAY ATTENTION: Join Legit.ng Telegram channel! Never miss important updates!
Friday, May 21, has turned out to be a black day in Nigeria as the nation lost the Chief of Army Staff, General Ibrahim Attahiru, died in a plane crash.
The Nigerian Army has confirmed the development, saying the crash also claimed the lives of 10 other officers including the crew.
The COAS was en route Kaduna from Abuja when the unfortunate incident happened.
According to The Punch, Attahiru was one of the eight people who died as the military Beachcraft 350 aircraft crashed at the Kaduna International Airport.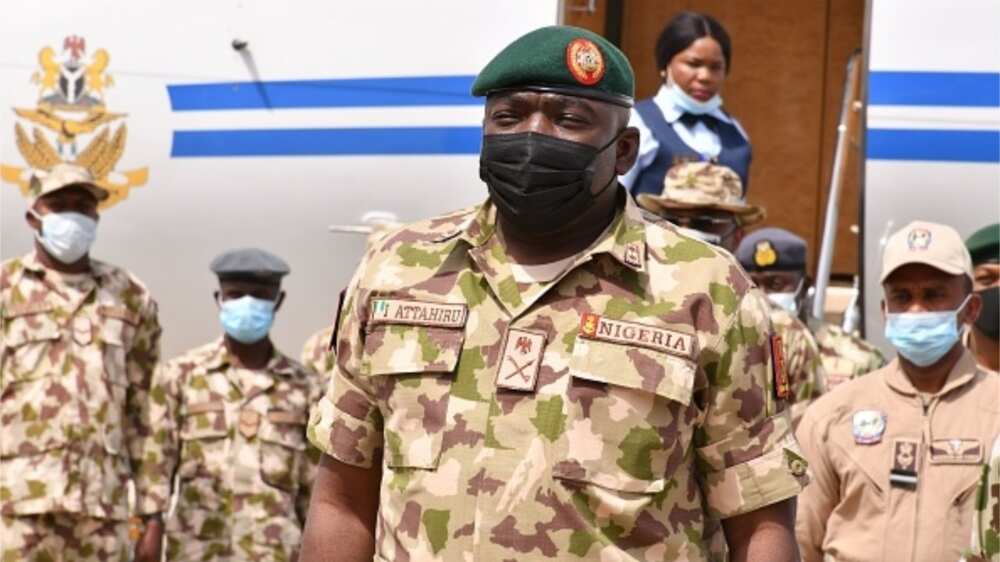 It was gathered that the ill-fated aircraft crashed at the airport's runway about 6pm.
The incident is drawing reactions from Nigerians who are pained by the death of the COAS and the others aboard the plane.
Some reactions below:
Former minister of aviation, Femi Fani-Kayode, @realFFK, said:
"The Chief of Army Staff of the Nigerian Armed Forces, General Attahiru Ibrahim, has been killed in an air crash together with a number of his officers and aides. This is a monumental tragedy and a big blow to our nation. May their souls rest in peace & may God help Nigeria."
Bello Shagari, @Belshagy, said:
"The death of Chief of Army Staff Lt.Gen Ibrahim Attahiru is shocking. We belong to Allah and to Him we shall return."
B h a d o o s k y, @BhadmusAkeem, said:
"Barely four months into his appointment, Nigeria Chief of Army Staff, Lt. Gen Attahiru Ibrahim died in a plane crash in Kaduna alongside other senior military officers. May their souls Rest In Peace! This is not a good news."
Samuel Ogbonna said:
"So sad his authority was short-lived,, it's barely 6months since he was sworn in,,jan26,so sad,,"
Sikiru Bola said:
"May his soul rest in person,we come to this world with nothing and we shall return to our creator with nothing. May God Almighty console the family he left behind ( Amen)"
Ajagbe Oladele Olayode said:
"Ha. This quite sad ooh. Ha sincerely speaking Nigeria as a country needs deliverance . Most of this aircraft are not brand new ooh. Same problem we have on road is happening on air ooh."
Igiehon Glory said:
"No day goes by in this country without hearing death news...is this country a morgue?"
PAY ATTENTION: Install our latest app for Android, read best news on Nigeria's #1 news app
Meanwhile, Attahiru who is from Kaduna state has become the second Nigerian Chief of Army Staff to die in a plane crash while in office.
The first was Lt. Colonel Joseph Akahan who was Chief of Army Staff from May 1967 until May 1968, when he was killed in a helicopter crash during the Nigerian Civil War. Akahan, from Gboko local government area of Benue state attended Government College Keffi where he obtained his Cambridge School Certificate (1952–1956).
He trained as an officer cadet at the RWAFF Training School Teshi, Ghana (1957–1958) and the Royal Military Academy Sandhurst, United Kingdom (1958–1960). He was commissioned on 23 July 1960.
Source: Legit.ng