Digital Talks: Legit.ng Hosts Webinar for Entrepreneurs on How to Build Strong, Lovable Brands
The role of good branding in the success of a business can never be overemphasised. That's why Steve Forbes, the Editor-in-Chief of the reputable business magazine, Forbes, said branding is the "single most important investment you can make in your business".
Strong brands, research shows, usually provide high profit margins and better access to distribution channels, as well as a higher possibility to expand their products' line.
PAY ATTENTION: Join the exclusive community for MDs, CEOs, CMOs, Marketers, Managers and decision-makers!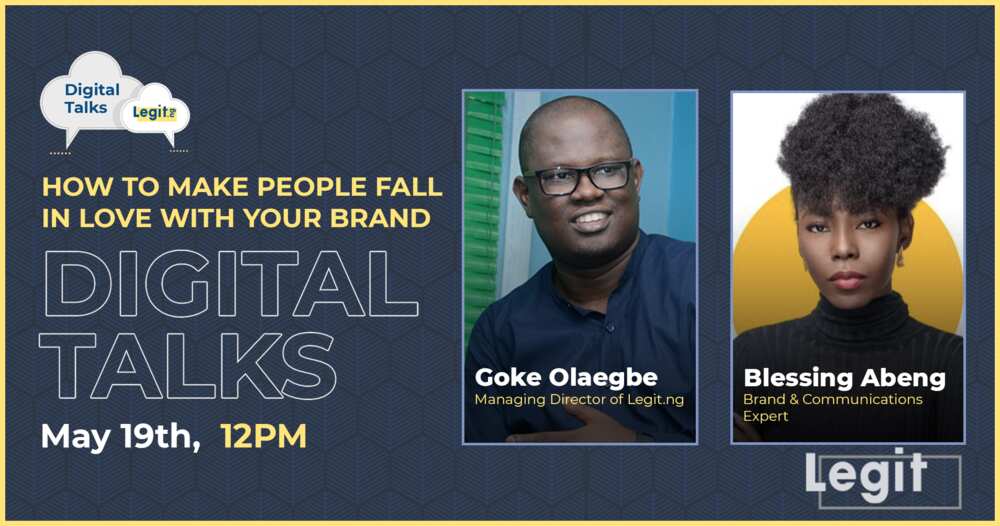 What is a strong brand identity, and how you build one?
What's the essence of communications in the growth of your company?
These and many other important questions will be addressed in the next edition of Legit.ng's Digital Talks which will hold on Wednesday, May 19.
Digital Talks is a special project of Legit.ng, Nigeria's #1 news and entertainment website, aimed at connecting business professionals in the country.
It includes a webinar series where industry experts enlighten business executives on ideas, innovations and best practices.
In the forthcoming edition of the series, Blessing Abeng, a branding and communications expert, will be the guest.
In simple terms, Blessing Abeng helps brands discover their value and unique identity to communicate and tell better stories.
She builds brand and communication strategies around products, services, growth, and sales.
The frontline branding and communications expert has worked with brands across industries in unique capacities, nationally and globally, including Seedstars, Facebook, Taeillo, Diageo, Heritage Bank, African Alliance, Dark and Lovely (Nigeria and Africa), Bolt, Alomo Bitters, GSK, Lights Camera Africa, Lemi Ghariokwu, Victor Ehikhamenor, Angels and Muse, QuickCheck and so many others.
Blessing Abeng is the Director of Communications at Ingressive for Good and drives the nonprofit's mission to create and increase African youth's earning power through tech training and resources.
The webinar is part of Legit.ng's efforts to give back to our community of readers with the aim not to only inform and entertain but to also educate and share with them important knowledge to successfully navigate the nation's business ecosystem.
Why do I need to watch?
- To join the exclusive group of decision-makers at Digital Talks
- To learn important business tips you need as business owners to operate successfully in Nigeria
- To interact directly with, and learn from, the branding expert, Blessing Abeng, who has trained over 5,000 creators through workshops in branding, communications, marketing, business, and tech.
The Live interview will take place on Facebook on Wednesday, May, 19 at 10am.
How do I participate?
The webinar is free. All you need is to click on this link to register and this link for the Facebook event.
Source: Legit.ng