Why Insecurity in Nigeria may Get Worse, Omo-Agege Reveals
- There is a growing fear that the death of Idriss Deby of Chad may increase the killing spree of Boko Haram in northern Nigeria
- A remark by Senator Ovie Omo-Agege on Sunday, April 25, has attested to this
- The deputy Senate president noted that insurgents may quickly take advantage of the absence of a formidable Chadian force against their influence
Ovie Omo-Agege, Nigeria's deputy Senate president, has raised concerns that insurgents around Lake Chad may gain more ground in the region and penetrate Nigeria more due to the death of Idriss Deby.
A report by The News said Omo-Agege made this remark on Sunday, April 25, during the 8th Synod of the Church of Nigeria (Anglican Communion), Ughelli Diocese, held at the Bishop Agori-Iwe Memorial Church, Ughelli, Delta state.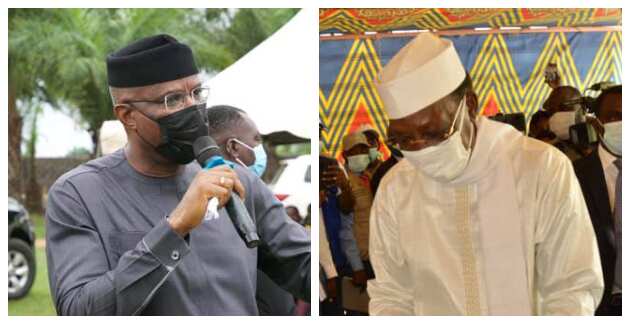 According to Vanguard, the senator admitted that this is a very dangerous and perilous time for Nigeria since Boko Haram terrorists will not relent to take advantage of Deby's demise
He recalled that the late Chadian leader was famous for being a powerful ally to the government of Nigeria in the anti-terrorism campaign.
Omo-Agege stated:
"These are perilous times and it could become worse before it gets better.
"There is a likelihood of influx of illegal arms and more insurgents into the country with the death of the Chadian President, Idris Derby, who did his best to secure the Nigerian-Chadian borders.
Pointing out that security is a collective responsibility of all in the country, he called on Christians to pray and work for the unity of Nigeria.
His words:
"I, therefore, call on the Church to continue to preach those things that will bring love and unite Nigerians rather than things that will divide the country further."
Meanwhile, President Muhammadu Buhari had expressed deep pain over the demise of Deby.
The Nigerian leader, in a statement sent by one of his media aides, Garba Shehu, said that the sudden and tragic death of President Idriss Deby of Chad on the front line, fighting against rebel soldiers, came as a rude shock to him.
The president said:
"I'm deeply shocked and devastated by the sudden death of Idriss Deby on the battlefront to defend the sovereignty of his country."
Source: Legit.ng