Flight Cost Increases Significantly, as Nigerians now Pay Double for Okada Ride
- The three major transportation channel of Nigerians rise to their highest within a year following the COVID-19 lockdown
- The cost of travelling by air rose from N30,743.66 to N36,458 paid by air passengers as of February 2021
- Okada cost rose by 102.46% within one year, as Nigerians had to pay more per trip
PAY ATTENTION: Join a community of CEOs, founders and decision-makers: subscribe for a free monthly business newsletter Digital Talks and succeed BIG!
Air travel cost has its highest in Nigeria after the price rose by 18.71% year-on-year to reach N36,458.11 in March following high cost of maintenance and drive to recover revenue lost to COVID-19 in 2020.
This was stated by the Nigerian Bureau of Statistics in its report on transport cost in Nigeria. The Y-o-Y fare for air passengers rose from the N30,743.66 paid as of March 2020.
The statistics agency stated that the month-on-month rate rose by 0.10% with an average price of N36,495.41 within the periods under review. The highest price was recorded in Anambra, Lagos, Delta, Jigawa and Bauchi.
Anambra and Lagos States shared an average cost of N38,600, Delta and Jigawa accounted for N38,500, while Bauchi air cost was put at an average of N38,450
It was reported that Akwa Ibom, Sokoto and Katsina recorded the lowest air ticket, offering an average of N32,700, N33,200, and N35,150 respectively, according to the NBS report.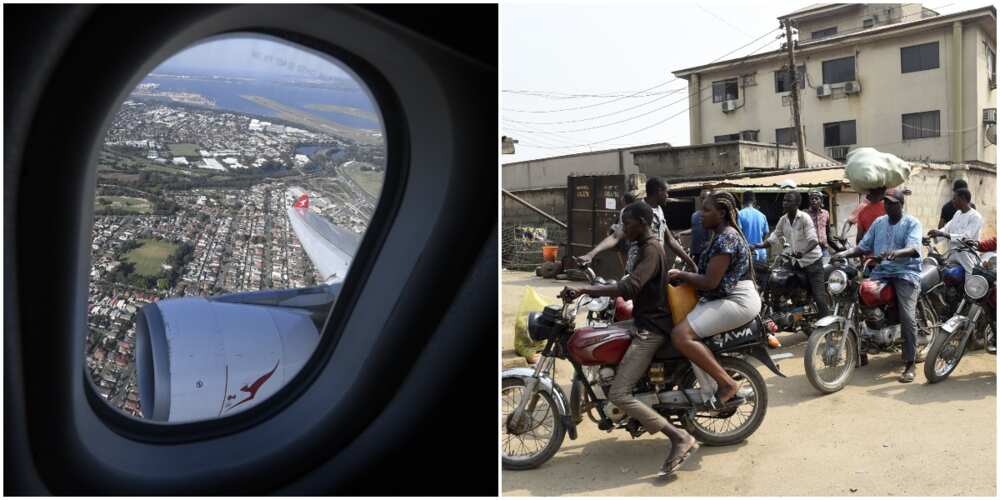 Bike cost skyrocket in Nigeria
Also, the cost of riding a motorcycle, popularly known as Okada in the country increased by 102.46% year-on-year, which rose from N134.07 in March 2020 to N266.74 kobo per ride in February 2021.
The average cost set for a ride within this period was put at N271.44 kobo. The highest price was recorded in Rivers State, Taraba and Yobe States, while the lowest was seen at  Adamawa, Katsina and Niger.
The average cost of a motorcycle ride in Rivers was put at N420.35 kobo, Taraba was N420.15, and Yobe N420.1 kobo. Adamawa was put at N90.43, Katsina accounted for N147.64, and Niger State was N159.2.
Commercial bus fare
During the period under review, commercial bus fare rose by 42.58% year-on-year from March 2020's N1691.23 to N2372.87 in February this year. On a month-on-month basis, it rose by 1.62%.
In the report, Abuja, Lagos and Sokoto States recorded the highest commercial bus fare, while Bayelsa, Enugu and Bauchi residents recorded the lowest fare within the country.
Abuja bus fare was N4576.28, Lagos was put at N3425.18 and Sokoto N3380.20. For the lowest, Bayelsa recorded N1700.19, Enugu was N1720.45 and Bauchi N1725.35.
Meanwhile, Legit.ng had earlier reported that Aliko Dangote lost $3.9 billion in six years after his net worth fell from $15.4 billion held in 2016, to $11.5 billion as of April this year.
The wealth of the richest man in Africa dwindled at a period his market rival, Abdulsamad Rabiu's fortune was increasing. Rabiu had gained almost equivalent of the amount lost by Dangote.
During the six years period, Rabiu added $3.8 billion to his wealth, increasing his net worth from $1.1 billion in 2016 to $4.9 billion this year's April.
Source: Legit.ng News