Chris Motionless (Cerulli) biography: Age, height, wife, daughter
Chris Motionless is not a new name for any metal lover. He is one of the members of the highly-acclaimed band Motionless in White. He is the lead vocalist and plays guitar for the heavy metal band.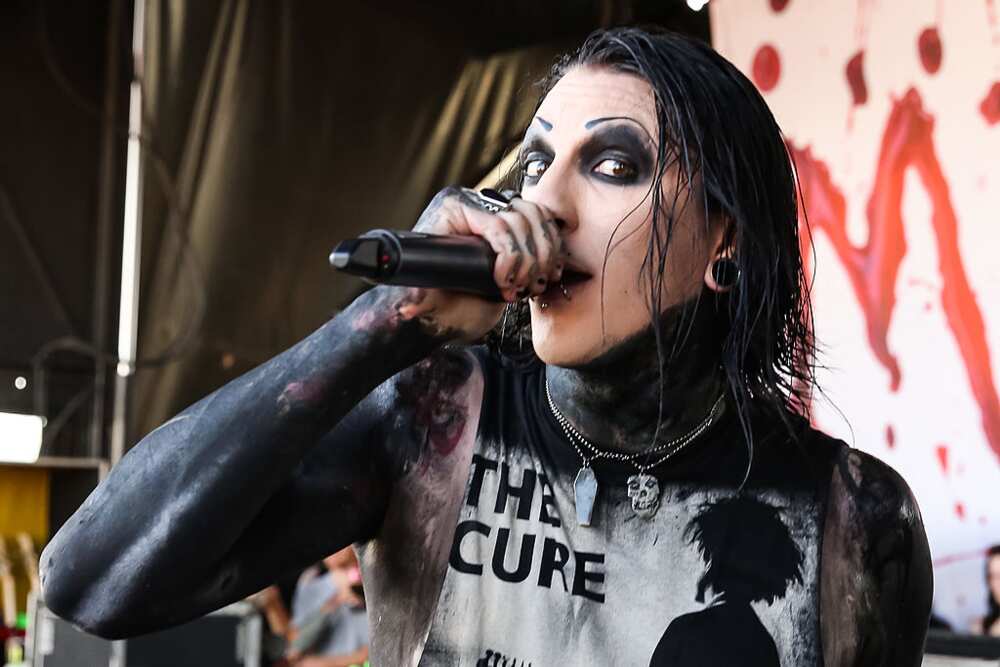 Cerulli founded the band alongside three other individuals, Angelo Parente, Frank Polumbo and Kyle White. Since the band's formation in 2005, they have released several projects over the years. Beyond music, Chris has gained fame for his strange and crazy appearance characterized by long hair, gothic dressing sense and fully tattooed body.
Chris Motionless profile summary
Full name: Christopher Thomas Cerulli
Date of birth: October 17, 1986
Place of birth: Scranton, Pennsylvania
Chris Motionless age: 34 years (as of April 2021)
Nationality: American
Ethnicity: White
Relationship status: In a relationship
Profession: Singer, guitarist
Net worth: $3 million
Chris Motionless biography
The singer was born on 17th October 1986 in Scranton, Pennsylvania. His birth name is Christopher Thomas Cerulli. How old is Chris Cerulli? The Motionless in White band vocalist is 34 years old as of April 2021.
The singer has not offered any information about his parents. He has two younger siblings (brother and sister). His brother works with their father at his workshop while his sister is still in school. Chris Motionless high school and college studies are not publicly known.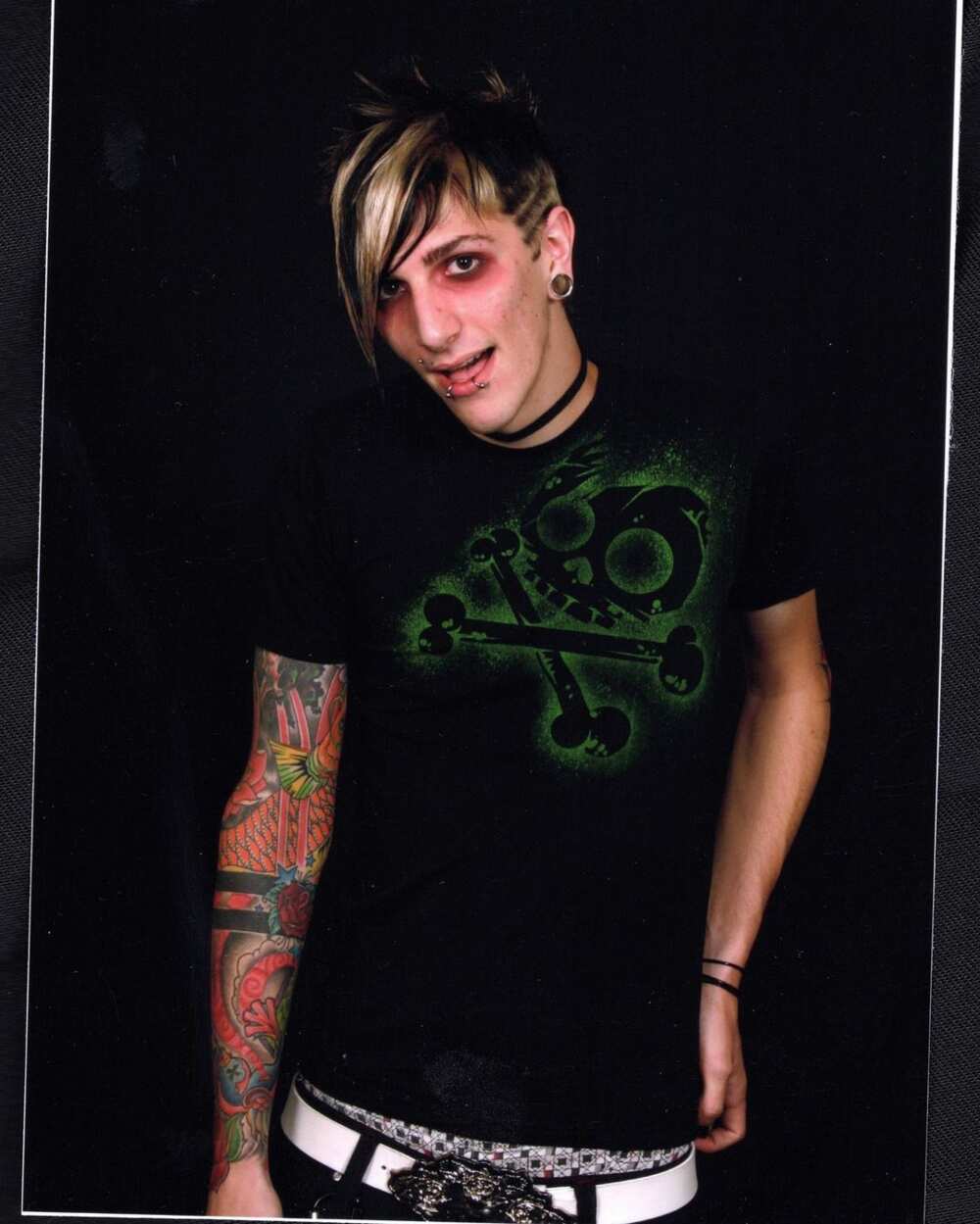 He had a rough upbringing which largely influenced everything he did. As he grew up, he witnessed his parents' constant fights, which eventually resulted in divorce. It was a tough period for him, his mother and his siblings.
As a result, he put all his fears and struggling emotions into music form. He started building his reputation as a loner. The young man behaved and dressed crazily and weirdly, making other people afraid of crossing his path.
That said, when Cerulli was 8-10 years old, his grandfather showed him how to play guitar. Despite not capturing his attention at the time, it seems those lessons struck a chord in young Chris, as he has grown up to be a musician that would make his grandpa proud.
Career
The singer started his career after high school by doing various odd jobs for sustenance. After completing his studies, he had his first job working at a tattoo shop as a tattoo artist. He started his training to become a piercer but had to leave the job after his music career started blossoming.
He co-founded the Motionless in White music band in high school. Since the band's conception, Chris has been the guitar player and lead singer. In 2005, Motionless in White released their first self-titled EP.
His singing career started with the Motionless in White band performing in nightclubs and bars in town. After being discovered by an agent and producer by the name of Zach Neil, the band rose to fame. He instantly signed them to his record label, Masquerade Recordings.
By 2007, the band launched their first EP, The Whorror. After touring the United States, in 2009 they released an EP titled When Love Met Destruction under Tragic Hero recordings.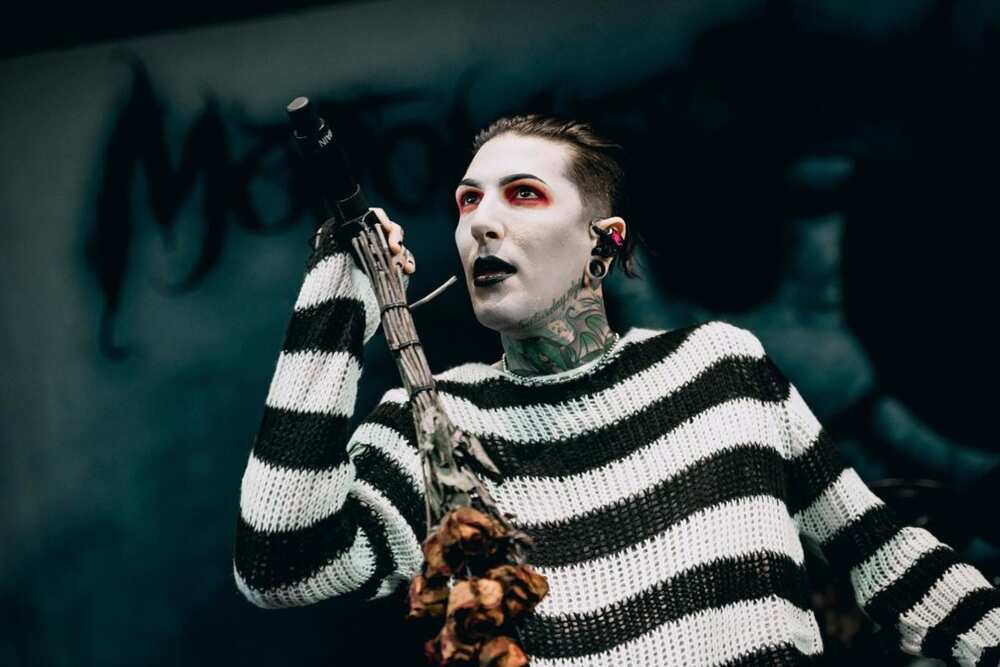 The EP's first single, Ghost in the Mirror, was well received, which encouraged them to create their first studio album, Creatures, in 2010. It debuted at number six on the Billboard Heatseeker Music Chart. The album was made of several hit singles such as Abigail, Creatures and Immaculate Misconception.
Towards the end of 2012, the music band released their 2nd studio album, Infamous. It debuted at #9 on the Independent Albums music chart and #5 on the US Top Hard Rock Albums. This was followed by a third album, Reincarnate, which has several hit singles such as Puppets 3 and Break the Cycle. The band has continued to release hits songs, EPs and studio albums, the most recent being Graveyard Shift (2017) and Disguise (2019).
Over the years, the original members left the group, leaving Chris as the only old member. However, other talented individuals have joined the band, which currently consists of five people. Motionless in White members comprise of:
Chris "Motionless" Cerulli - Lead singer and guitarist
Ryan Sitkowski - Lead guitarist
Ricky 'Horror' Olson - Rhythm guitarist
Justin Morrow - Bassist, backing vocalist
Vinny Mauro - Drummer
Chris Motionless wife and children
The singer is not married but has dated several women. At the beginning of 2013, he was in a relationship with Sabrina Malfoy. The relationship did not last long as they broke up soon after.
For a while, the singer had been dating a woman who goes by the name Gaiapatra. Chris Motionless girlfriend is a famous Instagram star and make-up artist. She has been working closely with the singer on various projects.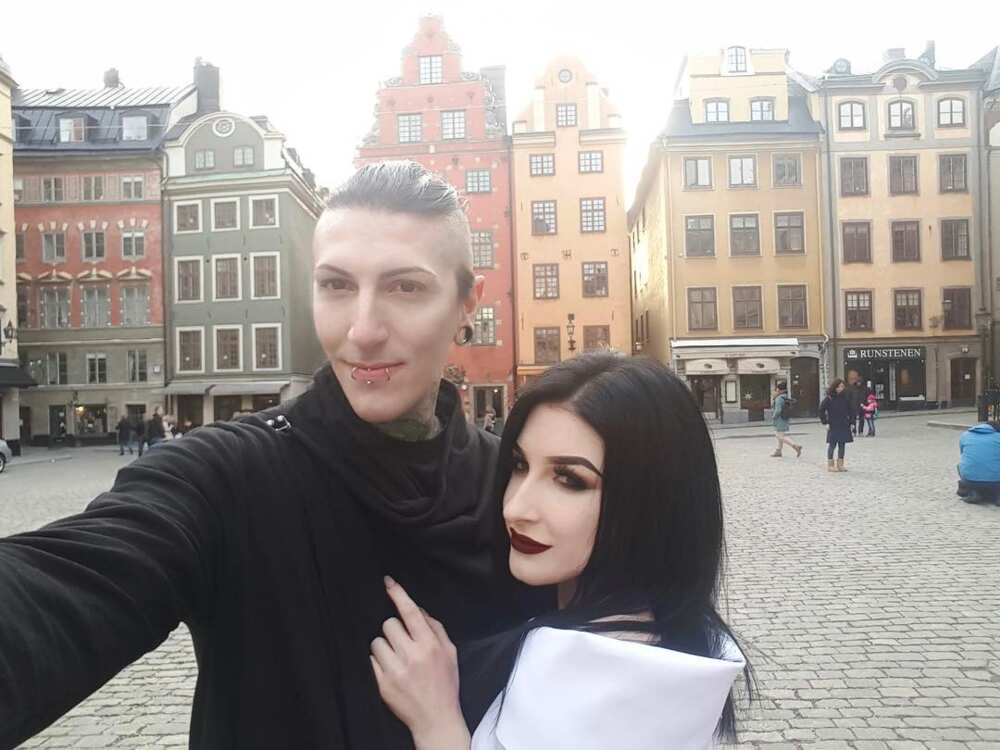 However, Cerulli is quite closed off when it comes to his personal life. The last photo he posted with Gaiapatra dates back to 2017, and the man has not been captured on film with a significant other since, thus it is unknown whether he is still taken.
The singer is the father of one. He has a daughter who was born when he was 20 years old. Chris Motionless daughter goes by the name Riley Cerulli and lives with Cerulli's ex-girlfriend, Callie.
Body measurements
Chris Motionless height is 6 ft 1 in and weighs around 165 lbs. He has brown eyes and long black hair. His body is covered with all types of tattooed drawings and inscriptions. The singer has tattooed his body with the words 'Lost Boy' and 'Kiss Kiss' on his hand's knuckles.
Net worth
The talented vocalist has been in the music industry for quite some time now. He has earned a significant sum of money from his career in the Motionless in White band. He has an estimated net worth of around $3 million.
Chris Motionless is the oldest member of the Motionless in White music band. He has stuck by his fellow band members through thick and thin. Cerulli started small but has grown steadily over the years despite having a rough time growing up.
READ ALSO: John Okafor's biography and best movies
Legit.ng comprehensively covered the life of John Okafor, who is a Nigerian actor. The comedic actor is also popularly known as Mr Ibu. He has starred in many Nollywood movies such as Police Recruit (2003), Mr Ibu in London (2004), and Honey Moon Guys (2015) among many others.
The 59-year-old is also a husband and father. The name of his wife is Stella Maris Okafor, who is an actress. The couple has three children whose names are Emmanuel, Jay Jay, and Chelsea. His net worth is estimated to be $4.2 million.
Source: Legit.ng