Pickmeup: The Nigerian ride-hailing startup daring to succeed where others failed
- Pickmeup has been in existence for two years during which other Nigerian-owned ride-hailing firms have collapsed
- Okaredje has taken the fight against Uber and Bolt to an underserved market to remain competitive
- After two years, Pickmeup is finally ready to confront the foreign-owned ride-sharing firms in their core market
PAY ATTENTION: Legit.ng is on a mission to support vulnerable children of Calabar – join the initiative
Hope they say is the last thing that leaves a man. Michael Okaredje needs plenty of it if he is to succeed where many have failed; Nigeria's car-hailing market. His startup, Pickmeup, has taken on a challenge that crushed many before it.
"I think competition is a double-edged sword and counterintuitively, often brings more benefits than drawbacks. The competition has made us stronger and we've experienced incredible growth." Okaredji told Legit.ng in an interview.
What is Pickmeup doing differently that others didn't?
The Ambrose Alli University graduate is betting big on the company's understanding of the market terrain, and its focus on smaller markets which deep pocket rivals have ignored for a bigger profit.
Gidicab, Oga Taxi, and Jekalo, had all aimed for a share of the larger market, but they were not financially strong to withstand the competitive nature of market leaders like Uber and Bolt.
The sector's brutality led to Opera-backed Ocar shutting down operation eight months after making a play for it, while foreign-owned InDriver remains the only strong rival challenging the grip of the ride-hailing giants in Nigeria.
The number of demise local car-hailing firms show the enormous challenge Pickmeup is facing head-on. But a look at the company's strategy shows the brain behind the local tech borrowed a leaf from the pages of those that failed.
The startup is planning to change the status quo from behind, not underserved market at a time. While the likes of Jekalo decided to compete against Uber and Bolt in their dominated market, which is Lagos, Pickmeup set base in eastern Nigeria, outside the stronghold of the giants.
Explaining why it opted for a different revenue route, Okaredje said:
"This is an intentional strategy to focus on the smaller cities where there is less competition, gain traction and customer loyalty before expanding to the larger cities."
Lessons from the demise of other Nigerian-owned ride-hailing firms
Commenting on other factors that led to the early demise of Nigerian-owned ride-hailing firms, Okaredje said:
"Other startups collapsed due to lack of adequate capitalization, mismanagement of resources and strong product. Pickmeup has survived where others have failed based on the strength of our product, strong technical team and market receptivity.
"We think we are on a journey that is very clear to us and we have not missed a step since we started that journey to shape the future of transportation & logistics in Africa."
He also stated separately that:
"One of the reasons OCar exited was due to unrealistic promos that could not be sustained."
Upsetting the market or turning the industry on its head comes with its own challenges. Legit.ng learnt that customer and driver acquisitions were major challenges when it started.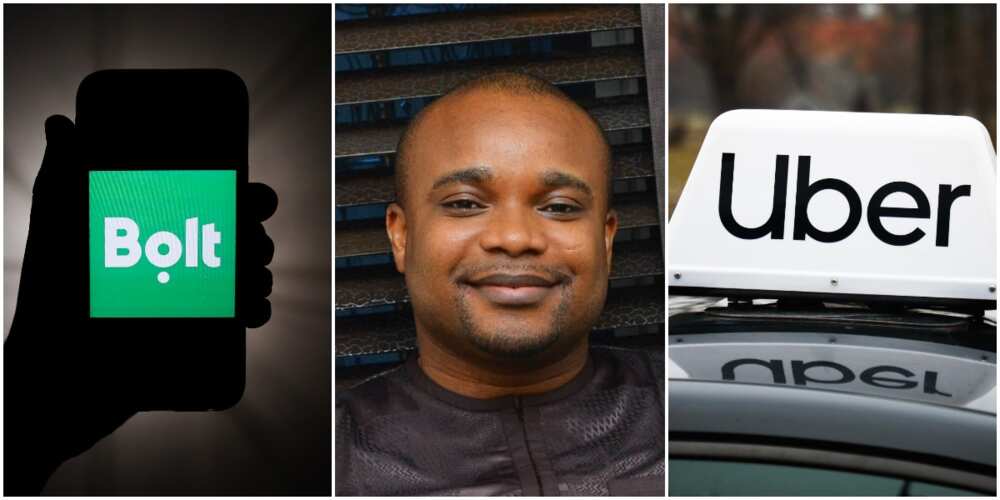 And the company was able to resolve this problem by identifying commuters' value price and reliability, while on the supply side, drivers expect strong earnings and seamless payments.
This has grown Pickmeup user-base to over 50,000, according to Okaredje, as the startup offers higher compensation for drivers with greater flexibility over their earnings and better welfare packages, the Delta-born said.
Pickmeup at a competitive disadvantage - but that's being solved
Uber and bolt are funded by venture capital, giving them the financial power to dominate any market they enter, but Nigerian on-demand transport startups don't have this capital backing, and it created a competitive disadvantage due to how capital intensive the market is.
However, Pickmeup is currently conducting fundraising for a seed round. The local taxi app has been bootstrapping, but it will exit that phase after its ongoing alternative finance sourcing. The capital is expected to be disbursed into fortifying its operation in the market.
"The company has been bootstrapped to date. However, we are currently raising our first seed round and welcome interested investors who would like to share this journey with us, to build the future of transportation in Africa and digitize society."
After the fundraising, Pickmeup will become the first Nigerian-owned ride-sharing company to secure funds to scale since the market started in Nigeria. This will gradually close the financial gap between the local firm and foreign-owned businesses.
Uber has so far raised $25.2 billion from the likes of Sequoia Capital, SoftBank Capital, Dragoneer Investment Group, General Atlantic, TPG, Tencent Holdings, and the biggest ride-hailing firm, Didi Chuxing.
Bolt has also raised $616.8 million from Didi Chuxing, Ragnar Meitern, Taavet Hinrikus, Co-founder of TransferWise, Daimler—German automotive company, Korelya Capital, IFC.
How is Pickmeup different from Uber and Bolt?
There have been silent complaints from drivers on Uber and Bolt regarding the level of compensation. It was said that the commission was too small, as they receive 20% and 25% of the service fee respectively.
Pickmeup enters into the market offering a competitive fee at 15%. While this hasn't translated into quick growth, the company's offer is gradually expanding its community of users.
"The relationship between drivers and our two major competitors is very poor, with constant disagreements and protests. We are proud to look after our drivers and believe they are the backbone of this business; this is something that sets us apart."
He further stated that:
"We also have a central dispatcher hotline that allows us to receive bookings from customers over the phone and dispatch drivers immediately, which easily integrates them into our system. These are some of our competitive advantages."
What the future holds for Pickmeup
It seems starting from underserved markets have had a positive impact on the ride-hailing startup, as it now plans to compete against Uber and Bolt in Lagos and Abuja.
The company has already opened offices in these locations to show the readiness of the firm which is also eyeing Kenya, South Africa, Ethiopia, and Ghana for the first phase of its expansion.
With the startup trying to shrug off the impact of COVID-19 on its business, the firm plans to launch a range of on-demand services, expand doing operation into deliveries (food, parcel) and payments:
"All of these will be through a new Super App, where users will be able to commute, eat, deliver packages, and pay for daily essentials through one app. This will create a uniform user experience, convenience and provide different value ads to our customers."
Meanwhile, Legit.ng had previously reported the story of Boomsky Smoothies, a Nigerian fruit startup that was created by Olubunmi Otufowora while she was having pregnancy cravings.
She started the business with about N3000, and now earns over N20 million as revenue yearly.
Source: Legit