Why I quit journalism, become food vendor now making N10k daily, lady discloses in emotional video
For 26-year-old Ugoma Johnson, the goal was to become a celebrated writer and journalist but as destiny would have it, that dream hit the bricks following her parents' death, forcing her into hawking to make ends meet.
PAY ATTENTION: Join Legit.ng Telegram channel! Never miss important updates!
The twist to life began when she first lost her father as a child. The woes were compound when her mother gave up the ghost after complications from pelvic cancer.
Ugoma's education life started to be affected, and in the course of surviving the turbulence of life's other side as a teenager, she eventually dropped out in JSS1 in order to cater for herself and her siblings.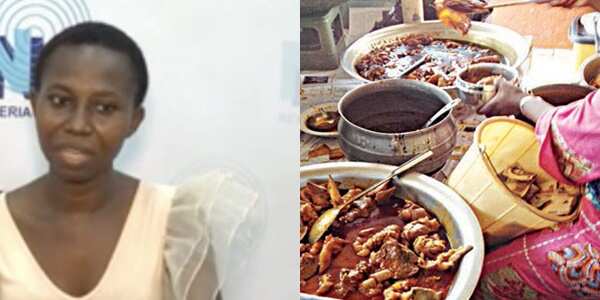 Life back into the classroom
Speaking with NAN in a touching video interview on Saturday, March 7, resilient Ugoma said he did not succumb to the challenges after leaving school. She rather promoted and "homeschooled" herself.
Somewhere along the line, some people came and helped her to pay for the West African Senior Secondary Certificate (WASSCE) examination.
Writing began in church
Although she later dumped school for hawking due to financial difficulties, Ugoma said her passion for writing and journalism was rekindled when she joined the magazine department of her church, Assemblies of God's Church.
It was there she started writing, editing and granting interviews as a member of her church's magazine team.
"I would write down anything that happened in church and during youth week, I would compile and broadcast them as news.
"Before I knew it, people started calling me a newscaster. Then, the women department of my church gave me scholarship award to go back to school," she said.
A half-fulfilled career in journalism and journey as a food vendor
Ugoma said she applied for journalism at the National Broadcasting Academy, Ikeja, but she was unable to get a job after the programme, apparently because she did not have a degree.
She later got a job courtesy of help from a church member but in 2018, she left her N30,000 per month job to become a food vendor.
According to her, the decision benefited her because she earns N10,000 daily as a profit which affords more opportunities to venture into some youth projects in her community.
Still a writer by night
Ugoma said she has though left writing, she is still committed to the art despite her schedule as a food vendor.
PAY ATTENTION: Install our latest app for Android, read best news on Nigeria's #1 news app
"In May 2019, I released my first book, published with proceeds from the food business.
"There are so many other things I have done; a lot of teenagers depend on me for feeding, I give out sanitary pads in my community and I helped some people with school fees throughout last year," she said.
*****
Rahaman Abiola is a result-oriented journalist and content writer with a firm grip of over 5-year corporate experience stranding diverse roles in digital & traditional media and social media communication.
A published literary writer, freelancer and public commentator, he has written over 100 essays covering diverse issues on economy, politics and current affairs, entertainment and leadership published in virtually all notable Nigerian national dailies and digital media in Nigeria.
He is a graduate of English Literature, Obafemi Awolowo University, Ile-Ife. Follow him on Twitter via @ShugabanR.
Source: Legit.ng