Alicia Dove biography: what is known about Corey Taylor's wife?
Alicia Dove is an avid dancer, well known as the rock dance group Cherry Bombs founder. She is married to Corey Taylor, the lead vocalist of the band Slipknot.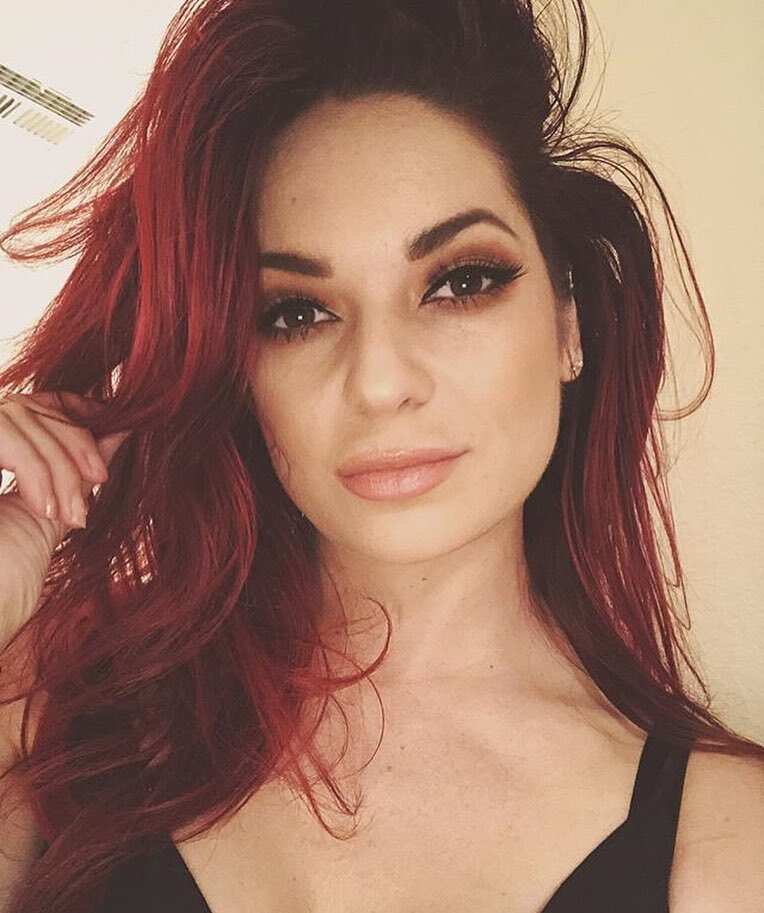 Alicia is known for touring and performing alongside top rock groups such as Puddle of Mudd and Saving Abel. She began her dancing career in her days as a cheerleader in the National Football League.
Profile summary
Full name: Alicia Dove
Date of birth: January 16, 1985
Alicia Dove age: 36 (as of 2021)
Career: Dancer
Nationality: American
Relationship status: Married
Husband: Corey Taylor
Height: 5 ft 7 inches
Alicia Dove biography
Alicia Dove was born on January 16, 1985. She was born in her home city Texas in the United States of America. Information about her formative years, her parents, siblings, and educational background, is unknown.
Career
Alicia realized her love for rock and metal music in her childhood. She would listen to famous bands of the 80s and 90s and became a big fan of musicians like Joan Jett of the Joan Jett band and the Blackhearts. Joan was a big inspiration for Alicia's career direction.
When she completed her education, Alicia became a cheerleader in the National Football League. This was a good chance for her to hone her dancing skills and build her confidence. She, together with the cheerleading team, would perform before not less than 80,000 fans.
The league was good for her because she would travel around the world to perform. She also accessed multiple community events and charity programs organized by the league.
Eventually, Alicia had enough of the dancing styles and the songs they danced to at the league. She also felt the need to advance her dancing career. She still adored rock and metal music, and this is the kind of music she wanted to dance to.
One of the dance groups that inspired her was the Pussycat Dolls, and she wanted to incorporate some aspects of their dancing into her new group. The talented dancer found other dancers who shared her dream and created the Cherry Bombs. The name came from Joan Jett's band hit song, The Runaways.
The Cherry Bombs soon became famous due to their dancing style, alluring attire, stunts, acrobatics, and performing with fire. The group soon started performing alongside various popular rock groups. These include Steel Panther and Corey Taylor's band, Stone Sour.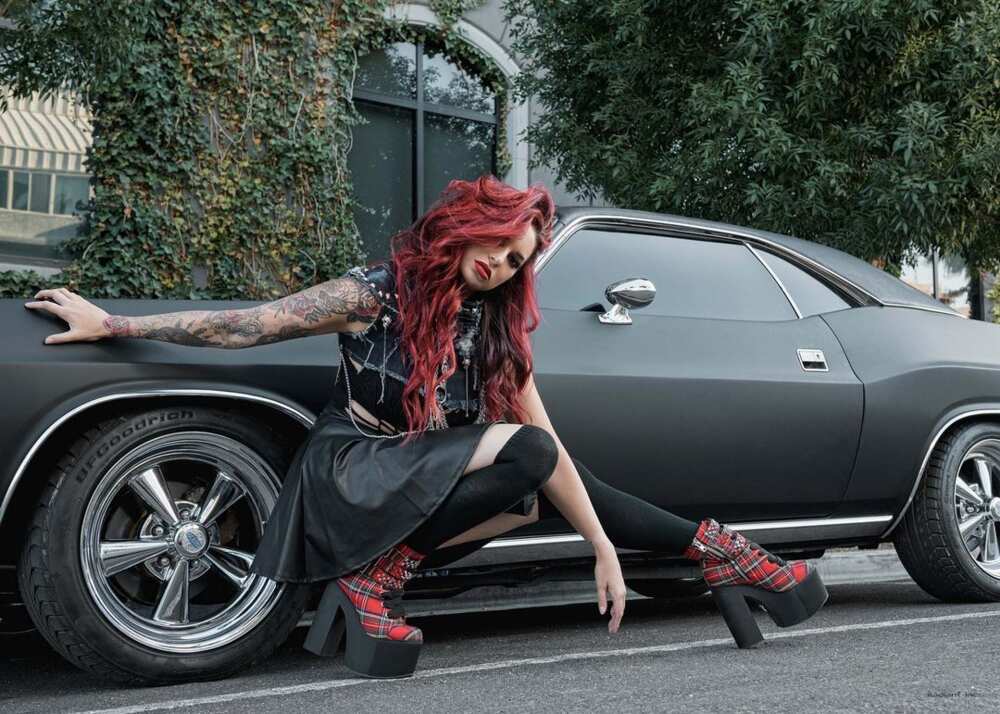 The group has continued to grow in popularity and skill over the years. Even though some people may have criticized it initially, most have been won over by the milestones the group has achieved. In addition to being a successful dancer, Corey Taylor wife is also a fine artist and makeup artist.
Is Corey Taylor married?
Yes, to his third wife, Alicia Dove. He was previously married to Scarlett Taylor (2004-2007) and Stephanie Luby (2009-2017). Corey has three children from his previous marriages, and none with his current wife, Alicia.
Corey Taylor began his music career in 1992 as a founding member of the band Stone Sour. He then joined the band Slipknot and decided to leave Stone Sour. He later returned to Stone Sour in 2002 and has been a great contributor to its success.
Being Corey Taylor's wife
Alicia and Taylor met when she was still a cheerleader for NFL. It was not an instant love story for them, as they only hit it off in 2017 when Cherry Bombs toured with Stone Sour.
The two got engaged on April 7, 2019, on a simple yet special occasion. They exchanged their marriage vows on October 6, 2019. Corey Taylor and wife have publicly declared their love for each other on various occasions, and they seem to be perfect for each other.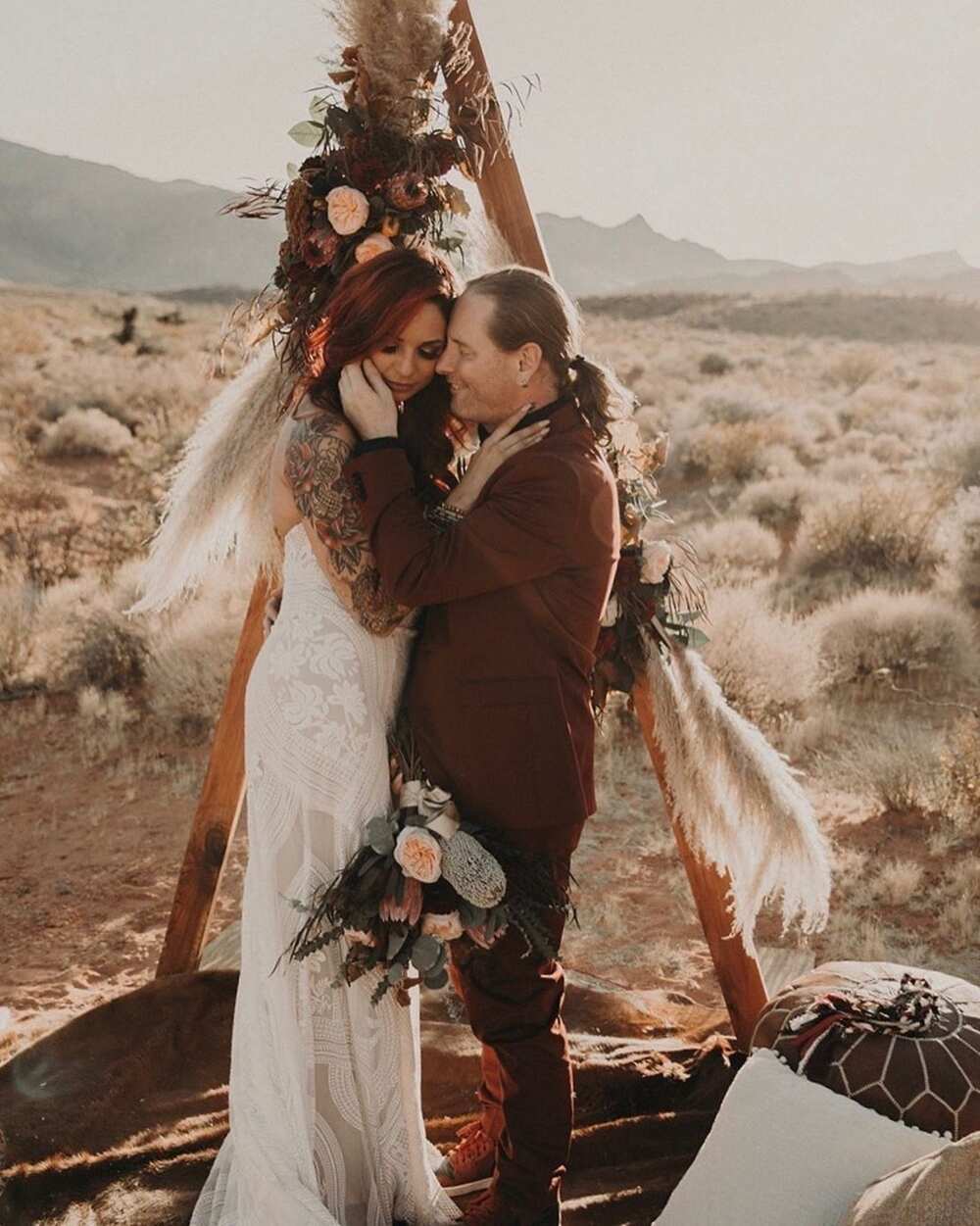 Net worth
Alicia's net worth is estimated at over $1 million. Her wealth can be attributed to her successful career as a professional dancer and from her previous work as a cheerleader in the NFL.
Alicia Taylor could also be benefitting from her husband's success. Corey Taylor's wealth is estimated to be over $10 million.
Alicia Dove is a hardworking, committed individual. She has continued to win the hearts of many with her commitment and determination. She is an inspirational and successful figure to be emulated.
READ ALSO: Katerino biography: how did she manage to become internet-famous?
Legit.ng also reported about the life of Katerino. Katerino has become a familiar face and topic on the internet. Besides causing an online frenzy, she is a famous celebrity who has immersed herself in the world of online content creation.
Have a look at Katerino hot photos and her biography in general. How did she manage to become internet-famous?
Source: Legit.ng