Trump's farewell speech: 5 powerful truths US president revealed about his govt
Between the controversial defeat of President Donald Trump and the confirmation of Joe Biden's victory in the last United States (US)'s presidential election, there was a lot of drama, but thankfully, that has come to an end.
PAY ATTENTION: Join Legit.ng Telegram channel! Never miss important updates!
Having conceded that he lost to Biden, Trump has given his farewell speech hours before leaving the White House eventually.
In an address to Americans, the outgoing leader who in small ways has rocked the entire nation with his rather bizarre remarks and stunning decisions praised his administration for its groundbreaking achievements.
In this piece, Legit.ng outlines some of the successes Trump-led government recorded.
1. COVID-19 vaccine
In a report by Fox News, Trump praised his government for developing the COVID-19 vaccine in just nine months, a feat he claimed past or future administrations would have struggled with for years.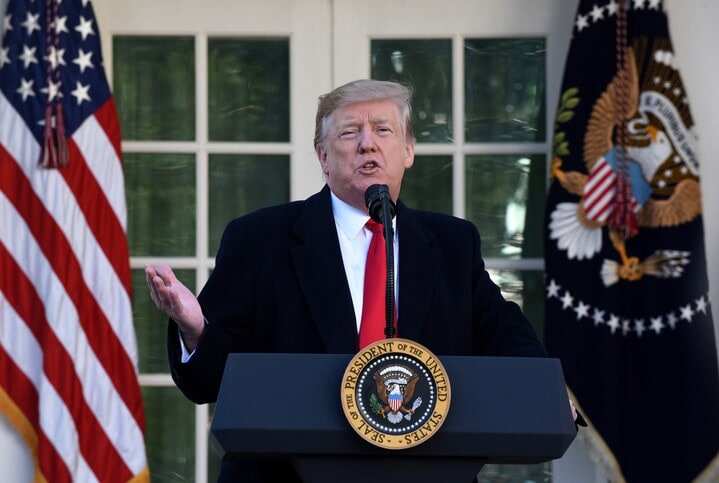 He said:
"They called it a medical miracle. Another administration would've taken three, four, five, maybe even up to 10 years to develop a vaccine. We did it in nine months."
2. US economy
The outspoken American leader also blew his trumpet by noting that he did much to revive the nation's domestic economy evident in the impressive performance of the stock market, especially in the midst of a global pandemic that has ravaged the world at large.
He boasted:
"We passed the largest package of tax cuts and reforms in American history. We slashed more job-killing regulations than any administration had ever done before."
3. Territorial integrity
Trump has always prided himself as the US leader who took the issue of border security most seriously.
The American leader said he was about to "leave the next administration with the strongest and most robust border security measures ever put into place.
4. Security
Trump reiterated the fact that he is "... especially proud to be the first president in decades who has started no new wars.
He went on:
"We revitalized our alliances and rallied the nations of the world to stand up to China like never before.
"We obliterated the ISIS caliphate and ended the wretched life of its founder and leader, al Baghdadi. We stood up to the oppressive Iranian regime and killed the world's top terrorist, Iranian butcher Qasem Soleimani."
5. The American dream
He also mentioned the fact that top on his agenda upon assuming office was to give the average citizen and family a standard life and most of all, put back power and equal limitless opportunities in the hands of the people.
His words:
"As president, my top priority, my constant concern, has always been the best interests of American workers and American families. I did not seek the easiest course; by far, it was actually the most difficult. I did not seek the path that would get the least criticism. I took on the tough battles, the hardest fights, the most difficult choices because that's what you elected me to do. Your needs were my first and last unyielding focus.
"This, I hope, will be our greatest legacy: Together, we put the American people back in charge of our country. We restored self-government. We restored the idea that in America no one is forgotten because everyone matters and everyone has a voice. We fought for the principle that every citizen is entitled to equal dignity, equal treatment, and equal rights because we are all made equal by God."
Meanwhile, days after some protesters stormed the US seat of power, Capitol Hill in Washington DC, the truth was finally out as to who inspired the move.
PAY ATTENTION: Install our latest app for Android, read best news on Nigeria's #1 news app
According to the US Senate majority leader, Mitch McConnell, on Tuesday, January 19, the mob was instigated by Trump.
3 Nigerians who shone brightly at the US elections | Legit TV
Source: Legit.ng