Father Mbaka releases prophesy about Buhari's govt, politicians
- Father Mbaka has prophesied said President Buhari's administration may be facing extinction and can only be saved if action is taken
- According to him, those in the political circle have looted so much and disgraced Nigeria enough
- The cleric said God was angry with the leaders and what will befall them if they don't change will be unbearable
- The fiery priest warned that no one should attempt to attack this prophecy of his, else the person will become a victim
PA ATTENTION: Join Legit.ng Telegram channel! Never miss important updates!
A Catholic priest, Rev Fr Ejike Mbaka, has prophesied the end of President Muhammadu Buhari's regime.
Speaking during the popular annual December 31 Crossover Night ministration, Mbaka, who is the spiritual director of Adoration Ministries, Enugu, Nigeria (AMEN), said this will depend on the president's ability to act fast and save his government.
The Nation reports that the cleric advised Buhari's government to create employment opportunities before Nigerian youths embark on restiveness that may consume this administration.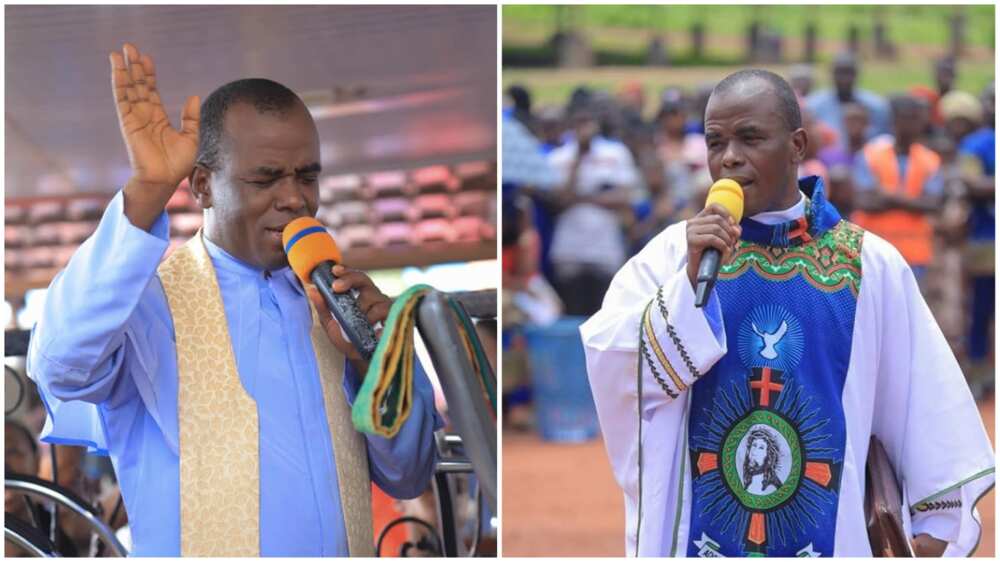 He stated:
"The Holy Spirit of God asked me to warn the government of the day to be very careful; to change policies and take care of the youths without politicising their (youths') condition.
"That the government should rise and urgently create jobs and innovate opportunities that would benefit the youths of the nation because they have suffered so much.
"Don't politicise the condition of the youths, otherwise, they will arise and end the political system.
"Should the government fail to do so as soon as possible that time is coming when the youths will rise against the government, and that any attempt to stop them will end the government?"
A swipe at Nigerian politicians
The man of God also had some words for Nigeria's lawmakers, especially members of the National Assembly (NASS). He described them as "kidnappers" who have kidnapped the opportunities meant for the youths and the nation's wealth.
According to him, politicians have been looting the nation's commonwealth for years while refusing to make life better for the poor masses. He said they have now turned around to tag youths kidnappers, criminals and hoodlums.
The Catholic priest declared that God was not happy with Nigerian leaders, both past and present, for making life hard for Nigerians and turning them into beggars in other countries.
He advised the leaders to make things right, else what will befall them will be unbearable.
When will this happen?
Mbaka did not specify when the youths would rise up or when God's anger will fall on the leaders. He, however, said he only sees a year ahead, and it is not specific whether it is in 2021.
The fiery priest added that the Mbaka of 2020 is not the same as that of 201. According to him, anybody that comes for him will get it hot. He stated:
"Be warned, this is no longer the Fr Mbaka of 2020 but that of 2021. It will be fire for fire this year; if you attack us, you will be attacked."
Months back, Mbaka had prophesied about the rampaging global disease known as coronavirus.
In a statement released by Maximus Ugwuoke, his spokesperson, Mbaka called on Nigerians to put their faith in God instead of responding to the virus with fear.
The Christian cleric said that God will bring healing to the world, as people all over the world, especially in the country engage in fasting and prayers.
2021 will be tougher but God says he will prove himself - Prophet Omoto Fufeyin | Legit TV
Source: Legit.ng