Diego Maradona: Personal life, wife and children
- Diego Maradona was not short of controversies off the pitch, with his personal life reflecting his football antics
- Claudia Villafané was Maradona's first and only official wife but divorced in 2004 after a 20-year marriage
- The couple had two daughters together including Salma Nerea and Gianinna Dinorah
- Rocio Oliva and Veronica Ojeda are the other two women involved in the Argentine's life
PAY ATTENTION: Click "See First" under the "Following" tab to see Legit.ng News on your Facebook News Feed!
Curtains fell on Diego Maradona on Wednesday, November 25, after he suffered a cardiac arrest, with his death being confirmed by Argentine FA through the federation's president Claudio Tapia.
Maradona's death came just days after he was discharged from hospital following a successful brain surgery.
The 60-year-old enjoyed a glittering football career that spanned to more than two decades, turning out for a number of clubs including Barcelona, Napoli and Boca Juniors.
But just like his football career, his personal life away from the pitch was also littered with a number of controversies.
Who was Diego Maradona married to?
Maradona was married to his first and only wife, Claudia Villafané, who he wed in Buenos Aires, with the pair said to have met when Claudia was just 17.
The couple was married for more than 20 years but divorced in 2004 under unclear circumstances.
Despite the divorce, the two remained in good terms and often went on trips together.
Whereas Claudia is the only wife Maradona is believed to have had, the football legend was involved in a string of affairs.
While the ex-footie did not remarry after his split with Claudia, SunSport reports Maradona's last affair with any woman was with Rocio Oliva who is 30 years her junior.
Maradona and Oliva are thought to have fallen in love when they met back in 2012.
The pair got engaged two years later in a lavish party held at a posh hotel in Italy.
Initially, the union proved to be a fine match as Oliva herself was a former footballer with a number of clubs in Argentina.
However, they broke up in 2018, with Maradona reportedly kicking Oliva out of a house he had bought her.
Apart from Oliva and Claudia, Christina Sinagra and Veronica Ojeda are the other women Maradona is believed to have had in his life.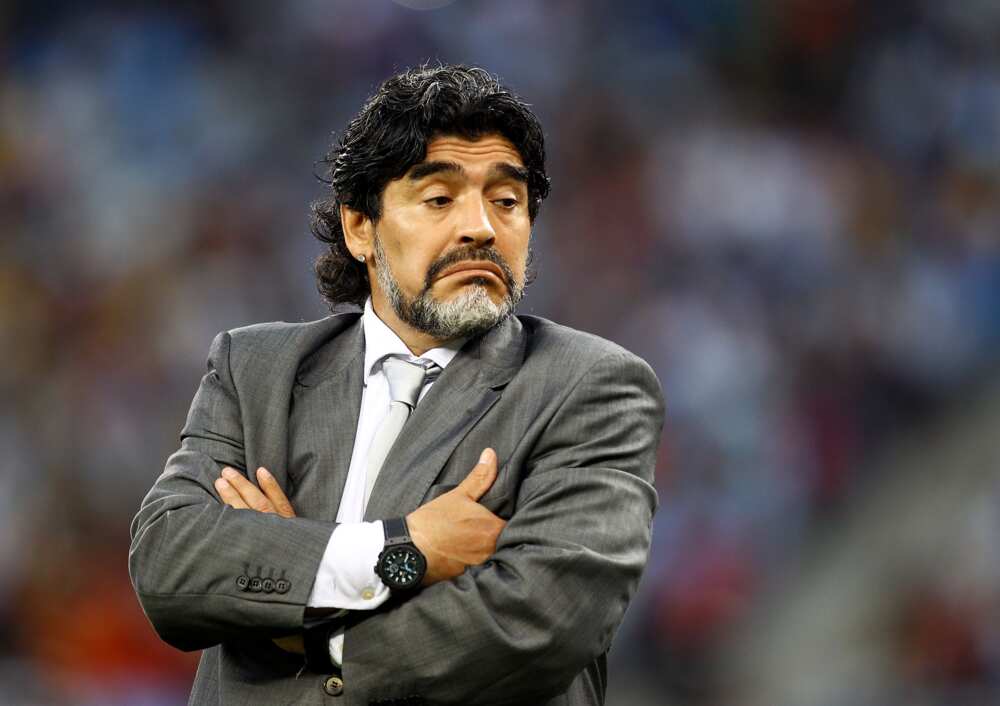 He had a son with each of the two women, with the former Argentina head coach reportedly dumping Ojeda for Oliva while the PE teacher was pregnant for him.
How many children did Diego Maradona have?
From his first marriage, the Argentine had two daughters including Salma Nerea and Gianinna Dinorah who was married to Man City star Sergio Aguero at one time.
The World Cup winner initially denied having any children out of wedlock but was forced in 2019 to admit he was the official father of eight children.
Diego Sinagra Junior, who currently plays football in Italy and Jana are among the children Maradona admitted to have sired.
Earlier, Legit.ng had reported how former Chelsea manager Andre Villas-Boas has urged world football governing body to retire the number 10 jersey for all teams so as to honour football legend, Diego Maradona.
The whole world football fraternities were thrown into deep mourning on Wednesday evening, November 25, when the announcement of the death of Diego Maradona came.
Since the announcement of Diego Maradona's death came, tributes have been pouring across the world considering his contributions to the game of football when he was alive.
Sierra Leone coach reveals what inspired team's comeback in 4-4 draw against Nigeria | Legit TV
Source: Legit