Glam and Gore Mykie biography: Age, boyfriend, pets, career
Mykie of Glam and Gore is a self-taught LA-based professional beauty and special effects makeup artist. Unlike other makeup artists, Mykie does not deal with glamorous looks alone. Instead, she goes for scary and sometimes downright gross special effects. Her YouTube channel's description reads, "Things are about to get pretty ugly" and truly, they do.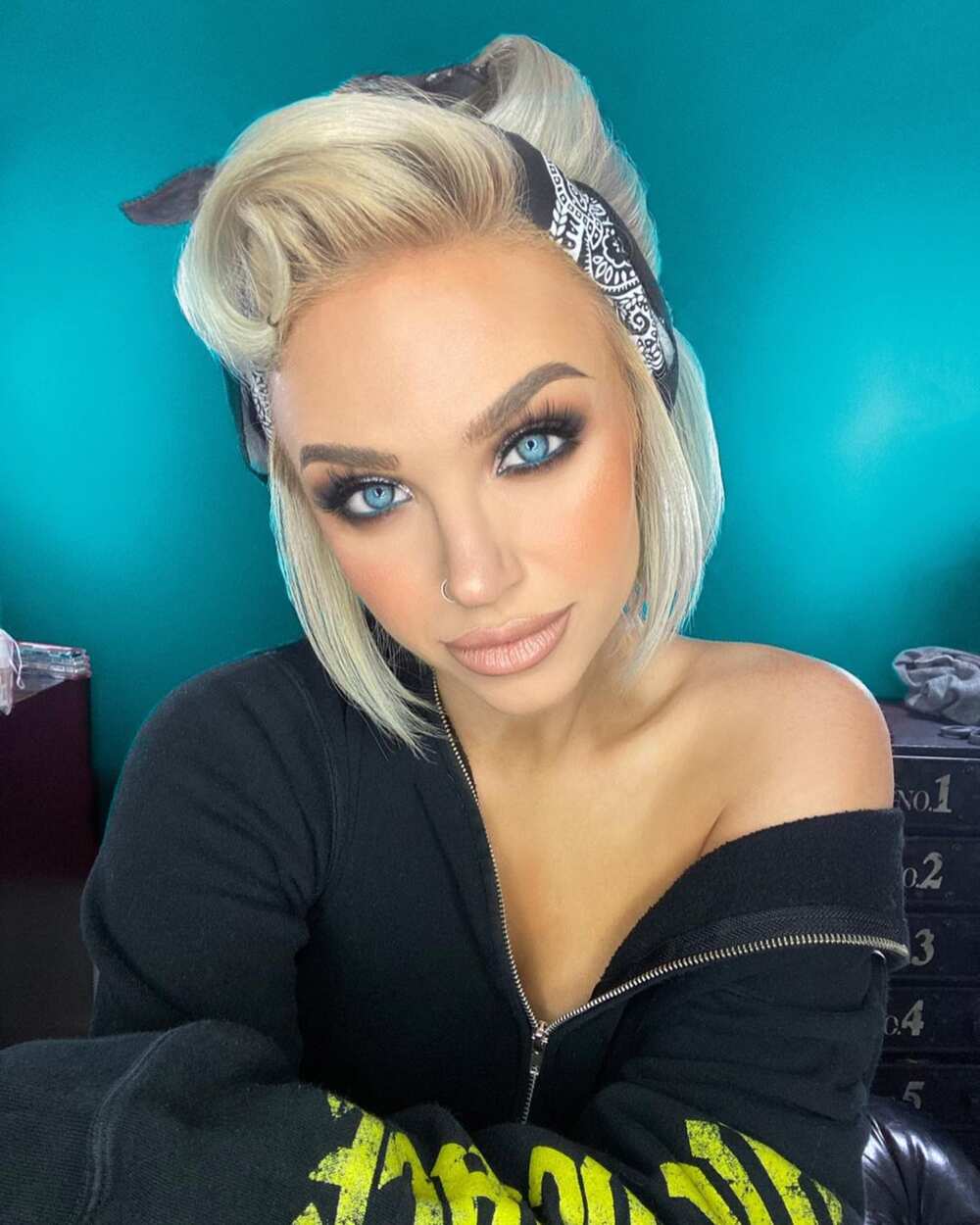 When you go through Mykie's videos, you may first be confused, as the channel's content is somewhat paradoxical - mesmerizing yet scary, dare I even say traumatizing. The makeup artist has mastered her craft, and she is definitely one of the best in the game.
Profile summary
Real name: Lauren Mychal
Birthday: November 1, 1989
Birthplace: Philadelphia, PA
Age: 31 years old (as of 2020)
Zodiac sign: Scorpio
Occupation: YouTube star
Nationality: American
Mykie Glam and Gore age
Mykie was born on 1st November 1989. As of 2020, Mykie age is 31 years old.
Career
Glam and Gore Mykie was born and raised in Philadelphia, but she moved to Los Angeles after graduating from film school to work on movie sets.
Today, she is a professional beauty and special effects makeup artist who showcases her craft on YouTube and Instagram as well.
Her content includes foundational teaching, product reviews, industry advice and a mix of special effects and avant-garde makeup tutorials.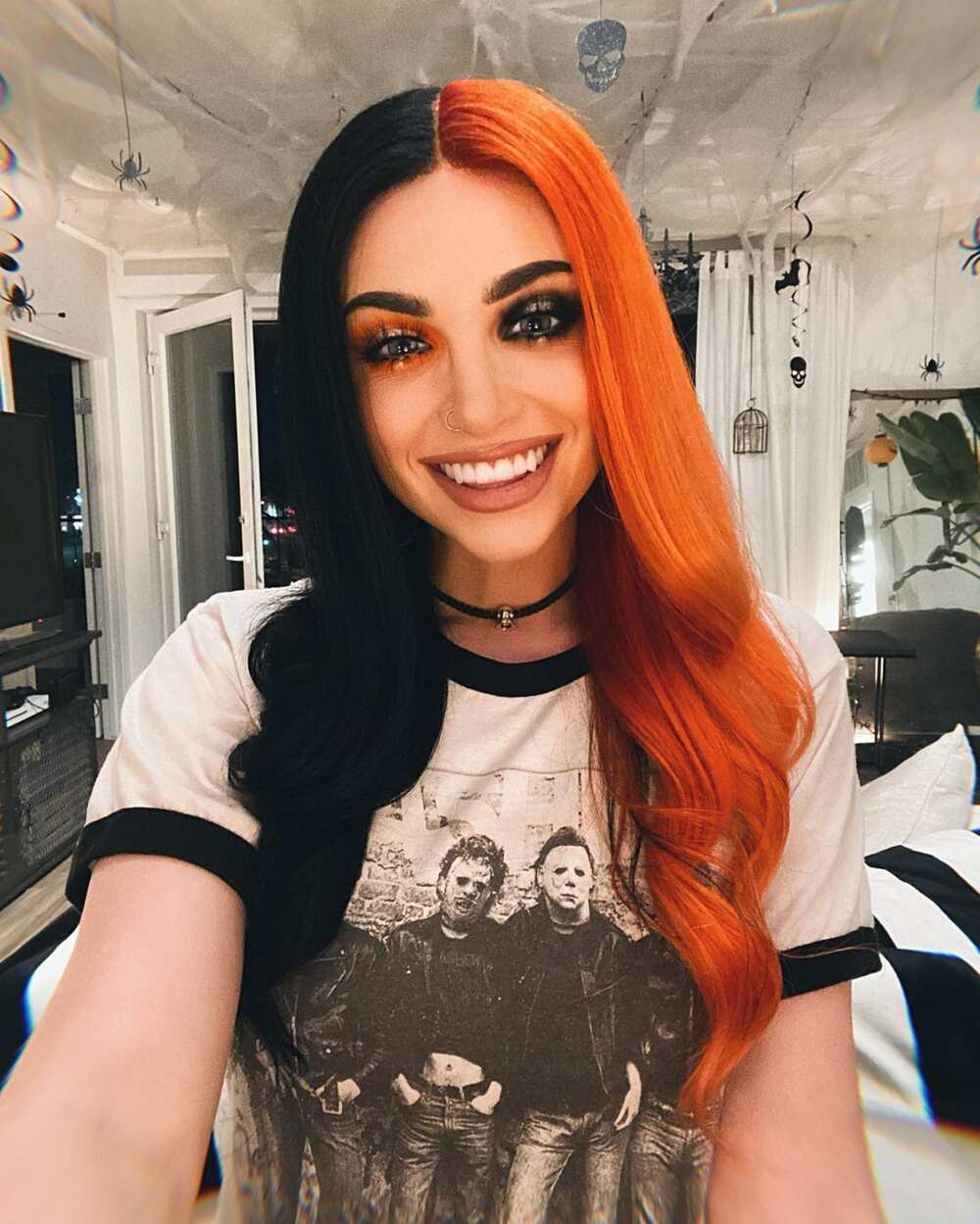 She launched her YouTube channel on March 16, 2014, and posted a Mykie welcomes you to Glam&Gore! video on April 15, 2014. This video was then followed by a basic makeup tutorial video in which she demonstrated the basics of makeup blending.
On May 6, 2014, Glam and Gore shared her first special effects makeup video titled Torn Face FX Makeup Tutorial. In the video, she demonstrated how she used latex, cotton, and alcohol activated colours to create the specific look.
Between freelance jobs, Mykie posted her makeup and makeup tutorials online to build up a portfolio, and through doing this, she grew an audience, with 700,000 subscribers in the first year and a half.
She attained 1 million subscribers on YouTube in October 2015. Today, she has over 4 million subscribers and over 500 million views on her channel.
Besides makeup videos, Mykie also posts skits, parodies, and vlogs on her channel. She also runs a self-titled channel on YouTube where she shares vlogs.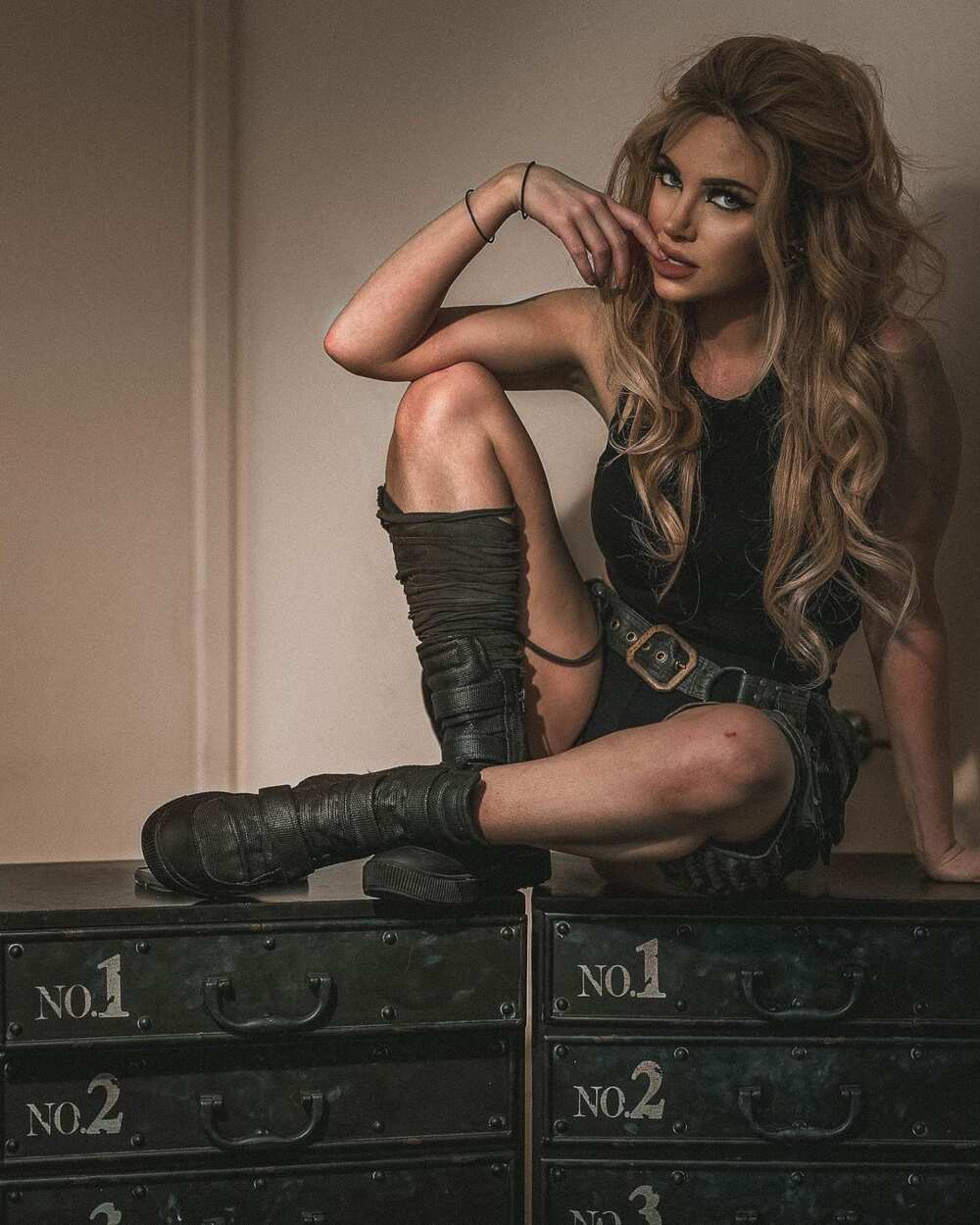 Awards
In 2015, NYX Cosmetics recognized Mykie as its Beauty Vlogger of the Year at the Fourth Annual NYX Fine Artistry of Cosmetic Elites (FACE) Awards Show on August 22nd in Los Angeles.
As the Beauty Vlogger of the Year, Mykie received $25,000, consultations with pro makeup artists, a year's supply of NYX Cosmetics, and the promise of a budding professional career in makeup artistry.
More than 2 million votes were cast throughout the competition, and 3,000 original entries were made before 30 semifinalists were selected. Each of the semifinalists created looks inspired by three challenge themes, and the top 6 finalists were chosen through rounds of public voting.
How much is Glam and Gore worth?
According to statsmash.com, Glam & Gore has a net worth of 1.2 million dollars as of November 2020.
Who is Glam and Gore dating?
As of November 2020, Mykie Glam and Gore boyfriend is Anthony Padilla. Padilla is the co-founder of the YouTube channel Smosh. He has been creating content since 2005 - his channel mainly has challenge and comedy videos.
Mykie and Padilla announced their secret relationship in matching Instagram posts followed by a video on her channel titled 'Taking Off My BOYFRIEND'S….. Makeup" in late 2019.
In the 27-minute video, Mykie slowly removes a prosthetic mask from Padilla's face and neck while answering questions about their relationship, revealing his identity at the end.
The couple revealed that they had been together for around 3 months and decided to announce their relationship sooner than expected because it had become too hard to hide something this big from their audiences.
On his IG caption, Anthony wrote,
keeping a relationship this incredible a secret for so long has been a challenge. when someone sweeps you off your feet and reminds you why every moment in life is beautiful, you want to turn into a puddle of sap and shout it from a mountain top. @Mykie is the most wonderful human I've ever had the pleasure of knowing and I'm fortunate enough to call her my girlfriend – and beyond that, a partner and true teammate in life. Her charisma and the warmth she radiates and her sheer talent and creative drive holys*it I finally get to introduce you to my favorite person on this entire planet. feelsgoodman.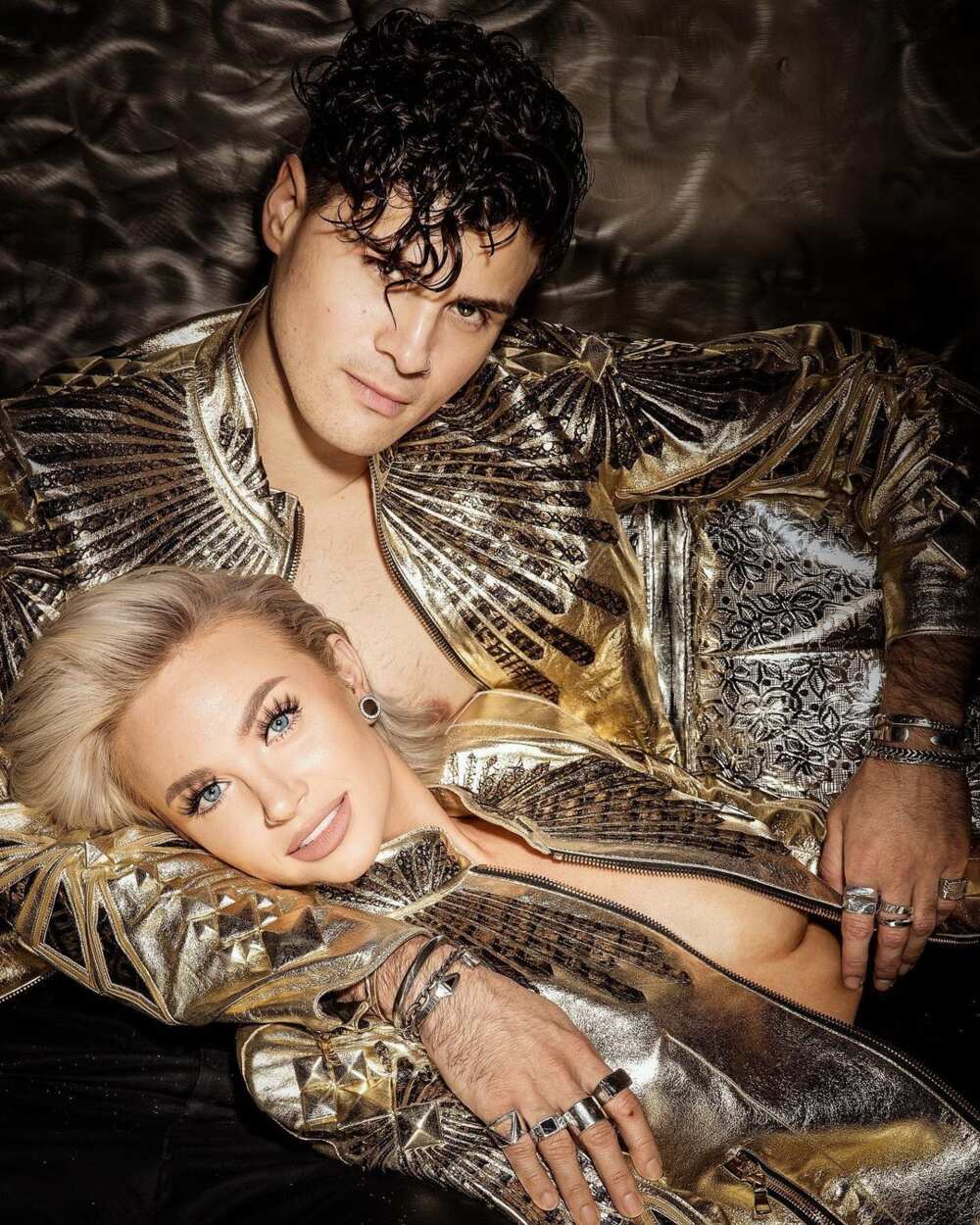 Mykie's caption was equally as mushy, calling the YouTube creator "the most humble, modest, down to earth person I know" followed by "genuine, sincere loving, fun, patient, calm, attentive" both on and off camera.
On September 2020, the couple celebrated their first anniversary, and Mykie took to IG to appreciate her beau. She posted a steamy photo of herself and Padilla with the caption,
Today, as a Wednesday, has been a really challenging day for several reasons. Lots of hiccups, in a lot of physical pain, lots of things out of my control & plans derailed. Yaknow.. one of *those days*. & there's been a lot of that in 2020. But even the worst kinds of *those days* have ALWAYS been made so much better with this one by my side. This was the first lil photoshoot I ever took of us. Before the internet knew & Anthony chopped his hair off. The beginning of the most fortunate year of my life, thanks to the most loving partner I could ever ask for. Happy one year @anthonypadilla ❤️
Pets
Mykie owns two dogs - Ripley and Creature - who have their own Instagram account. Glam and Gore Ripley and Creature are beautiful Alaskan Klee Kai.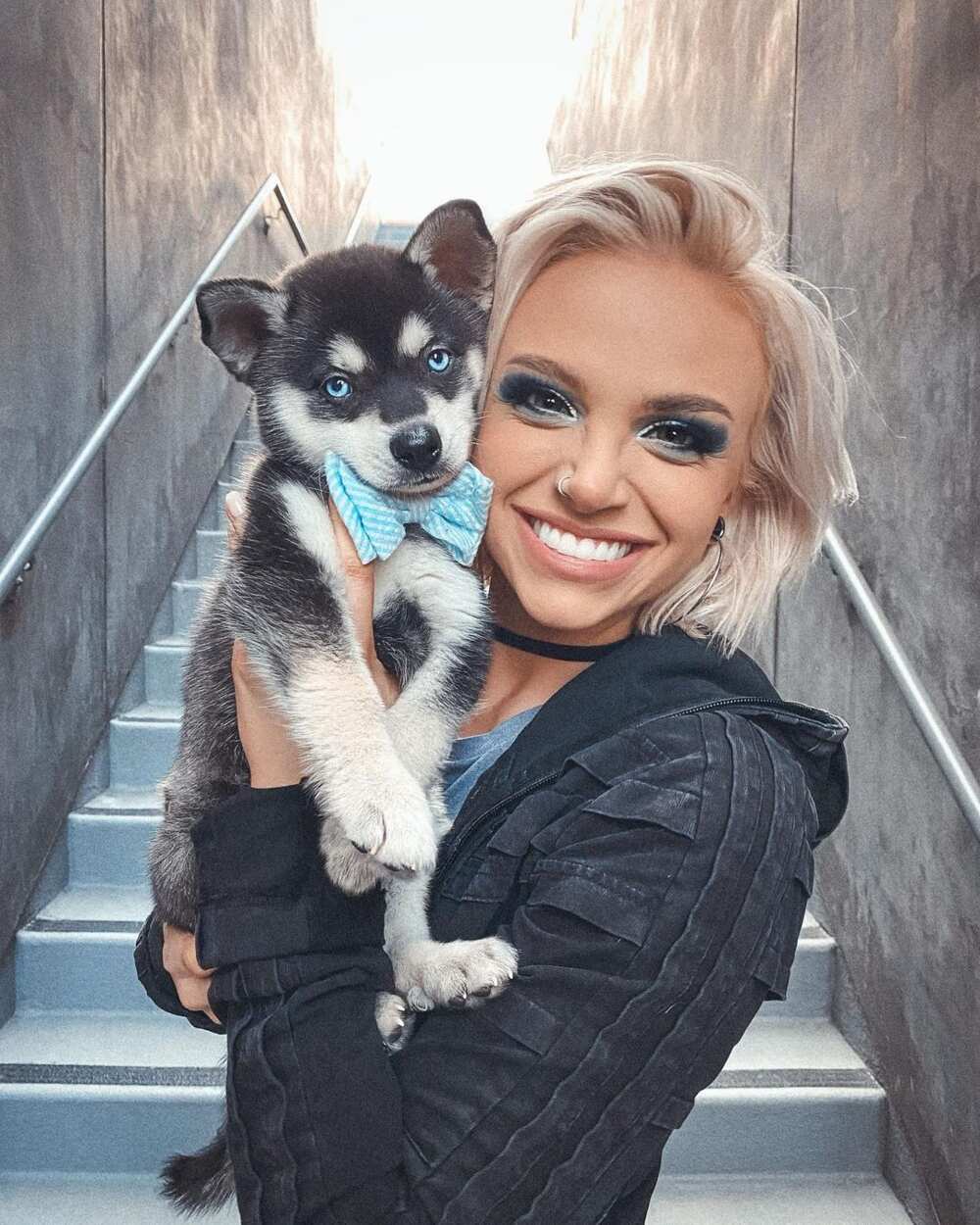 In an interview with helloBARK!, Mykie was asked about Ripley's personality, to which she replied,
She is WILD. Incredibly funny and intelligent. High energy but so sweet when she's tired. Sometimes I forget she doesn't understand what I'm saying to her, because it feels like we genuinely have conversations sometimes. I've had a lot of dogs growing up but she by far has the most personality of any dog I've ever seen. Klee Kai being very talkative certainly helps with that one. There isn't a day that goes by that she doesn't surprise me with something new.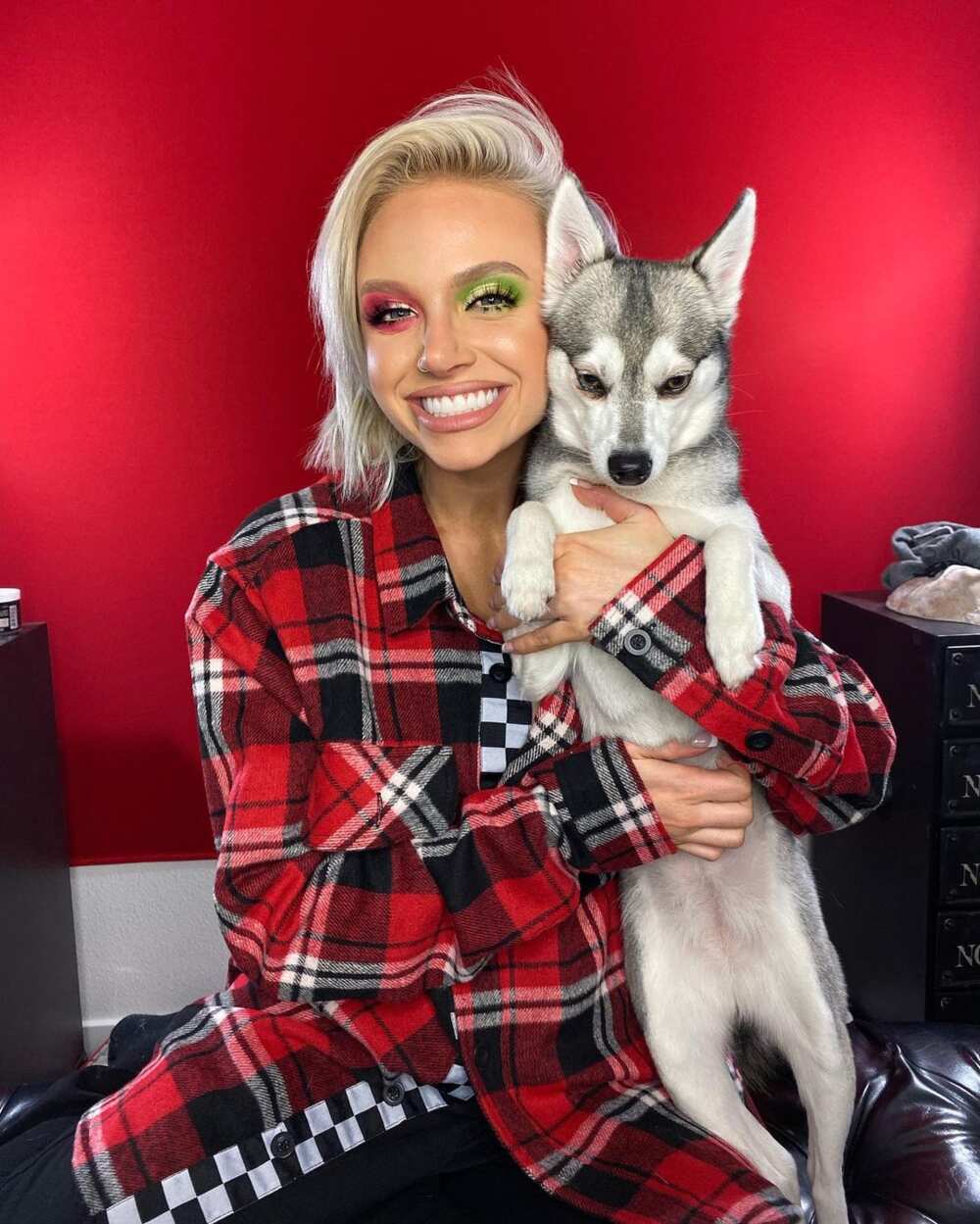 Recent news
Recently, Mykie made a public apology on Instagram after a former friend of hers — a beauty influencer known as Spankie Valentine, AKA Swoop — made an hour-long exposé video about her, which included accusations of microaggressions against Black and LGBTQ people.
Mykie of Glam and Gore identified a niche in the makeup business, and she has exploited it, earning herself fame as well as a considerable amount of wealth. Through her gory art, she has solidified her place in the YouTube content creation industry.
READ ALSO: SSSniperWolf biography: age, height, real name, boyfriend, house
Legit.ng took a look into the life of SSSniperWolf, an English-American YouTuber. The enormously popular YouTube gamer specializes in Call of Duty gameplay videos as well as reaction videos and anime and video game character cosplays.
The celebrity is a popular YouTube vlogger and video game streamer who started playing video games when she was only six years old. Today, SSSniperWolf is one of the most popular and highest-paid YouTube stars in the world.
SSSniperWolf is one of the most influential YouTubers in the world right now. Through her channel, she has managed to fulfill her dream of showing "that girls can play and be good at video games too."
Source: Legit