OPINION: A critical look at Governor Akeredolu campaign rhetorics ahead of Ondo guber
Editor's note: Public affairs commentator, Bisi Ojo, writes on the forthcoming Ondo governorship election with a focus on the campaign rhetorics of the incumbent governor, Arakunrin Rotimi Akeredolu of the ruling All Progressives Congress (APC).
PAY ATTENTION: Win a prize of N115,000, N75000 or N38000: participate in Big Naija Independence contest by Legit.ng
Every four years, since 1999, Nigerians head to the polls, either to seek to reset governance or to reward the incumbent by prolonging their term. In Ondo state, October 10, 2020, is another date to cast their vote. For the past four years, Arakunrin Rotimi Akeredolu (SAN) has held the position of governor of Ondo state. It is the time for the people of Ondo state to decide whether he has served them well or it is time for him to give another person a chance.
Rotimi Akeredolu contested for this position twice, first in 2012, after Governor Segun Mimiko had served just one term. But he was defeated. The second time around, in 2016, he won in an election which the man who now stands against him, Eyitayo Jegede refused to contest in the courts.
Now, Eyitayo Jegede (SAN) is in the same position Akeeredolu, popularly known as Aketi, was eight years ago. He is attempting to wrestle power from the incumbent. Interestingly, Jegede had served in Mimiko's administration as Attorney General and commissioner for justice.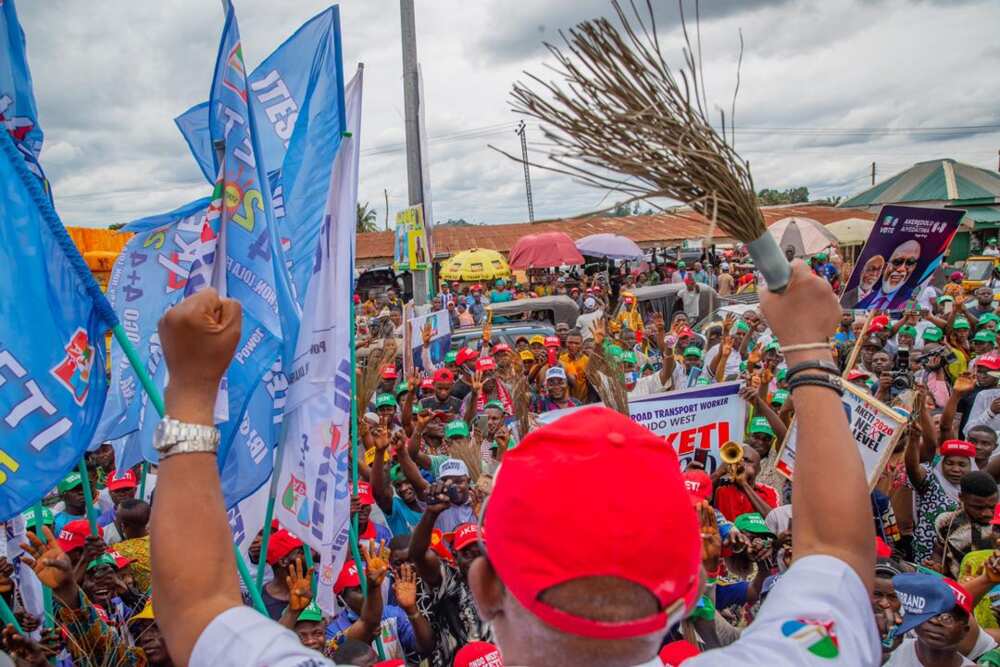 As the people of Ondo state head out to make their choice, the voting population have mostly made up their minds. But in the past few weeks, as the major contenders appealed to the populace and various political drama played out, it again becomes apparent how the incumbent almost always does not realise how quickly four years pass. This is especially true for those who spend so much time settling themselves and their friends while in office and forget the people who put them there, in the first place.
The poor and vulnerable in Ondo state will certainly look back the past four years and remember the pain and suffering that they have gone through, not because of the general economic downturn that affected everyone, but because the man whom they chose decided that the IGR of the state should be increased at the expense of their peace of mind.
Rotimi Akeredolu took away everything that gives the vulnerable in society a sense of belonging and replaced it with direct and indirect taxes. He increased the fees of tertiary institutions by over 500% without a commiserate increase in wages. He took away school buses after owing the operators for several months and he replaced the free medical services for pregnant women and children under five and replaced it with paid for health insurance.
PAY ATTENTION: Get the Latest Nigerian News Anywhere 24/7. Spend less on the Internet!
The more annoying part is that the much-touted increase in IGR has not been followed by overall development. Here is a fact check of the five major lies Akeredolu told during his campaigns, in no particular order.
5. In a special interview programme on the state Radio, Sunshine 96.5FM, Alalaye, Aketi claimed there is 24/7 power supply in Omotosho, Okitipupa, Ondo state. This is not true. In May 2019, then senator-elect, Nicholas Towofomo had asked that the contract of the Electricity Distribution Companies in the country be terminated over their inability to supply power to several communities in the country whilst leading a delegation to the Omotosho power plant. More recently, towards the end of August 2020, residents of Omotosho staged a protest which was televised on TVC news. They were aggrieved because they have not had any power supply for the last twelve years.
4. During the same programme, Governor Rotimi Akerdolu claimed that he built the Aboto water plant. Perhaps if all records were lost and our collective memories were wiped, then the governor would get away with this blatant lie. It was in July 2015, that the then governor of Ondo state, Olusegun Mimiko embarked on the construction of the Aboto Water Treatment plant in Ilaje local government area for N4billion. The project would be in two phases and each phase would have two parts handled by two different contractors. The first contractor would handle the actual construction of the water treatment plant, while the second would handle laying of pipes and reticulation. On the eve of his handover date to the present governor of Ondo state, Mimiko commissioned the plant leaving out the reticulation which had not been completed. Akeredolu's government is still struggling to get that part done.
3. Akeredolu has also made claims regarding Mother and Child hospitals in Ondo state which can best be described as deliberate obfuscation. Each time he is asked about what has been done about Mother and Child hospitals he begins with the claim of "expanding the programme." Hiding under this he begins to talk about his health insurance policies which he often tags "free." Having people pay for health insurance is not the same as offering free medical services as was obtainable under the Mimiko administration. Health Insurance is a paid-for service. People who don't have health insurance have to make out of pocket payments ranging from N5,000 to N50,000 to access the state hospitals.
Secondly Akeredolu's claim to have "added six Mother and Child Hospitals" is an obfuscation. Strictly speaking, Aketi did not build Mother and Child Hospitals like his predecessor, he only redesignated already existing general hospitals, mother and child hospitals. A designation that is not worth the paper it was written on as the state ministry of health only lists two Mother and Child Hospitals in Ondo state. One is in Ondo town and the other in Akure, both built by the Mimiko administration.
2. Related to number two above is the more recent claim by the governor that he built the Mother and Child Hospital at Ifon. This is another lie. Aketi has little or nothing to show for his three and a half years of governance. This is the only reason he will be so boldly claiming a federal government project as his own.
1. Aketi claims that students of AAUA are happily paying the tuition fee he increased by over 500%. Students protested loudly about his increase in fees and many have dropped out of school with no hope of getting back if nothing is done about the fees. They protested in 2018, they protested in 2019 and Aketi turned the police on them.
Time will fail us if we continue to list other disinformation that Aketi has shared. He also misinformed the public when he said the Ore Industrial Park was fully functional. The few companies there are only running skeletal services. He also misinformed the public with his claims that cocoa production as increasing. Someone should tell Akeredolu that supply of seedlings does not equal increased harvest. There are so many other factors that go into the equation. This is why asking people to go back to the farm is not the answer.
The fact is that Akeredolu has failed the people of Ondo State. He has failed so woefully that he has resorted to sharing N200, ludo, slippers, and bathing soap to win votes. His party has also resorted to intimidating the people with violence, trotting guns all over the place. This is why the people of Ondo State must respond in kind. They must NOT reward failure. Even the so-called strides in infrastructure are a celebration in mediocrity.
It is time to look elsewhere. It is time to turn to a more serious candidate. Eyitayo Jegede (SAN) has shown to be such. He has gone round all the local government areas in Ondo state. He has spoken to the people. He has shown himself to be a man with a plan. The people of Ondo state must rise and speak with one voice. Aketi must go.
Disclaimer: The views and opinions expressed here are those of the author and do not necessarily reflect the official policy or position of Legit.ng.
Your own opinion articles are welcome at info@corp.legit.ng— drop an email telling us what you want to write about and why. More details in Legit.ng's step-by-step guide for guest contributors.
Contact us if you have any feedback, suggestions, complaints or compliments. We are also available on Twitter.
Election not a do or die affair - Sanwoolu | Legit TV
Source: Legit.ng