Policemen on 'manhunt' for goats that 'destroyed' their car
- The Isle of Wight Police in a post that seemingly aimed to generate funny reactions notified the public of a 'damage' caused by two goats
- According to the force, the incident happened when its officers went out to Newport to discharge a potentially dangerous mortar
- Funny reactions trailed the post on Facebook as many said the 'notice' brightened their day
PAY ATTENTION: Click "See First" under the "Following" tab to see Legit.ng News on your Facebook News Feed!
Police officers of Isle of Wight are on the lookout for goats that caused 'damage' to one of its cars in broad daylight when they were out on official duty.
In the post the police made on its Facebook page on Wednesday, August 19, which came across as funny to many, it asked the public to help identify the kid goats.
It added that some of its officers were on the Island on the outskirts of Newport to keep the environment safe from a discovered mortar.
As a comment under the post, the police posted a short video showing how it cracked off the charge of the object.
The picture attached to the post shows two goats standing atop the patrol car as they concentrated on its emergency siren light.
The post partly read: "Our colleauges from the Royal Navy Explosives Team came accross and 'made it safe'. The video will be posted as a comment below.
Unfortunately whilst there a couple of 'kids' caused damage to one of our police vehicles. If you recognise the offenders from the photo please let us know......."
Below were some of the reactions it got from people: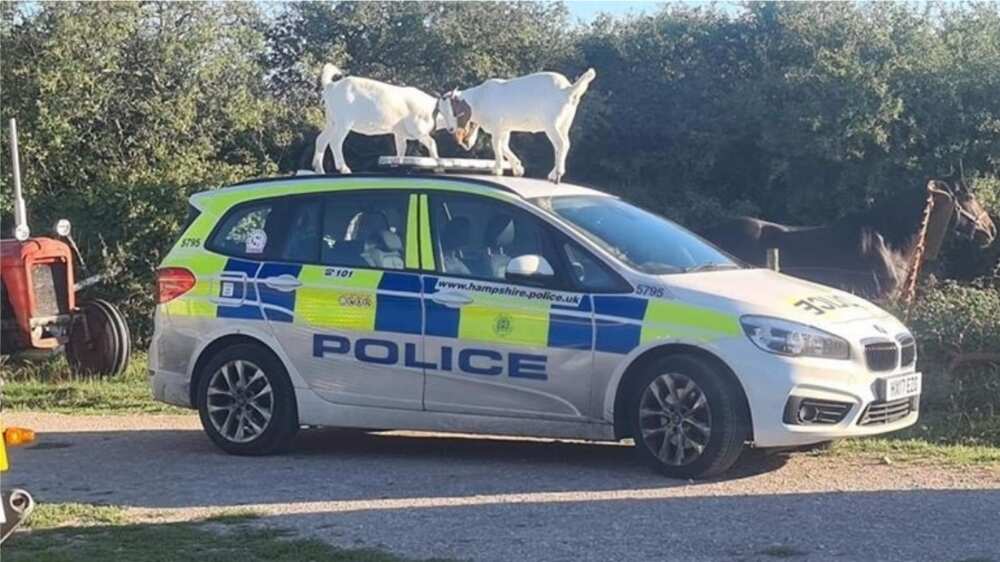 Meanwhile, Legit.ng had reported that the people at Filbert Garden in Curtis Bay, UK, were looking for a baby Nigerian dwarf goat called Ed, asking people if they have seen it.
It was gathered that in the early hour of Tuesday, May 19, two teenagers broke into the garden and stole the animal. The teens did that after cutting off the lock of the barn and sawing through the goat fencing.
In describing what the goat looks like for anyone who may have seen it, they said that it weighs 20lbs and has white and black stripes with peculiar tan moon spots.
Calls by whoever may see the animal are to be directed to (831) 402-1066. It should be noted that the garden was founded in 2010.
Nigerian man rescues, shelters snakes and other wild animals for a living| Legit TV
Source: Legit.ng