Ibrahim Keita: Mali president resigns after arrest by mutinying soldiers
- The Mali political unrest has taken a fresh dive
- President Ibrahim Keita has resigned from his position amid unrest
- Keita's reported resignation was announced on Wednesday, hours after his arrest by mutinying soldiers
PAY ATTENTION: Click "See First" under the "Following" tab to see Legit.ng News on your Facebook News Feed!
Ibrahim Boubacar Keita has been forced out of the presidency as he finally tendered his resignation on Wednesday, August 19, amid political unrest in Mali, hours after his arrest.
Legit.ng recalls that the political imbroglio that polarised Mali hit the climax on Tuesday, August 18, as prime minister, Boubou Cisse, and President Keita were arrested by some mutinying soldiers.
The leader of the soldier group informed journalists on Tuesday that Cisse and Keita are with them in Bamako, Mali's capital.
Later, another military source claimed the president and the prime minister have been taken to a key base in Kati, a town close to Bamako.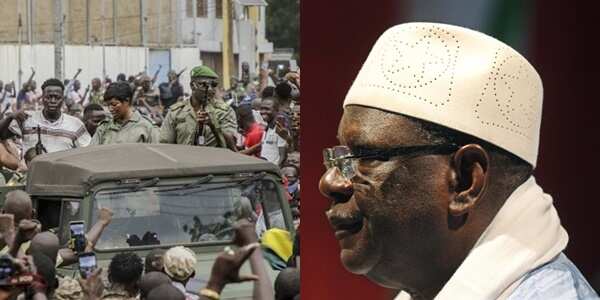 On the early hours of Wednesday, President Keita said he has resigned from his position in order to avoid bloodshed and violence between his loyalists and the opposition.
According to the report in Aljazeera, Keita said that he has decided "to give up my duty from now on."
"Today, certain parts of the military have decided that intervention was necessary. Do I really have a choice? Because I do not wish blood to be shed," Keita said on Wednesday morning.
It is now unclear whether the country will be ruled by the military or there will be a fresh election among political parties in the West African nations.
The military is expected to address the country on Wednesday.
Meanwhile, European nations have condemned the development that saw the military take over.
The political tension in Mali, prior to the coup-like development, was a point of concern for the Economic Community of West African States (ECOWAS).
PAY ATTENTION: Install our latest app for Android, read best news on Nigeria's #1 news app
On Tuesday, President Muhammadu Buhari met with his predecessor, former president Goodluck Ebele Jonathan, at the State House, Abuja in what was connected with the ongoing political crisis bedevilling the country.
Jonathan was said to have arrived at the State House with members of the team on a mission to Mali.
This is not the first time both leaders will meet over the present political imbroglio that has polarised Mali.
On Thursday, July 23, President Buhari and Jonathan travelled to the capital city, Bamako, amid heightened efforts towards the crisis in the West African country.
President of Ghana Nana Akuffo-Addo and Mahamadou Issoufou, president of the Republic of Niger, president of Senegal Macky Sall and president of Cote d'Ivoire Alassane Ouattara, were also at the crucial meeting.
Jonathan, who is a member of the special envoy constituted by the West Africa bloc ECOWAS, had made a surprise visit to the Sahel on Tuesday, August 11, on the eve of opposition-led demonstrations against embattled President Keita.
Who's the better leader between President Buhari and Dr. Goodluck Jonathan? | Legit TV
Source: Legit.ng