Stop telling your boyfriends your friend's secrets - Actress Lisa Omorodion advises ladies
- Nollywood actress, Lisa Omorodion, has taken to social media to address ladies who make information about their friends pillow talk gist with their men
- The film star said that ladies in love should desist from revealing things about their friends to their men because they think it is gist or improves intimacy
- According to Lisa, once the relationship ends, it leads to the guys having too much information about the lady and her friends
PAY ATTENTION: Click "See First" under the "Following" tab to see Legit.ng News on your Facebook News Feed!
Love is a beautiful yet funny feeling. There is no doubt that being in love sometimes makes one behave in ways that does not seem normal to others watching.
Many times, couples in intimate relationships spill a lot of unneeded information about their friends to their partners. This rarely turns out well seeing as the stories shared as gist might be used to judge their partners and their friends. Sometimes, this too much info can also lead to an end of the relationship.
Nollywood actress, Lisa Omorodion, recently took to her social media page to warn ladies in love to desist from sharing details about their friends with their partners.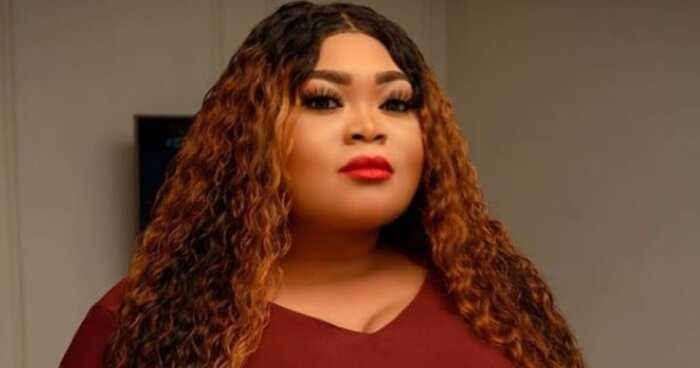 According to her, a boyfriend is not a husband and the information shared about their friends might seem like innocent pillow talk or gist but it does more harm than good.
Lisa said that people trust their friends with information about them because of the relationship they share and not with their partners because they are not friends.
According to the actress, once the relationship ends, feelings may die but the too much information that was shared remains with the man.
She wrote: "LADIES LETS TALK!
Your boyfriend is not my BEST FRIEND, you are my best friend. If I want him to know my secrets I will call a meeting with the two of you present and share it all.
Ladies NEVER ever tell your secrets to a woman in love. This woman in particular has certain characteristics - overly trusting, her legs jelly (aftermath of being swept off her feet a time too many), her stomach ridden with butterflies. Now, pillow talk is one of her favourite pastime with her new Boo; Information dished out here might even not be on a need to know basis. To some it's for the simple reason of seeking validation to improve intimacy, for others it's just GIST! Whatever the reason, secrets are spilled; mainly of the other person (you) blurring herself out of the picture while at it. After all said & said; her boyfriend can virtually see through you and in most cases judge you without you knowing.
Like a tornado, the relationship comes crashing! But guess the only thing that withstood this crash?? Your guess is as good as mine- your Secret/Gist! The ex-boyfriend, the other one before this one and the one from 4 years ago have all left the building with TOO MUCH information.
A word for the unwise... A boyfriend is NOT your husband ...Stop betraying your friends!!"
See her post below:
In other news, Legit.ng reported that actress, Lilian Afegbai, took to social media to advise ladies to stop relying on men for everything.
The film star said that ladies should build empires with their men because it is more respectful for them to do so. She also said that ladies should stop waiting on men to do everything for them and that they should ask their mothers if they are in doubt.
PAY ATTENTION: Do you have news to share? Contact Legit.ng instantly
Should a Lady in a Relationship Have a Back Up Boyfriend? Street Gist Nigeria | Legit TV
Source: Legit.ng