Seyi Makinde's first year in office: Hits and misses by Lati Abayomi
Editor's note: Public affairs commentator, Lati Abayomi, writes on Governor Seyi Makinde's first year in office with a focus on the education and health sector, outlining what the Oyo state government under Makinde has done in the last one year in office.
PAY ATTENTION: Click "See First" under the "Following" tab to see Legit.ng News on your Facebook News Feed
About one year ago, I looked at Governor Seyi Makinde's first month in office as governor of Oyo state. I concluded that his early steps showed promise but that the task ahead was enormous. Every area of governance needed urgent attention and he also needed to manage the coalition which brought him into power.
From the onset, it was clear that policies and processes were going to be a big part of governance under the new administration. First, Makinde had a manifesto – The Roadmap to Accelerated Development in Oyo State 2019-2023, which he stated would guide the government as he was keen to fulfil his campaign promises. From this manifesto, the four main areas of focus of his administration would be education, healthcare, economy driven by agribusiness and security. Secondly, one of the earliest appointments made by the new governor was that of Ms Tara Adefope, director-general of a new Due Process Office which he created. As expected, both the manifesto and the due process office have played a huge role in the past year.
In this two-part series, I look at these different areas of governance since May 29, 2019. One year later, how has Makinde fared? And what should he improve on as he commences his second year in office?
Let's start with education. Oyo state had three major problems in this area by the time Makinde's administration assumed office: 400,000 out-of-school children, the highest number in the south-west; dilapidating infrastructure and severe teacher shortages. The Ajimobi administration had put a temporary measure in place to address teacher shortages with the engagement of some 'PTA Teachers.'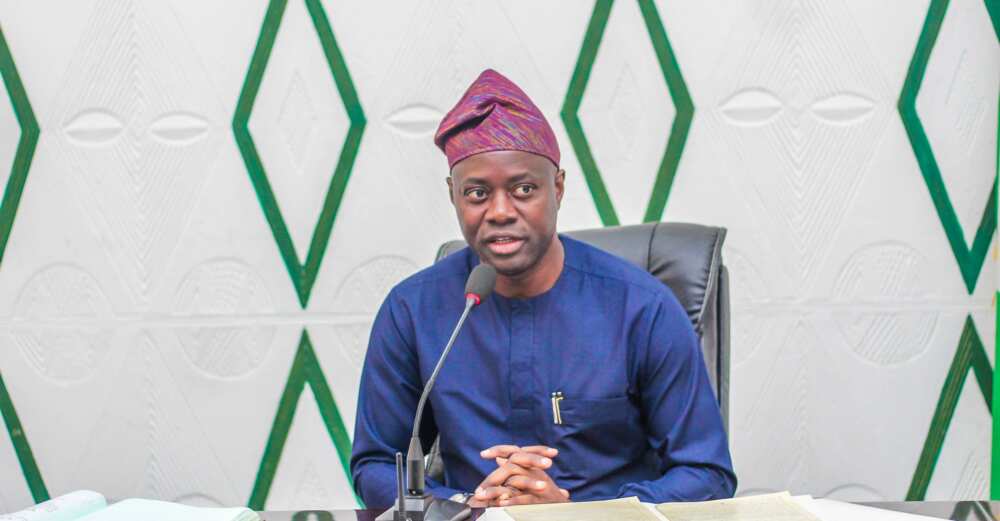 PAY ATTENTION: Install our latest app for Android, read the best news on Nigeria's #1 news app
On May 29, 2019, Makinde fulfilled a campaign promise when he scrapped the N3,000 levy paid by secondary school students. Subsequently, all other levies including internal exam fees in state-owned school were also scrapped. Free notebooks and textbooks were provided for secondary school students and a compendium of past question papers for SS3 students. As a result of these actions, access to education increased by 11.3% according to figures released by the commissioner for education, Mr Sunkanmi Olaleye.
However, the non-payment of external examination fees by the government has been criticised as putting a dent on the free education offered. The government's response was that there was no promise to pay external examination fees as part of the free education policy and that this was consistent with free education policies by previous administrations.
The big surprise in the education sector was infrastructure. Makinde in his one year in office broadcast, stated as follows – "we have completed two hundred and thirty-nine projects awarded by the previous administration and sixty-eight awarded by our own administration. This year, we started two hundred and thirty-six projects which are currently ongoing. These projects include construction of schools and classrooms, construction of Early Child Development centres, renovation of schools, installation of boreholes, supply of furniture and sports equipment and other procurements."
It turned out that in the twilight of his tenure in 2018, Senator Abiola Ajimobi, former governor of Oyo state, had awarded several State Universal Basic Education Board (SUBEB) projects, some of which were uncompleted by the time he left office. These projects included the construction of 54 model schools, construction of classrooms and toilets, renovations of classrooms and offices etc. However, records show that Ajimobi did not pay the counterpart fund for the 2018 Universal Basic Education Commission (UBEC) which would have attracted a matching grant. Perhaps, this was one of the reasons why none of the model schools he awarded was completed during his tenure. In any case, having paid UBEC counterpart funding for 2019, Makinde's administration also paid the outstanding counterpart funding for 2018 which enabled it to access matching grants from UBEC. These funds meant it could complete uncompleted projects and start some projects of its own.
The emergence of these facts put to bed the "audio" tag which had trailed Makinde for a few months. In its place, critics said Makinde's administration was claiming glory for some projects it did not initiate. This latter point is absurd. Not only because the government is a continuum but because Ajimobi was governor for eight years and in his seventh year awarded several projects in the education sector which his administration could not complete. No government comes into office hoping to complete a predecessor's project. It takes away the government's power to decide which projects to award whom to award the contracts to and where to site the projects. But a responsible government which inherits uncompleted projects that are viable ought to complete them rather than abandoning them to award its own contracts. To this extent, Makinde has taken the responsible path and ought to be commended. In the end, the people of Oyo state will get value for these projects for which public funds had already been expended by the Ajimobi administration.
Despite the number of projects completed and ongoing in the education sector, several schools across the state still have dilapidated structures and need renovating and equipping. Additionally, other issues in the education sector including the adequate number of well-trained teachers and an updated curriculum are still pending. The recruitment of post-primary school teachers was halted because of the COVID-19 pandemic but the deficit in primary schools has not yet been addressed. Lastly, the termly subventions being paid by the government have been enmeshed in controversy due to complaints about some schools not receiving subventions or receiving far less than the approved amount. Furthermore, the subventions were paid late into the term, it needs to be paid earlier so that the schools have funds for their running costs from the beginning of the term.
Just like the education sector, the healthcare sector was also in a sorry state at the time Makinde assumed office. In his manifesto, he had stated that no new Primary Healthcare Centre (PHC) would be built in his first two years in office but that the focus of his administration in those first two years would be to renovate and equip existing PHCs, one per ward in the first instance which would amount to 351 PHCs.
By his 100th day in office, Makinde's administration had already renovated and equipped Adeoyo Hospital, Ring Road, Ibadan (a secondary healthcare facility) and the PHC, Oranyan. Having seen the standard set by these two projects, the people of Oyo state were looking forward to a new lease of life for healthcare facilities but nothing visible happened until the COVID-19 pandemic in March 2020 spurred the government to continue with the renovation and equipping of more healthcare facilities.
Since March 2020, the Maternity and Paediatric Centre at Olodo has been redesignated as the Infectious Disease Centre and renovated and equipped as a research and treatment centre for infectious diseases. Also, PHCs in Eyin Grammar in Ibadan, Aafin and Aawe in Oyo town and Igbo-Ora in Ibarapa have been upgraded. Additionally, renovations at the General Hospital in Saki and part of the Ladoke Akintola University Teaching Hospital, Ogbomoso are ongoing. During the commissioning of the PHC at Aafin, Makinde announced the release of One Billion Naira to continue with the renovations of PHCs. At the estimated cost of Twenty Million Naira per PHC, this will only fund the upgrade of 50 PHCs.
In the past one year, the Oyo state government has procured two ambulances for its COVID-19 cases and ten ambulances for the five zones in the state.
Furthermore, records released by the Oyo state government show that in the past one year, 58,000 people have been enrolled in the Oyo state health insurance scheme which was started by the Ajimobi administration.
There is still a lot of work to be done in the healthcare sector. In addition to upgrading about 340 PHCs, at least within the next three years to meet his own target, Makinde's administration also needs to upgrade state-owned secondary and tertiary healthcare facilities. There is also the pending issue of the shortage of healthcare professionals. A recruitment drive by the Oyo state hospitals management board was suspended in March 2020 because of the COVID-19 pandemic.
Your own opinion articles are welcome at info@corp.legit.ng— drop an email telling us what you want to write about and why. More details in Legit.ng's step-by-step guide for guest contributors.
Contact us if you have any feedback, suggestions, complaints or compliments. We are also available on Twitter.
Yaba trader has a message for the government | Legit TV
Source: Legit