- Abiodun Abraham, a UNILAG graduate, has used its brilliance to proffer a good solution to the spread of Covid-19
- The Nigerian man built a disinfectant gateway machine that sprays whoever passes through it to clean viruses off them
- In one of the pictures posted on Twitter, the man could be seen posing beside the machine he created
PAY ATTENTION: Click "See First" under the "Following" tab to see Legit.ng News on your Facebook News Feed!
A graduate of the University of Lagos, Abiodun Abraham, has made a great input towards the fight against coronavirus in the country.
According to Omasorio Ali Ovie on Twitter, the creative man constructed a disinfectant tunnel that cleans any residue of bacteria and viruses off whoever passes through it.
This kind of machine will go a long way in ensuring personal hygiene in public places as life eases back to normal and activities become full-blown.
See the pictures of the machine below: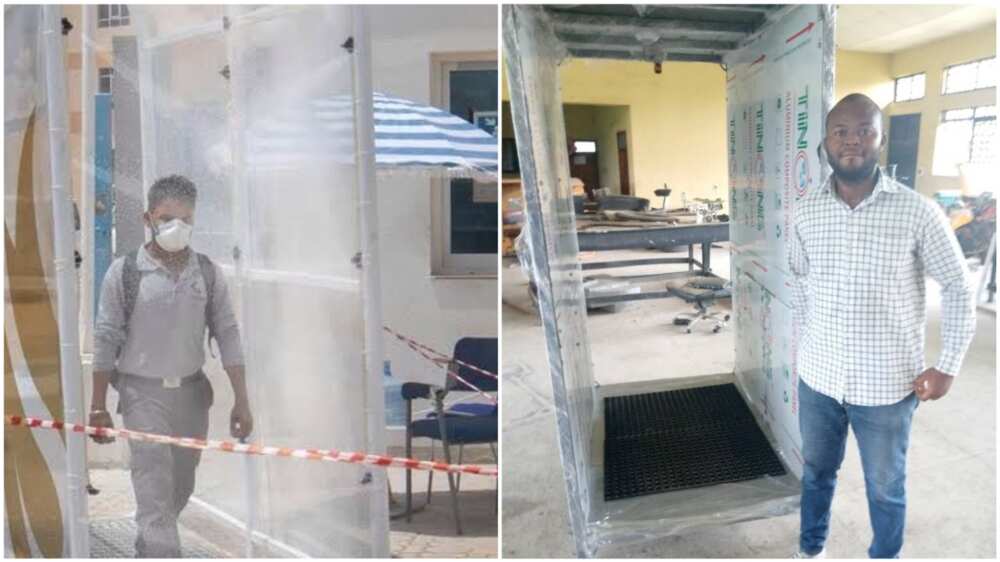 Meanwhile, Legit.ng earlier reported that Abu Dhabi worked hard and smart to rid the city of coronavirus as they introduced an amazing gateway at bus stations that disinfect people as they pass through it.
The technology was installed at Abu Dhabi Central Bus Station so the spread of the virus could be contained.
The authority in charge of transportation in the city also said that it would be setting up the same in major stations.
PAY ATTENTION: Download our mobile app to enjoy the latest news
It should be noted that the gate works daily from 6am to 8pm and is always cleaned by a team of specialist at regular intervals.
"The ITC has followed a number of precautionary actions since the outbreak of coronavirus, including the extensive cleaning and sterilisation of public transport in order to protect the public," a representative of the centre said.
In other news, the Sierra Leonean government appointed a Nigerian, Dr Laoluwa Adejayan, as the head of its Covid-19 Task Force.
In explaining how the Nigerian is better suited for the position, the government said that they took the action on the basis that Laoluwa's work in recent years as a foreign medical practitioner has spoken for itself.
After the appointment, the government increased his salary to $20,000 (N7,740,200) monthly, a 100% increment over his previous salary.
Adejayan graduated from Ladoke Akintola University of Technology, Ogbomoso and reportedly did his National Youth Service Corps programme in Bayelsa state.
Also, the president of Sierra Leone, Julius Maada Bio, sent a letter to President Muhammadu Buhari informing him about the appointment as he described the Nigerian as a good ambassador.
Market Survey: Coronavirus cannot kill everyone in Nigeria | Legit TV