- Jiam has not washed nor cut her hair for over 20 years
- According to the lady, she's scared of washing her hair for fear of experiencing bad luck
- From the video making the rounds on social media, she was advised by her village elders not to do anything to her hair
PAY ATTENTION: Click "See First" under the "Following" tab to see Legit.ng News on your Facebook News Feed!
Imagine not having to wash your hair for a year. How would it be?
A woman has left many with their mouths open after disclosing that she has not washed nor cut her hair for over 20 years.
In a video that has since gone viral, the Asian woman said she did not wash her hair over the fear of experiencing bad luck.
From the video, Jiam hails from Trang in Thailand.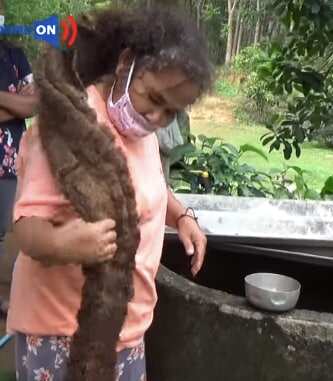 According to Daily Mail, the woman asked her village elders what to do with the hair and as a response, they told her cutting their hair would bring bad luck to her.
"When Jiam reached her thirties, her hair started to naturally twill together. Instead of washing or cutting it, she asked her village elders for advice. They told her that cutting or washing her hair would bring terrible bad luck to her," said the report.
For the fear of any misfortune, the superstitious woman heeded her elders' advice and refused to wash her hair.
Her hair runs up to her feet and is about to touch the ground. Her hair grew into one enormous dreadlock.
Jiam has refused to cut or wash her dreadlock. In the video, she is seen pouring water to the thick dreadlock at the edge.
PAY ATTENTION: Install our latest app for Android, read the best news on Nigeria's #1 news app
In other news, a lady simply identified as Bianca has taken to Twitter to share how she got a vehicle gift from her parents after graduating top of her class.
According to her, she made a deal with her parents that if she graduated top five of her class, she could get the vehicle of her choice.
She said she graduated valedictorian and got a vehicle gift from her parents, adding that she is grateful to them.
According to her, she would not have got this far without her friends and family.
What's special about being a Nigerian? | Legit TV