Editor's note: Public affairs analyst, Lati Abayomi, writes on the ghost workers racketeering controversy currently rocking Oyo state. The writer calls for a thorough investigation into the issue, while calling for the prosecution of those found guilty.
PAY ATTENTION: Click "See First" under the "Following" tab to see Legit.ng News on your Facebook News Feed
Read below:
Eleven months ago, I wrote about Governor Seyi Makinde's first month in office and my expectations for the next few months. I was hoping to write about his first year in office and whether or not those expectations had been met. I have had to write a bit earlier than planned, to call on the governor to investigate what I believe is a very important issue.
Oyo state is in the news again, this time, the issue is "ghost workers." On Friday, May 08, 2020, an argument on Twitter between Mr Ayobami Agboola, son of the Head of Service for Oyo state, Mrs Ololade Agboola and one Mr Sulaimon Adesola turned sour. Mr Adesola subsequently released screenshots of conversations he had with Mr Agboola about getting a "ghost worker" slot in Oyo state. At the time of these conversations, Senator Abiola Ajimobi was the governor of Oyo state.
The "ghost workers" syndrome is an issue that is familiar to Nigerians as far as the civil service at all levels of government is concerned. It is a type of payroll fraud perpetrated when people appear on an organisation's payroll and get paid by the organisation even though, they do not actually work for that organisation.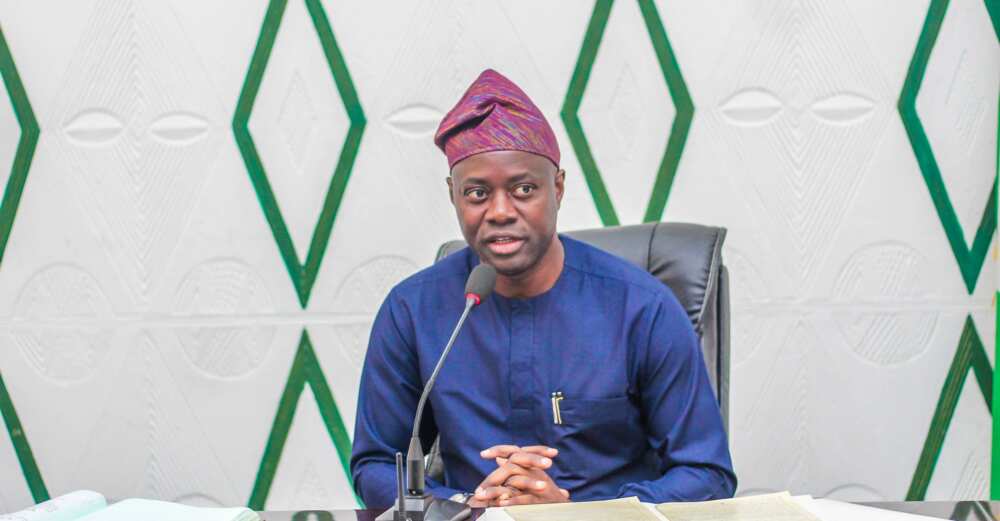 In his defence, Mr Agboola said he was not in a position to make good on his promise to give Mr Adesola a "ghost worker" slot but was just stringing him along to get him to do his bidding. Regardless of where the truth lies, what is clear is that like every other state in Nigeria, Oyo state had a ghost worker problem by the time Governor Makinde assumed office on May 29, 2019.
In fact, by September 2019, during an interactive session with civil servants in the state, Governor Makinde stated that the wage bill of Oyo state increased by N1billion under the Ajimobi-led administration, shortly after the governorship election of March 9, 2019, and before he was sworn in as governor. This was reported in the national dailies on September 11, 2019. He further stated that his administration would commence a workers' verification exercise to ensure that only genuine civil/public servants and pensioners get paid from the state's treasury.
Two months later, on November 19, 2019, Governor Makinde announced via his social media accounts that he had flagged off the Oyo state public and civil servant workers' verification programme. According to his post, the aim of the verification exercise was to "ensure we know everyone employed by the state, and that everyone receiving emoluments from the state's coffers is entitled to do so." The data collected would enable the state to plan its recurrent expenditure better and any savings realised after the exercise was concluded could be deployed to meet other expenditure for the benefit of Oyo state people.
PAY ATTENTION: Install our latest app for Android, read the best news on Nigeria's #1 news app
The firm employed to carry out the workers' verification in Oyo state is a foremost auditing firm, Messrs Sally Tibbot Consulting Ltd. The firm has experience in dealing with the issue of workers' verification and payroll fraud and is employed by other states such as Kogi and Niger states to audit their payrolls.
The workers' verification was suspended on March 20, 2020, as a result of the COVID-19 pandemic, as part of measures to stop the spread of coronavirus disease in the state. My expectation is that when the verification exercise concludes post-COVID-19, Oyo state will be transparent in revealing the number of "ghost workers" removed from the payroll and the amount of money that will be saved by the state as a result. I also call for the prosecution of all those found to have enabled the fraud, whether they are still a part of the government or are retired.
Even though the alleged "ghost worker" racket conversation happened during the Ajimobi-led administration, it is important that Governor Seyi Makinde investigates the possibility of a "ghost worker" racket and ensures that if any offenders are identified, they face the full wrath of the law.
When I wrote about Governor Seyi Makinde's first month in office on June 29 2019, I noted that he promised to introduce an executive bill for an anti-graft agency to the Oyo state House of Assembly. Not only was the bill introduced, on December 11, 2019, but Governor Makinde also signed the Oyo State Financial Crimes Commission Bill into law. Therefore, I believe that Governor Makinde is serious about his anti-corruption stance and will ensure that this investigation is carried out without fear or favour.
Disclaimer: The views and opinions expressed here are those of the author and do not necessarily reflect the official policy or position of Legit.ng.
Your own opinion articles are welcome at info@corp.legit.ng— drop an email telling us what you want to write about and why. More details in Legit.ng's step-by-step guide for guest contributors.
Contact us if you have any feedback, suggestions, complaints or compliments. We are also available on Twitter.
Follow LEGIT to keep pace with the latest news!
Ekiti State: 6 years without electricity, Ekiti East LG residents cry for help | Legit TV