Editor's note: Public affairs commentator, Abigail Anaba writes on the confusion that comes with the vocabulary used concerning the coronavirus cases in the country. The writer noted that since the outbreak of the pandemic, the English language is mostly abused by users especially in Oyo state.
PAY ATTENTION: Click "See First" under the "Following" tab to see Legit.ng News on your Facebook News Feed
Read below:
A few weeks ago, the governor of Oyo state, Seyi Makinde rejected bags of rice donated to the state as palliatives. Twitter users, especially those of the opposition APC, were upset by this and accused him of hanky-panky. Interestingly, other states also came forward and indicated that some of the bags of rice they were given were bad. When people pointed out that rejecting rice was not only an Oyo affair, one state governor said, "At no time did we reject anything from the FG. We nonetheless have experienced similar issues experienced by other states with some of the bags. Those not suitable for consumption will be discarded." Interestingly, the verb "discarded" has as its synonym "reject."
But this piece is not about the discarded or rejected rice, it is about the English language and how it is often used and mostly abused by users. The English language can be tricky, many of us do not look up words, we simply assume their meanings based on context. As an English teacher, I have often found myself looking up words, even words I use on a daily basis, and sometimes, I am shocked by what I find. This is why when the argument arose over the use of the word "absconded" I went to check its meaning.
For example, a Twitter user does not believe that people can abscond from anywhere except a gated or enclosed location like an isolation centre. His thoughts represent that of many others like him including media outlets. However, the word abscond simply means to "run away." I can abscond from my duty post, from the bedroom, from my house and even from a classroom. It simply means I was not at the place that I was expected to be when someone checked and they don't know my whereabouts (especially when I am in some sort of trouble).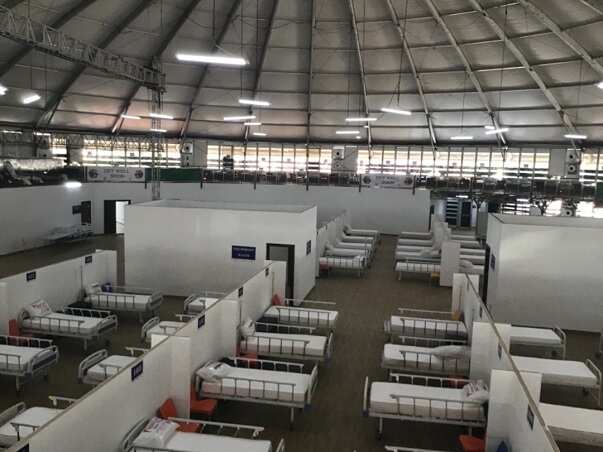 So, it was quite amusing to see the argument that the people who the honourable commissioner for health, Lagos state said "ran away" when they went to pick them for onward transfer to isolation centres, did not "abscond." It sounded exactly like, "we did not reject them, we will discard them."
English is of course not our native language in Nigeria, but one would expect that when a person wants to engage in a conversation in a particular language, they would ascertain what the words mean so that they can be more precise.
On another note, the issue of absconders either from isolation centres or from their places of residence should be cause for concern. I applaud Governor Seyi Makinde for his transparency in revealing that these persons absconded. It is worthy of note that in a tweet later that night, he revealed that one of the absconders had been found while the other case has been transferred to the Sokoto PHEOC following eye witness accounts that the 10-year-old had travelled.
PAY ATTENTION: Get the Latest Nigerian News Anywhere 24/7. Spend less on the Internet!
As Lagos has revealed, these absconders are contributing to the community spread of COVID-19. Right now, it has been projected that by July, the number of cases will rise to 120,000. The question is, why are people running away from isolation centres? I have earlier written about the secrecy surrounding COVID-19. Perhaps, creating more transparency around what goes on in these centres will serve to allay some fears. We must keep sensitising people.
This is truly uncharted territory in more ways than one. Not only is this a disease for which there is no certified cure for now, there are also certain register that comes with the terrain that throws people off the course in conversations. For instance, some people were angry that Governor Makinde struck out the absconders from active cases in Oyo state. But, would it have been truthful to name them active cases when they were not receiving treatment "actively" in Oyo state? To be clear, Active cases means cases that are currently managed in the state. This is why when a case is transferred from one state to another, as we have seen the Nigeria Centre for Disease Control do on certain occasions, the active cases in State A decreases while that in State B increases.
Others said he lied about saying they were not originally in any of the state's isolation centres, because he had said in his original tweet that they were "managed" by the state. But as any medical professional will tell you for free, case management begins with when you have your first meeting with a potential client. In this instance, the state started managing the case when they took the samples of the suspected cases for testing.
Indeed, we owe it to ourselves to learn the COVID-19 and indeed medical vocabulary at this time if we are to contribute meaningfully to conversations especially on social media, lest we help in spreading lies and disinformation. We need to take responsibility as we interpret what is said and done at this time. It may also be a great idea to drop our political lens for a bit as we dissect the real issues. As events have shown again and again, what goes around comes around.
Your own opinion articles are welcome at info@corp.legit.ng— drop an email telling us what you want to write about and why. More details in Legit.ng's step-by-step guide for guest contributors.
Contact us if you have any feedback, suggestions, complaints or compliments. We are also available on Twitter.
Stay with Legit and keep track of the latest news in Nigeria!
Coronavirus: Nigerians in New York don't believe the cases back home are real - Nurse | Legit TV