- The federal government has secured the $3.4 billion loan it requested from the International Monetary Fund (IMF)
- The emergency fund is meant to assist Nigeria's fight against the COVID-19 pandemic
- The IMF managing director, Kristalina Georgieva, disclosed that the $3.4 billion has been credited to the CBN's account
PAY ATTENTION: Click "See First" under the "Following" tab to see Legit.ng News on your Facebook News Feed!
Nigeria has secured the $3.4 billion emergency loan it requested from the International Monetary Fund (IMF).
The emergency fund was approved by the IMF board on April 28. It is meant to assist Nigeria's fight against COVID-19, The Nation reports.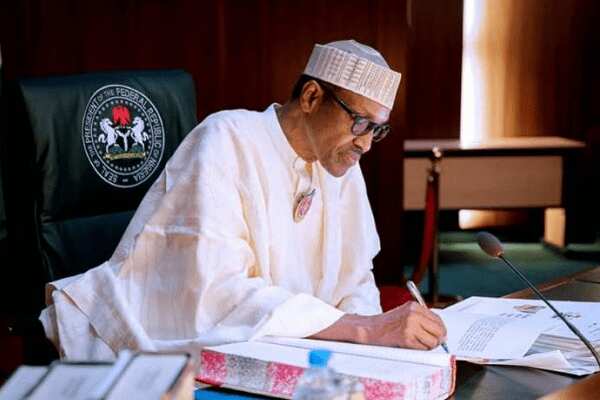 IMF managing director, Kristalina Georgieva, disclosed on Tuesday, May that the $3.4 billion had been credited to the CBN's account.
She explained that the conditions for the loan are quite favourable, noting that the repayment period is five years, with up to two and a half years grace period.
PAY ATTENTION: Install our latest app for Android, read the best news on Nigeria's #1 news app
Georgieva said the interest on the loan is 1 %.
The IM director noted that said there was need for all receivers of the emergency fund in Nigeria to keep receipts of expenditure.
Meanwhile, President Muhammadu Buhari has urged international financial institutions to assist member states, including Nigeria in cushioning the negative impact of the COVID-19 pandemic through various initiatives.
The president listed the support initiatives, which includes extending concessional loans, technical support, lowering of tariff on medical equipment and consumables, sharing of expertise in case management, adopting open trade policies, as well as outright debt cancellation.
President Buhari made the comment on Monday, May 4 in Abuja while participating in a virtual summit of Heads of State and Government of the Non-Aligned Movement (NAM).
The president also stated that only a collective international approach would mitigate the devastating effect of COVID-19.
According to him, national, regional and global strategies would be required to tackle the pandemic.
In another report, leading civil society organisations in Nigeria have urged the federal government to ensure transparency in the use of the International Monetary Fund's (IMF) financial assistance to fight the COVID-19 pandemic and shore up the country's failing economy.
The grant to Nigeria, called Rapid Financing Instrument (RFI), is the highest so far to any member country.
The civil society groups in a statement sent to journalists on Monday, May 4 urged the Nigerian government to prioritize and utilise the funds to improve health spending, socio-economic safety nets and support for small and medium scale enterprises.
The statement was signed by Connected Development, OXFAM Nigeria, BudgIT and the Civil Society Legislative Advocacy Centre.
Market Survey: Coronavirus cannot kill everyone in Nigeria | Legit TV