What is bomboclaat/sco pa tu manaa and why is it all over Twitter?
If you are a regular Twitter user, then you probably are familiar with a number of catchy phrases that have been used to caption pics. Recently, the viral phrase "Sco pa tu manaa", that dominated Twitter for the past few months now is slowly being replaced by bomboclaat. Just like it was with sco pa tu manaa, people are using bomboclat to caption their photos.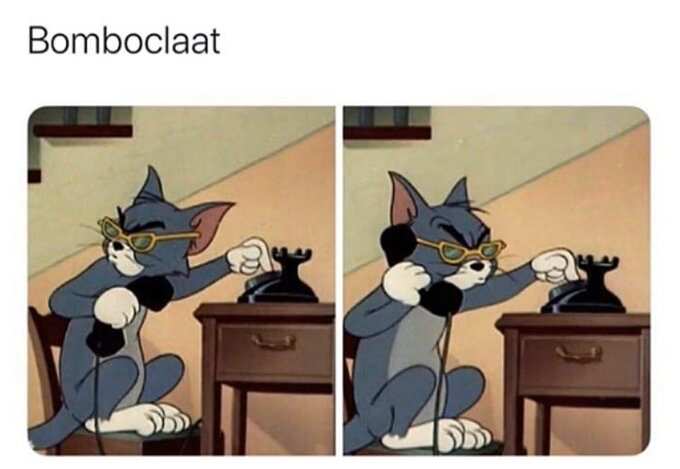 But what exactly does this new word mean? What does bomboclaat mean? It is possible that not everyone knows what it really means. Online users seem to be always creative. Apart from creating memes that trend, they also seem to come up with words that are sometimes meaningless, but then again the phrases tend to catch on and become more popular than expected.
What is a Bomboclaat?
What does Bumbaclaat mean on Twitter? Just when people were trying to understand what Sco Pa Tu Manaa means, the popular phrase quickly finds its replacement. This exit marks the introduction of "Bomboclaat": This is the new phrase everyone seems to be using on Twitter.
What does it even mean? Do we know where it came from? Well, based on the Urban Dictionary, the word is Jamaican and is a curse word used when surprised or angry. The source refers to it as an equivalent to the curse word, f**k.
However, according to Know Your Meme, Bomboclaat can also be spelled Bumbaclaat, Bumbclaat or Bumbaclot. It is an expletive Jamaican Patwah slang word for a menstrual pad or toilet paper. The phrase is used as an insult or an interjection expressing disgust or anger.
However, the phrase has been turned into a meme where people caption photos with it, and it means something completely different. A lot of people are confusing the viral phrase with Sco Pa Tu Manaa, but the two memes are slightly different.
How did Bomboclaat become popular?
The Jamaican word which used to express shock or surprise appears to have captured no real attention when it was first used. It was later, when Rudeboy commented on how he came to Twitter to witness its misuse that people picked interest in it. He explained that it is an expression of shock that was quite unlike O jewa ke eng? which translates into "what is eating you up?" or "what is troubling you?" and Sco pa tu mana that is meaningless.
Urban dictionary, on the other hand, describes it as a word that is used as a curse word and most used to place an emphasis on something. While Nigerians made the meme go viral on Twitter, Jamaicans came out to say that the Nigerians were using the word in a wrong context. They explain that other than using the word as a way of encouraging comments on their pics, there is a deeper meaning to it. Here are a few of their sentiments on twitter.
Be schooled on the real meaning!
Well, you can make fun of everything while at it.
If you trace a little more, you will discover that the word came from Caribbean music. Any Caribbean music lover will notice that the word is often used at the intro of the most dance hall and reggae songs.
What does SCO Tu Pa manaa?
Sco Pa Tu Manaa means what are your thoughts / share your opinions on the following picture. However, Bomboclaat means "caption this".
First use of Bomboclaat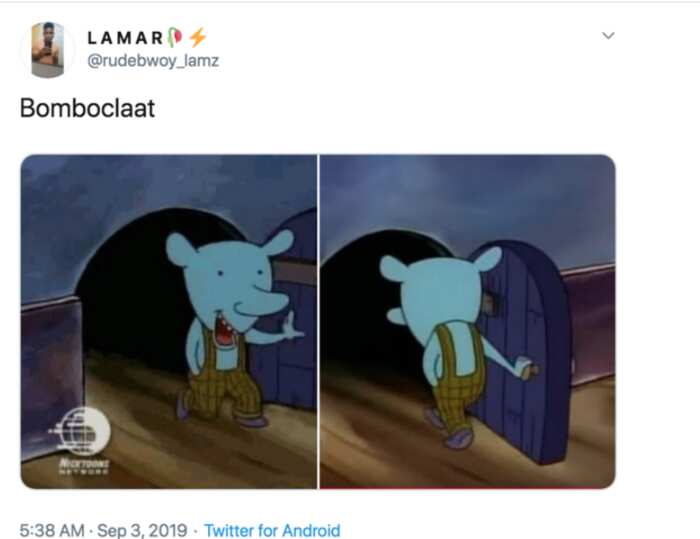 Now that you have understood what is bomboclaat, it is interesting to note how it came about especially on Twitter. The first known use of the Bomboclaat meme was on September 3rd 2019. Twitter user @rudebwoy_lamz shared two images from the American animated comedy series CatDog with the caption "Bomboclaat". The post received more than 13k likes and 3.3k retweets.
How does the viral meme work?
To join in on the viral meme, you just type out "Bomboclaat" and post an image alongside. Twitter then does its thing and replies with captions for the picture. The image is usually a funny reaction meme that's easy to put a witty caption to.
Sco pa tu manaa
Sco pa tu mana is slightly different from bomboclaat despite the two having certain similarities. What is sco pa tu manaa? You have probably seen one of the latest viral meme "Sco Pa Tu Manaa" on your Twitter feed and wondered what it could mean? You are not alone. Sco Pa Tu Manaa is simply a means of sharing their opinion about a certain picture.
What does Sco Pa Tu Manaa mean and where did the phrase come from?
In April 2019, Ghanaian singer Kawoula Biov used the phrase 'Sco Pa Tu Manaa' in his song, Daavi Neba. The lyric was sung by Ghanaian artiste Patapaa, who is featured on the track. He is popular in Ghana for rapping basically gibberish – which explains a lot.
In Ghanaian, the phrase doesn't really mean anything, and nobody uses the phrase in any spoken languages in Ghana. The song was released in April 2019 and the phrase quickly found its way onto Twitter.
According to Know Your Meme, Sco Pa Tu Manaa is a slang phrase that has a variety of meanings in multiple languages, including "I'll hit you" and "what experience does this remind you of". When the phrase rose to popularity on Twitter, it was given its own unique meaning that was specific to twitter meaning"what is your opinion on this".
According to Tatisis, the phrase has multiple meanings online. These include: Where is that? What's on your mind? What exactly is happening?, and What do you think about this?
The first known tweet which turned the phrase into a meme was posted on May 1st, 2019. Twitter user @MercedesSlimBoy posted the phrase with a picture of a sign that reads "Run for Your Life Int. Chapel."
In summary, the Sco Pa Tu Manaa meaning is: Share your opinion on this.
How does the viral meme work?
If you want to join in on the viral meme, you just type out "Sco Pa Tu Manaa" and post an image alongside. Your Twitter followers and other replies will then share their thoughts on the topic of the picture. To better understand this, a few examples would be perfect.
Sco Pa Tu Manaa meme examples
Here are a few examples of the tweets that best illustrate what sco pa tu ma naa means. You will see clearly how the phrase is used alongside Twitter pic posts.
1. They want your opinion on sushi
2. What are your thoughts on Miley Cyrus?
3. What do you think about cheating in a relationship?
Of all social media platforms, Twitter has been full of weird trends recently. It is also possible that with the passage of time, new and more interesting version will keep arising.
Anyone that loves memes on Twitter will appreciate the idea of the bomboclaat meme, as well as appreciate sco pa tu manaa meaning and usage. These are some of the creative ways that Tweeter users keep inventing tricks to make their conversations interesting and more engaging.
Bomboclaat may just be one of the many phrases and words that keep emerging with the recent trend on Twitter. Fans and users will be looking forward to what will come next.
Source: Legit Nigeria