Calista Flockhart bio: age, husband, son, net worth
Calista Flockhart is a renowned American actress. She is popular for the critical roles she played in the legal comedy-drama series, such as Things You Can Tell Just by Looking at Her as Christine Taylor, Telling Lies in America as Diney Majeski, and Brothers and Sisters as Kitty Walker among many others.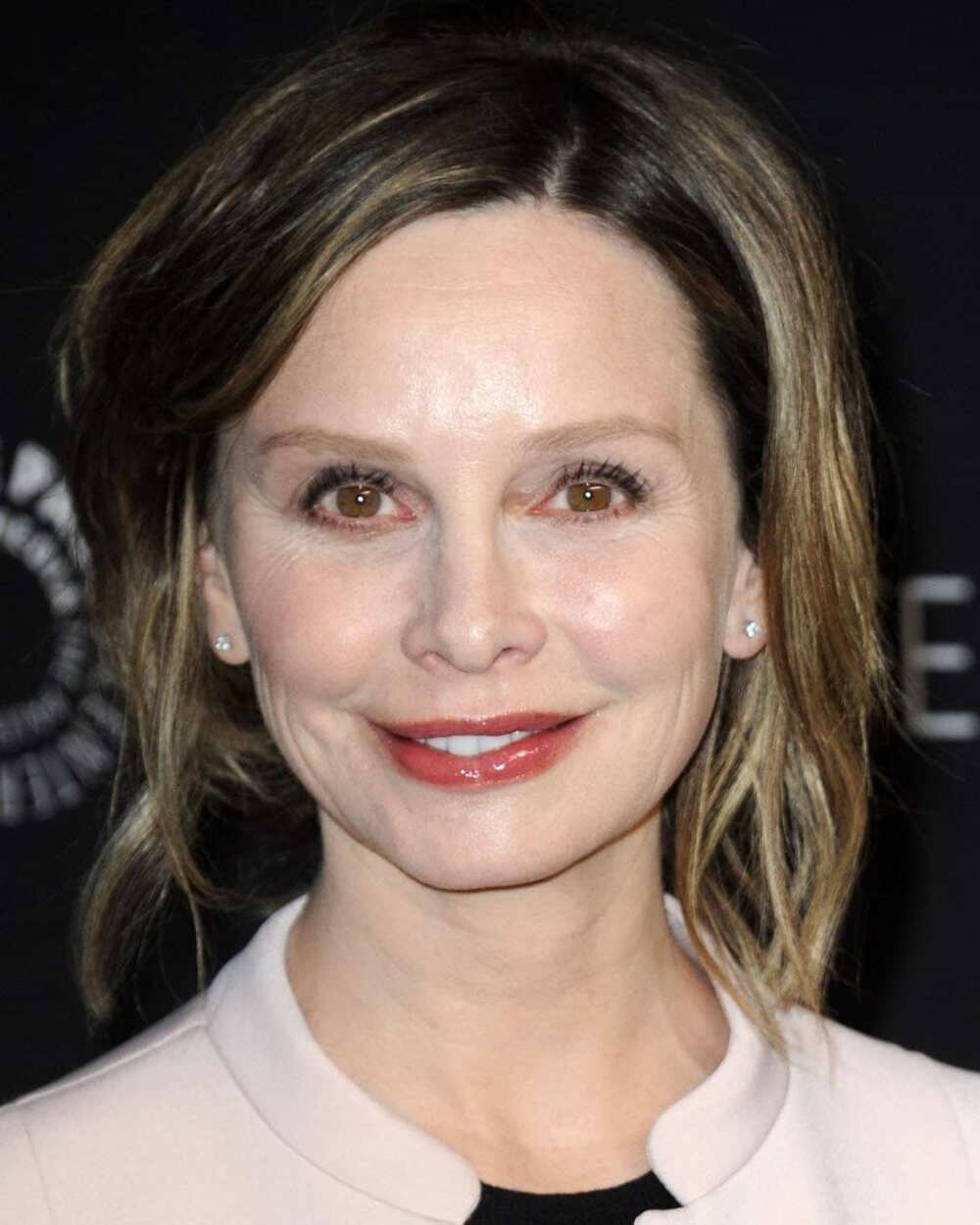 In 1989, Calista came in the limelight, where she acted in an episode of Guiding light as a babysitter. A few years later, she debuted at the Circle Repertory Theater. She has been featuring in many movies and television series.
Profile summary
Birth name: Calista Kay Flockhart
Date of birth: 11 November 1964
Calista Flockhart age: 55 years
Nationality: American
Weight: 51 Kg
Height: 1.66m
Career: Actress
Marital status: Married
Twitter:@CalistaKay
Early life
Calista was born and raised by her mother, Kay Calista, and her father, Ronald Flockhart, in Freeport, USA. Her mother was an English teacher while her father's job as a Kraft Food Executive involved moving from one place to another. He used to move with his family and so Calista, along with her older brother, Gary, grew up in places like New York, Norwich, New Jersey, Illinois, and Iowa, among many others.
Calista Flockhart education
The talented actress schooled at Shawnee High School in New Jersey and graduated in 1983. Then she enrolled to study a Bachelor in Fine Arts at Rutgers University. Luckily, she happened to attend a specialized and competitive acting class while still at the University. This gave her an opportunity to meet a popular and aspiring actress, Jane Krakowski. Calista graduated in 1988 among the few best students.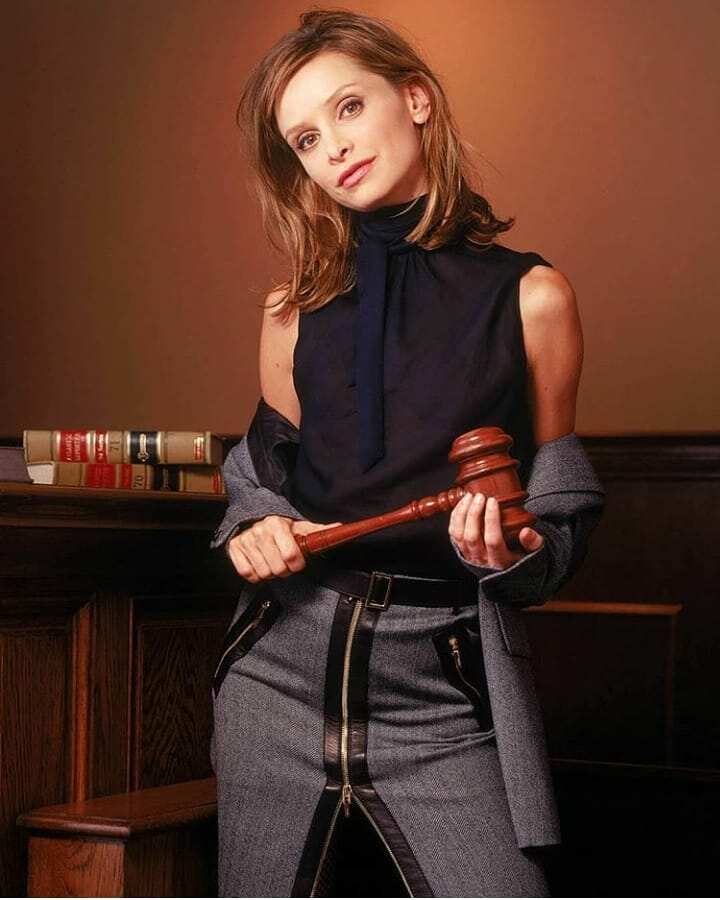 Career
Since childhood, she wanted to become an actress, and her dream came true. Calista started her acting career back in the 1980s. After some years in acting, she bagged a Golden Globe Award in 1998. Her acting lead role in a TV series, Ally McBeal as Ally McBeal made her a celebrity. The series successfully ran over two decades. She became more famous as a TV artist and qualified to play some roles in movies such as A Midsummer night's dream. The actress took a break from acting in 2012 but resurfaced after three years. In 2015, she featured in a TV series Supergirl as Cat Grant.
Calista Flockhart movies and TV shows
The beauty has featured in various movies and TV shows.
Movies
Here is a list of the movies:
1993-Naked in New York as acting student
1994-Clear Cut
1994-Gettin In as Amanda Morel
1994-Quiz Show as Barnard Girl
1995-Pictures of Baby Jane Doe as Jane
1995-Drunks as Helen
1996-Birdcage, TheThe Birdcage as Barbara Keeley
1996-Milk & Money as Christine
1997-Telling Lies in America as Diney Majeski
1999-Midsummer Night's Dream, AA Midsummer Night's Dream as Helena
2000-Things You Can Tell Just by Looking at Her as Christine Taylor
2004-Last Shot, TheThe Last Shot as Valerie Weston
2005-Fragile as Amy Nicholls
TV shows
Here is a list of the TV shows:
1989-Guiding Light as Elise
1991-Darrow as Lillian Anderson
1992-Lifestories: Families in Crisis as Mary-Margaret Carter
1997–2002-Ally McBeal as Ally McBeal
1998-Practice, TheThe Practice as Ally McBeal
2000-Happily Ever After: Fairy Tales for Every Child as Vanna Van
2001-Bash: Latter-Day Plays
2006–2011-Brothers & Sisters as Kitty Walker
2014-Robot Chicken as Rebecca Cunningham
2014-Web Therapy as April Keating
2015-Full Circle as Ellen Kelly-O'Rourke
2015–Supergirl as Cat Grant
2015-The Penguins of Madagascar as Doris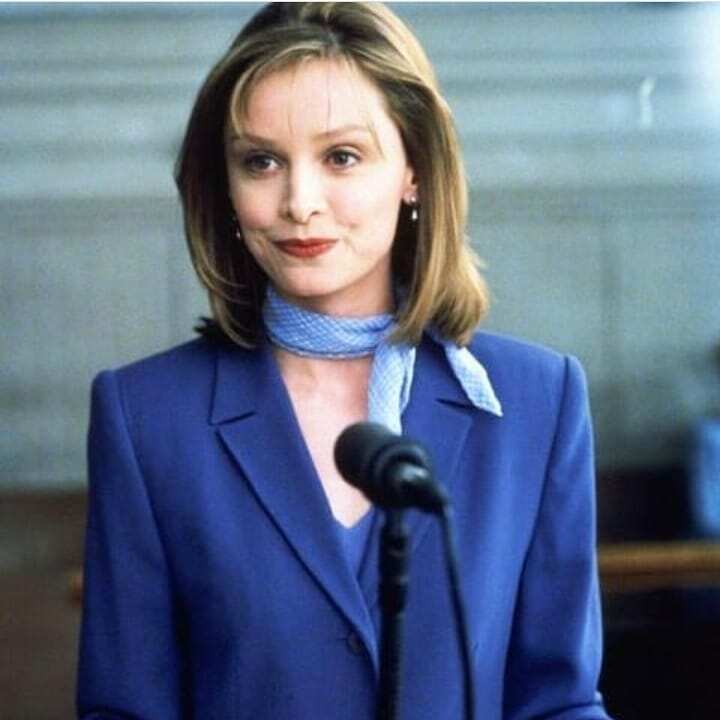 Calista Flockhart Awards
The renowned actress received the following awards:
1995-Clarence Derwent Awards
1998-Golden Globes Awards
1999-American Comedy Awards
1999-Television Critics Association Awards
2000-Online Film & Television Association Awards
2000-People's Choice Awards
2000-Satellite Awards
2000-TV Guide Awards
2000-Viewers for Quality Television Awards
2001-Primetime Emmy Awards
2001-Screen Actors Guild Awards
2008-Gold Derby Awards
2010-Fright Meter Awards
How old is Calista Flockhart?
Calista Flockhart young was born on 11 November 1964. As of 2020, she is 55 years old.
Calista Flockhart marriage
The talented actress met her lovely husband, Harrison Ford, in 2002 during a Golden Globe Award Ceremony. The two got engaged on 14 February 2009. Fortunately, Harrison Ford and Calista Flockhart tied their nuptial knots on June 15, 2010, in Santa Fe, New Mexico. Their wedding was directed by Charles W. Daniels, Mexico Supreme Court Chief Justice, and Governor Bill Richardson.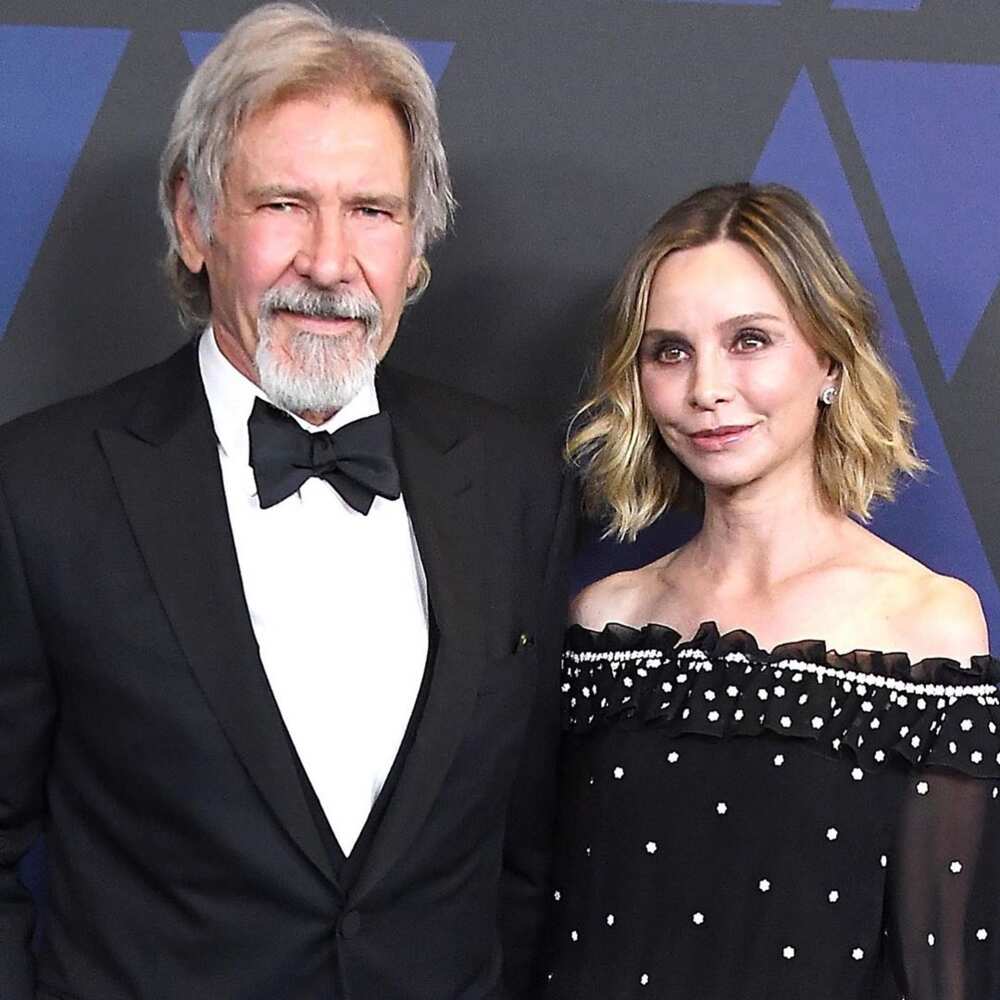 Who is Harrison Ford married to?
In 1964, Ford was first married to Mary Marquardt. Unfortunately, in 1979, things fell apart, and the couple separated. Later, in 1983, Harison met his second wife, Melissa Mathison, a screenwriter and married her the same year. However, the couple divorced in 2004. In 2015, three years after their separation, Mathison died of neuroendocrine cancer at 65 years. Fortunately, in June 2010, Harrison Ford married his current wife, Calista Flockhart.
Who is Calista Flockhart son?
According to some sources, Harrison Ford's wife met an unknown expectant mother back in October 2000. The woman promised to give Calista the baby after birth. The baby boy was born on January 1, 2001, and the actress adopted the boy and named him Liam Flockhart. Harrison Ford wife came into their marriage with Liam, her adopted son. Harrison Ford Calista Flockhart have remained to be supportive of their son to date.
Facts about Harrison Ford spouse
Calista Flockhart is Ford's third wife
She was the national spokesperson for Peace over Violence between 2004 and 2014.
Calista Flockhart net worth
The talented actress has accumulated a lot of wealth from her acting career over the years. As of February 2020, her net worth is estimated to be about 25 million dollars.
Calista Flockhart is a successful talented actress who is well known for the main roles she has been playing in various movies and TV series. The star has worked tooth and nail to make her acting dream come true. Calista's admirable career life has made her become a great role model and an inspiration to many upcoming actresses.
Source: Legit