- Fiery priest Reverend Father Ejike Mbaka has once again come under harsh criticisms
- Rebuild Imo Media claims the fiery priest has sold himself to the devil
- The group finds it funny that Mbaka claims his ministry is directed by the Holy Spirit in accordance with Catholic doctrines
A group identified as Rebuild Imo Media (RIM) has accused Reverend Father Ejike Mbaka of the Adoration Ministries of being possessed by evil forces.
According to the group, Father Mbaka is a willing tool in the hands of evil.
The harsh criticisms were contained in a statement by the group's coordinator, Amanze Obi, made available to Daily Sun in Owerri.
This was in reaction to the fulfilled prophecy of Mbaka on the Supreme Court judgement which saw Emeka Ihedioha sacked as Imo state governor, and replaced with former senator Hope Uzodinma.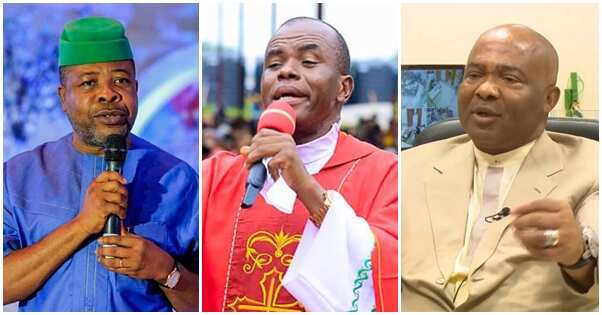 The group said Mbaka is spiritually bankrupt for deducing that the glory of God departed from Ihedioha because he surrounded himself with those who do not want him to work.
Its coordinator, described as laughable, claims by the priest that his ministry is directed by the Holy Spirit in accordance with Catholic doctrines.
Obi said has been working hard to tarnish the image of the Catholic Church. He his actions and utterance are in contradiction to the doctrines of the Catholic Church he claims to represent.
"We are amused because Mbaka is the least qualified person to talk about the Holy Spirit. If there is any spirit that dwells in Mbaka, it is that of sorcery and divination, and these are indulgences unbecoming of a supposed man of God."
"It is common knowledge that Mbaka, an ordained priest of the Catholic Church, has sold himself to the devil. Thus, rather than the Holy Spirit dwelling in him, Mbaka is possessed by evil forces and this is why he is always a willing tool in the hands of evil men," the statement read.
Criticising the cleric further, RIM's spokesman said Mbaka needs to engage in soul-searching and he will discover that he is not only spiritually bankrupt, but is also morally obtuse.
Obi expressed optimism that Ihedioha would soon be restored to his position as governor
"His removal by evil forces who recruited Mbaka to play the spoilsport is only a temporary setback. He will, sooner or later, bounce back. Ihedioha will certainly laugh last and this will be to the eternal shame of those who set out to destroy him and the good people of Imo state," he added.
Meanwhile, Christian leaders in Imo state have declared that they do not believe that Uzodinma won the election. They thus asked the Supreme Court to review the ruling.
Speaking for the leaders, Rt Rev Chidi Oparaojiaku, an Anglican bishop, said the group was shocked that the topmost court went contrary to the evidence on ground.
Uzodinma: Why Mbaka's prophecy is seen as a mathematical calculation - Ubani| Legit TV