- Lai Mohammed has denied any knowledge of the social media bill before the National Assembly
- The information minister authoritatively said there is no such bill before NASS
- On the hate speech bill, Mohammed said people should stop accusing President Buhari of being behind the bill
Nigeria's information minister, Lai Mohammed, has said he is not aware of the "Protection From Internet Falsehood and Manipulations Bill, 2019" bill sponsored by Senator Mohammed Sani Musa before the National Assembly.
The bill which is often referred to as social media bill has passed the second reading on the floor of the Senate in November and may soon become law.
The bill which has been trailed by controversy seeks to regulate social media.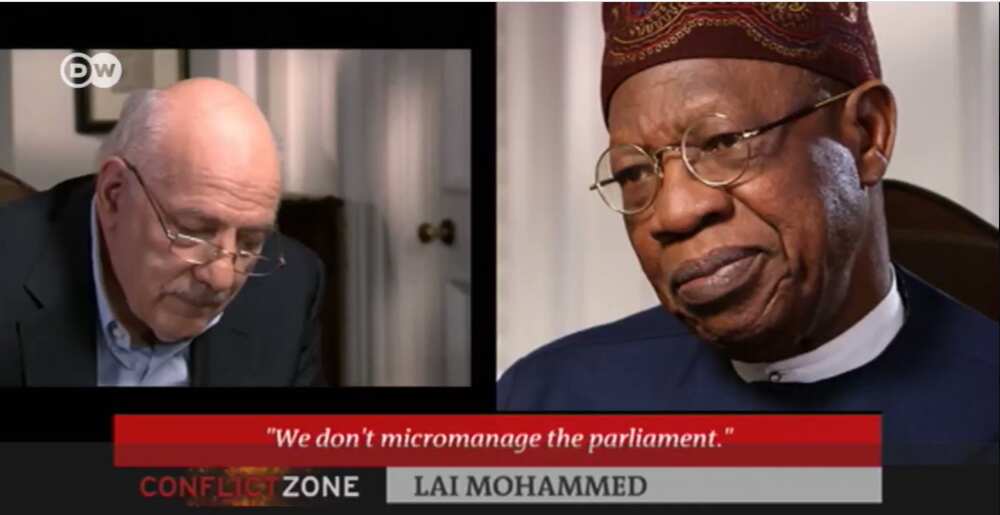 But Mohammed, during a video interview with DW's Tim Sebastian, said such a bill does not exist. He asked his interviewer who is the author of the bill.
"Who is the author of that bill, I am not even aware of it. There's no such bill before the house. I can say that categorically and authoritatively that there's no such bill before the house," Mohammed said.
On the hate speech bill otherwise called the 'Prohibition of Hate Speech Bill' sponsored by Senator Sabi Abdullahi, the minister said President Muhammadu Buhari has no hand in the bill and it is ignorant of anyone to accuse him of such.
"What is even more shocking here is the ignorance of people. There's what we call separation of power in major democracies. This particular bill you're talking about is a bill submitted not by the executive but by the legislative arm of government, so how can you accuse the executive?" he asked.
According to him, the government has no hand in what bill is sponsored or passed by lawmakers. He said it only comes in after the bill has been passed.
Mohammed said all Buhari can do is refuse his assent after it has been passed into law by the National Assembly.
He said the Senate is yet to pass the hate speech bill into law. So, how does the president stop it without being accused of dictatorship? We don't micromanage the parliament," the information minister added.
PAY ATTENTION: Install our latest app for Android, read best news on Nigeria's #1 news app
Nigerians had hit hard at the members of the 9th National Assembly over the new social media bill after it scaled through second reading at the Senate.
A poll conducted by Legit.ng revealed that 90% of Nigerians want the bill to be thrown away without any further delay.
They opined that rather than gag people from exercising their freedom of speech as being enshrined in the Nigerian constitution, the Senate should speedily pass a law that would legalise death sentence for corrupt politicians in the country.
NAIJ.com (naija.ng) -> Legit.ng We keep evolving to serve our readers better
Nigerians storm National Assembly to protest social media bill | Legit TV