16-year-old student set to secure a private pilot's license while in school
- 16-year-old Sydney-Marie Flowers is set to receive her private pilot's license even before getting a driver's license
- Flowers is a student at Davis Aerospace and Maritime High School in Cleveland, Ohio, in the USA
- Flowers is now one of an elite and tiny group of Black women pilots
Sydney-Marie Flowers, a 16-year-old girl, has joined an elite and tiny group of Black women pilots as she is set to receive her private pilot license even before getting a driver's license.
Blavity reports that "only 4.4% of airline transport pilots are women and only 2.7% are Black according to the US Federal Aviation Administration." Flowers has not only made her parents proud but has also made womanhood and the black community super proud.
Flowers who is a student at Davis Aerospace and Maritime High School in Cleveland, Ohio, USA, attended a local aviation camp where she received top honours. She was then chosen to attend a national camp in Tuskegee, Alabama, sponsored by the US Air Force.
It was on the same field that Flowers took her first solo flight. Although she faced challenges, she overcame and managed to pass her final exams. In a short while, she will become a full-fledged pilot and receive her private pilot license.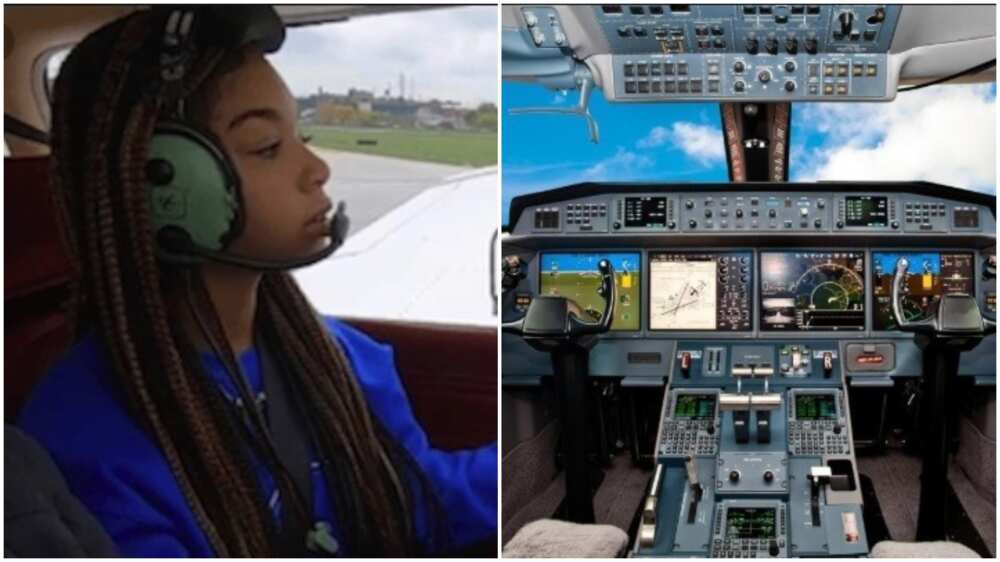 Meanwhile, Sherrxicia 'Rexy' Rolle, started working with her father, Captain Rex Rolle, a professional pilot and her mother, Shandrice Rolle, an entrepreneur to build their family airline.
Despite being the daughter of the owners of Western Air Limited, one of the most successful Black-owned airlines in the world, Sherrxicia 'Rexy' Rolle, did not want to just watch it grow.
Sherrxicia's parents equipped her at an early age with the necessary work ethics when she started working as a baggage handler after school until she was given the opportunity to observe airplane inspections.
PAY ATTENTION: Read best news on Nigeria's #1 news app
Do you have news to share? Contact Legit.ng instantly
NAF Officers make history as first female fighter, helicopter combat pilots on Legit TV:
Source: Legit.ng