50 sweet and cute love quotes for her and him
You do not have to spend hours trying to come up with beautiful words to express your feelings to your soulmate. You can use cute love quotes of famous people and anonymous authors to declare your love.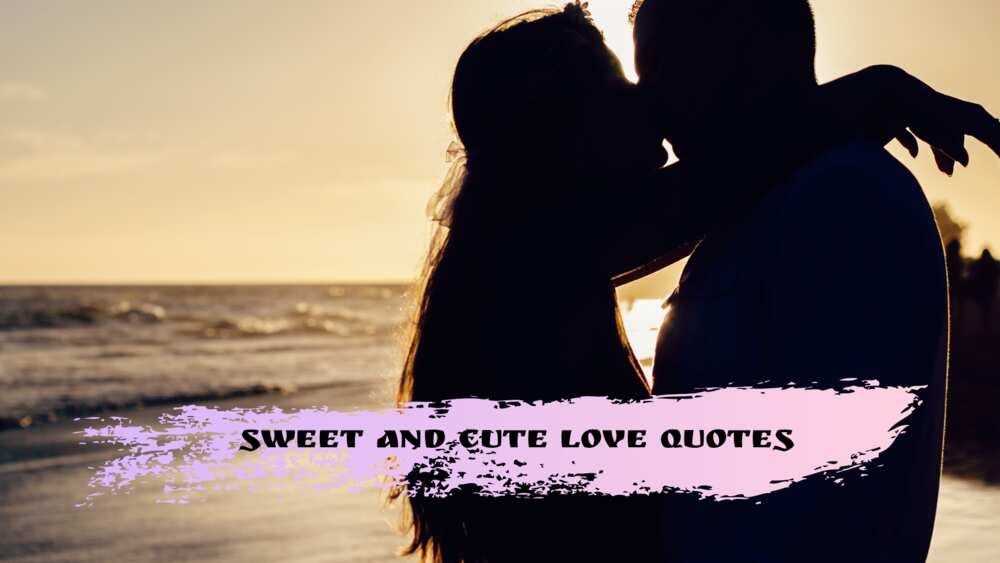 It is said that true and sincere feelings are difficult to describe and explain. Fortunately, you can borrow the words of many people who have a talent to express their thoughts and feelings beautifully.
Cute love quotes
Cute love quotes can melt the heart of your partner. Use these cute quotes to make their day:
"I may not get to see you as often as I like, I may not get to hold you in my arms all through the night. But deep in my heart, I truly know, you're the one that I love and I can't let you go." — Anonymous
"I would rather spend one lifetime with you, than face all the ages of this world alone." — J.R.R. Tolkien
"You don't marry someone you can live with...you marry the person who you cannot live without." — Anonymous
"Sweet is true love that is given in vain, and sweet is death that takes away pain." — Alfred Lord Tennyson
"The hours I spend with you I look upon as sort of a perfumed garden, a dim twilight, and a fountain singing to it. You and you alone make me feel that I am alive. Other men it is said have seen angels, but I have seen thee and thou art enough." — George Moore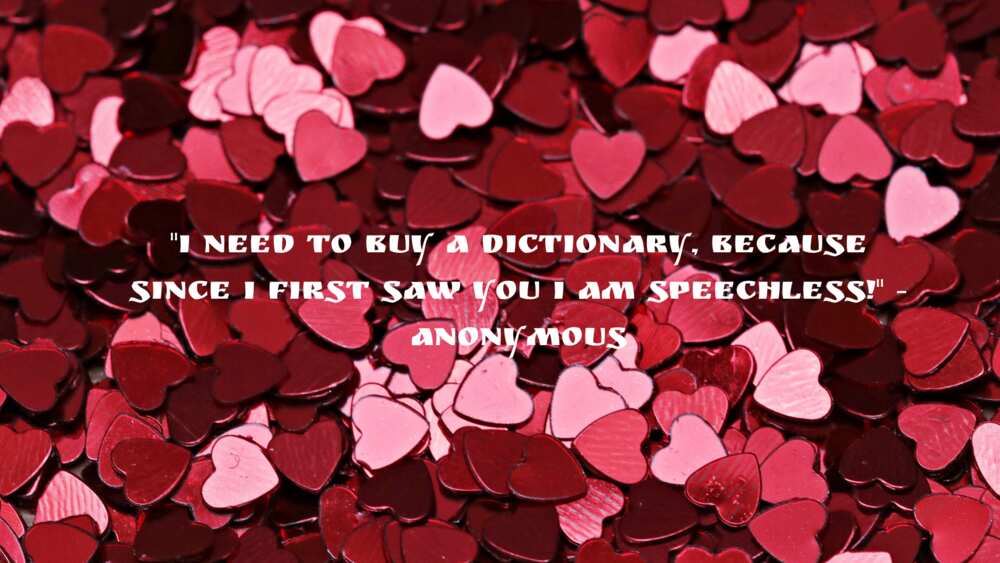 "You don't love someone for their looks, or their clothes, or their fancy car, but because they sing a song only you can hear." – Oscar Wilde
"So many reasons are there to love you. Your cute smile, your sweet laugh, your innocence and your kind heart makes me love you." — Unknown author
"I swear I couldn't love you more than I do right now, and yet I know I will tomorrow." — Leo Christopher
"Love has nothing to do with what you are expecting to get—only with what you are expecting to give — which is everything." — Katharine Hepburn
"Life has taught us that love does not consist in gazing at each other but in looking outward together in the same direction." — Antoine de Saint-Exupéry
"You make me complete. Without you, I am only pieces with no sense of being. I love you with all my heart, thanks for being with me." — Anonymous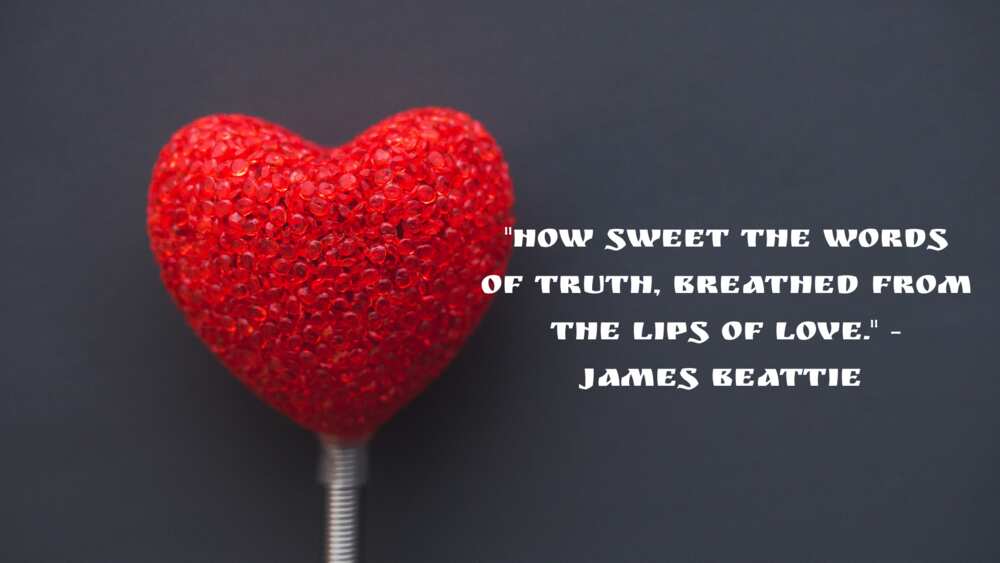 "I love your feet because they have wandered over the earth and through the wind and water until they brought you to me." — Pablo Neruda
"Thinking of you keeps me awake. Dreaming of you keeps me asleep. Being with you keeps me alive." — Inconnu
"You're my first thought in the morning, my last thought before I fall asleep and almost every thought in between." — Unknown author
READ ALSO: 50 I miss you quotes and messages (with images)
"Words fall short whenever I want to tell you how special you are to me but all I can say is, that my world is full of smiles whenever I think of you." — Anonymous
"Love is a force more formidable than any other. It is invisible...it cannot be seen or measured, yet it is powerful enough to transform you in a moment, and offer you more joy than any material possession could." — Barbara De Angelis
"When I saw you, I was afraid to meet you. When I met you, I was afraid to kiss you. When I kissed you, I was afraid to love you. Now that I love you I am afraid to lose you." — Unknown author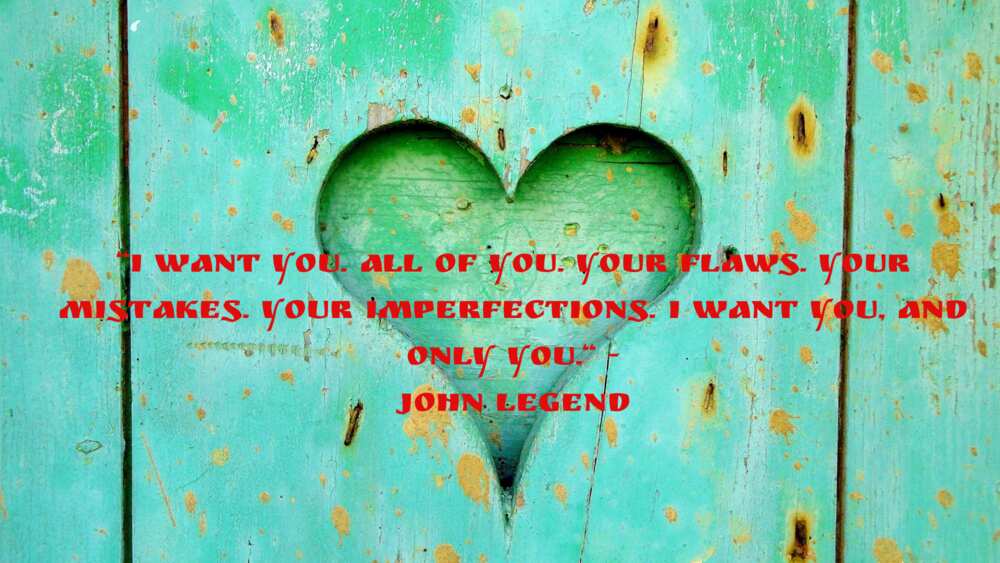 "I knew, from the first time I saw you, that you were the only one, the chosen one, the only girl that could ever fulfill my dreams and complete my life. I love you since that day." — Anonymous
"Imagining a life without you is something that is impossible, you make me complete and I want you to know you mean everything to me." — Unknown author
"If you live to be a hundred, I want to live to be a hundred minus one day so I never have to live without you." — A. A. Milne
"We don't love qualities, we love persons; sometimes by reason of their defects as well as of their qualities." — Jacques Maritain
"You mean so much to me. You are the last thing I want to lose. You are the thought I wake up to, and the thought I fall asleep to. You make me so happy and cared for. I want to keep you in my life as long as possible. I love you!" — Anonymous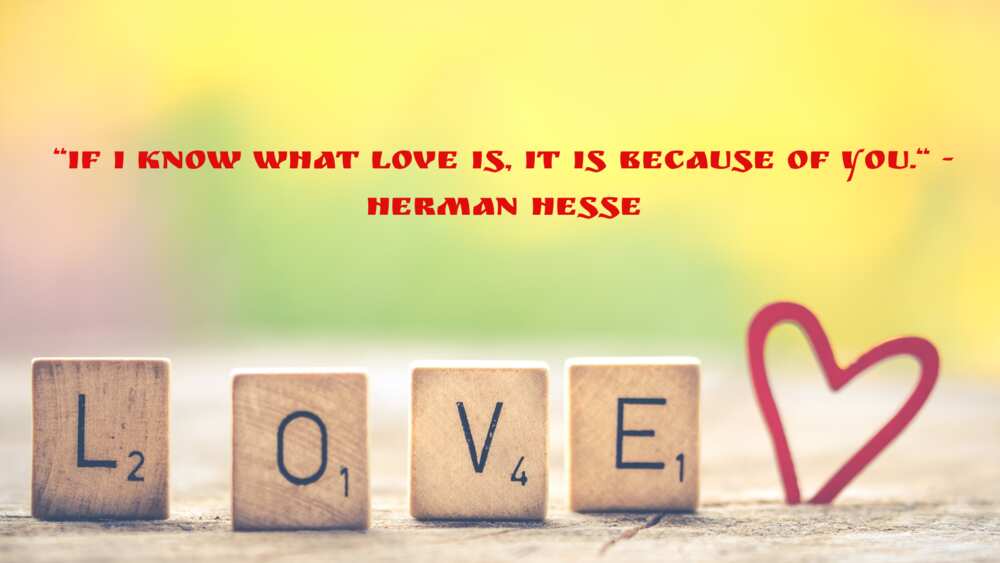 "She wanted something else, something different, something more. passion and romance, perhaps, or maybe quiet conversations in candlelit rooms, or perhaps something as simple as not being second." — Nicholas Sparks
"My eyes hurt from crying, my heart hurts from trying. I look so tired & worn out because inside I'm dying. I miss you, I need you, but I'm better off without you. Days will have to drag on longer, but eventually I will stop thinking about you. I wish I knew. I feel broken & unwanted, like it was easy for you to let me go. I trusted you with everything, I let my feelings show. Someday I hope I can look back at this & say I was strong. But only I know I'm not…" — Mahmoud El Hallab
"Just give me a comfortable couch, a dog, a good book, and a woman. Then if you can get the dog to go somewhere and read the book, I might have a little fun." — Groucho Marx
"I need you. Because you make me laugh more than anyone else, and I am the best ME when I am with You. And when you're gone, nothing feels right until you return." — Unknown author
"I didn't plan on falling in love with you, and I doubt if you planned on falling in love with me. But once we met, it was clear that neither of us could control what was happening to us" — Nicholas Sparks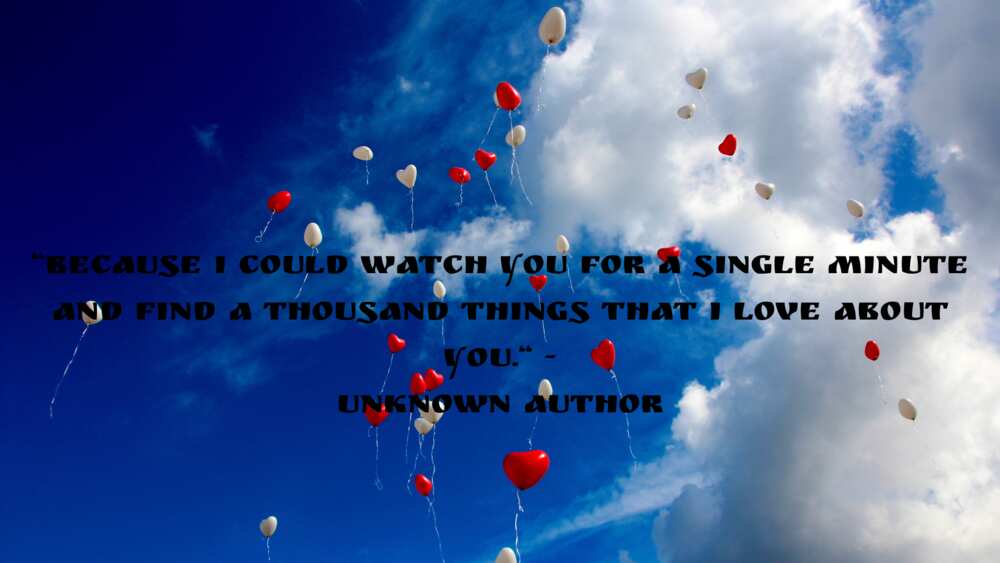 "If I could have just one wish, I would wish to wake up every day to the sound of your breath on my neck, the warmth of your lips on my cheek, the touch of your fingers on my skin, and the feel of your heart beating with mine… Knowing that I could never find that feeling with anyone other than you." – Courtney Kuchta
"I would like to live in a place where here is only you and me, because when we are together I feel I don't need anything else to be happy and alive." — Unknown author
"I have a crush on your mind. I fell for your personality. Your looks are just a bonus." — Nicholas Sparks
"When you realize you want to spend the rest of your life with somebody, you want the rest of your life to start as soon as possible." – Harry Burns
"I wish I could turn back the clock. I'd find you sooner and love you longer." – Unknown author
"This is from my heart, to thank you for everything you have done for me, for all the times I forgot to tell you how I feel about you and how happy I am that you are in my life."— Anonymous
"Sometimes I wish I had never met you, because then I could go to sleep at night not knowing there was someone like you out there." – Gus Van Sant
"I miss your voice because it is a symphony; your scent because it is a treasure; your smile because it is a jewel; your hug because it is a masterpiece; and your kiss because it is a miracle." — Matshona Dhliwayo
"I don't know where I stand with you and I don't know what I mean to you. All I know is every time I think of you, I want to be with you." – Anonymous
"I am so totally, completely, overwhelmingly, eye-popping, life-changing, spectacularly, passionately, deliriously in love with you." – Anonymous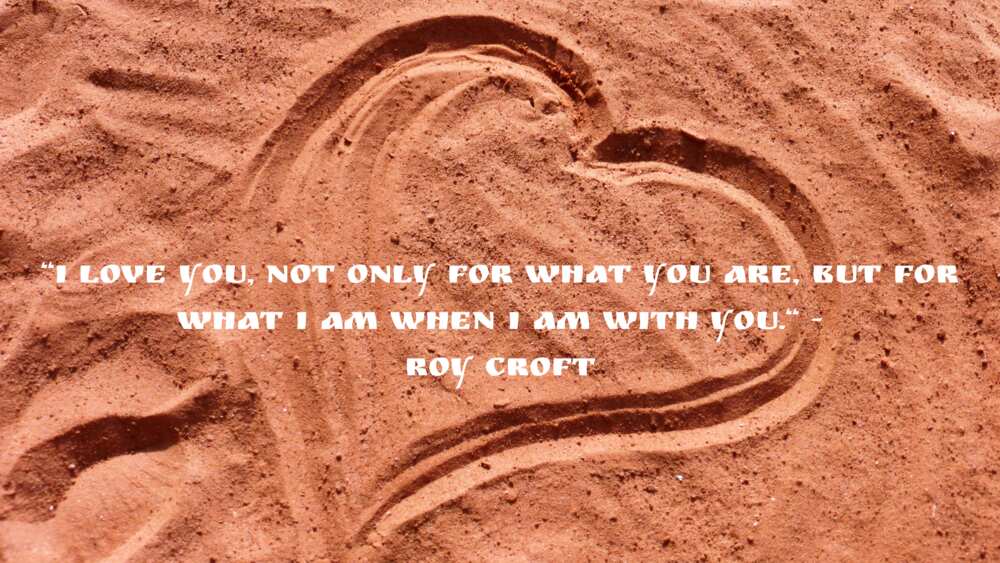 "Give your all to me, I'll give my all to you. You're my end and my beginning." – John Legend
"In my element, I need you. At my best, I crave you. With all my soul I respect you. With every breath I take, I love you." – Toni Payne
"My world is a million shattered pieces put together, glued by my tears, where each piece is nothing but a reflection of you." — Sanhita Baruah
"The central idea of love is not even a relationship commitment, the first thing is a personal commitment to be the best version of yourself with or without that person that you're with. You have to every single day — mind, body, and spirit — wake up with a commitment to be better." –Will Smith
"I`m selfish, impatient and a little insecure. I make mistakes, I am out of control and at times hard to handle. But if you can't handle me at my worst, then you sure as hell don't deserve me at my best." — Marilyn Monroe
"It's hard when you miss people. But you know if you miss them, that means you're lucky. It means you had someone special in your life, someone worth missing." — Nikki Schiefelbein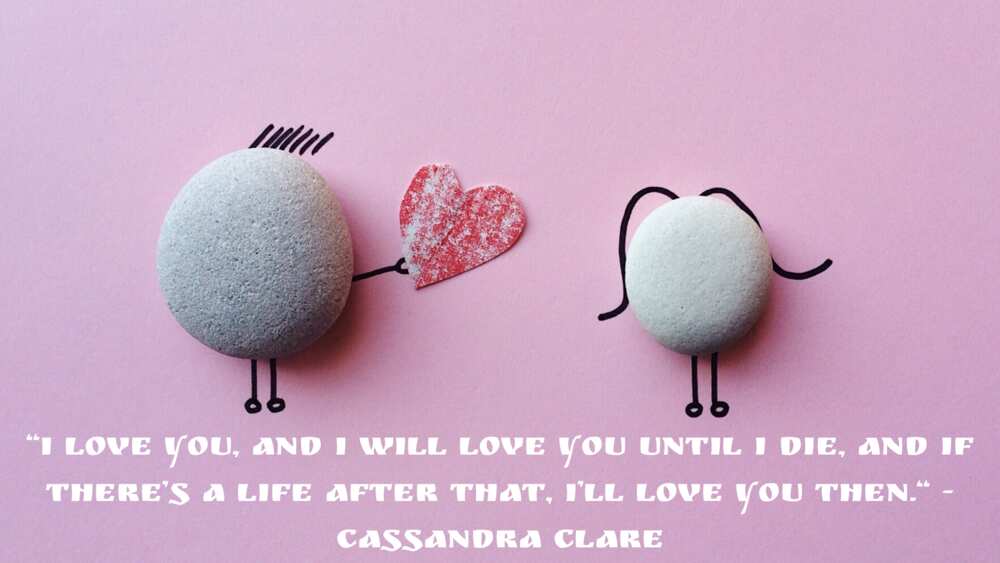 "And I'd choose you; in a hundred lifetimes, in a hundred worlds, in any version of realty, I'd find you and I'd choose you." – The Chaos of Stars
"You are my best friend, my human diary and my other half. You mean the world to me and I love you."– Unknown author
"It's a wonderful thing, as time goes by, to be with someone who looks into your face when you've gotten old, and still sees what you think you look like." – The Bachelor
"Maybe it's true that we don't know what we have until we lose it, but it's also true that we don't know what we're missing until we find it." — Anonymous
"Dance like nobody's watching; love like you've never been hurt. Sing like nobody's listening; live like it's heaven on earth." — Mark Twain
"If I could reach up and hold a star for every time you've made me smile, the entire evening sky would be in the palm of my hand." — Anonymous
"The ring of fire still burns around you and I, keeping our love hotter than a pepper sprout." — Johnny Cash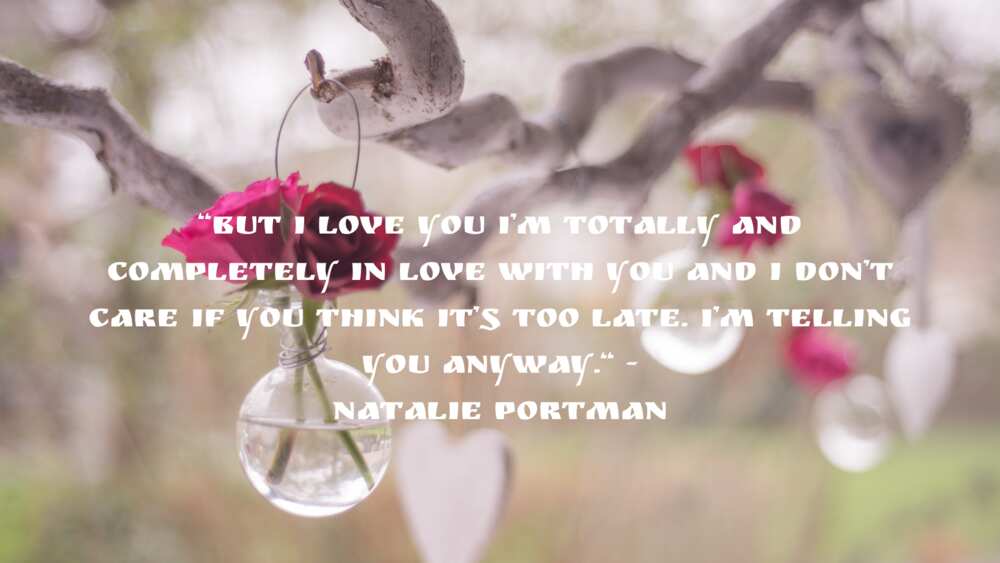 We hope that these cute love quotes will help you to add more romance to your relationship. You do not need to come up with complicated words, just use these quotes to express your love.
READ ALSO: Top 25 love quotes for him from the heart
Source: Legit.ng