Cute relationship quotes for her and him
Romantic relationships are a huge part of our life, and people treasure their significant others. Sometimes a beautiful quote can remind us of how much we appreciate this special person. Whenever we see some adorable and poetic relationship quotes, they make us think of our loved one and how beautiful our feelings are.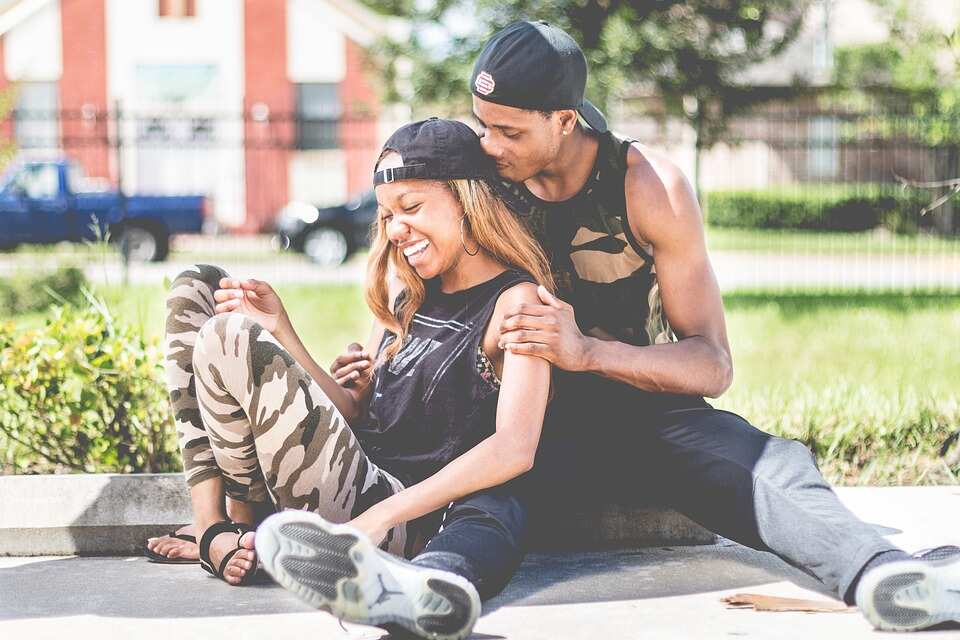 Some people might think that relationships quotes are cliche and cheesy. However, there are a lot of hopeless romantics who will smile when they read them. If you are one of such people, then there is a chance that those cute relationship goals quotes will melt your heart.
50 best relationship love quotes that will make you smile
These relationship goals quotes will connect with every person who has experienced the beautiful feeling of love. They will inspire you to value every moment with the person who is your entire world.
Relationship quotes for him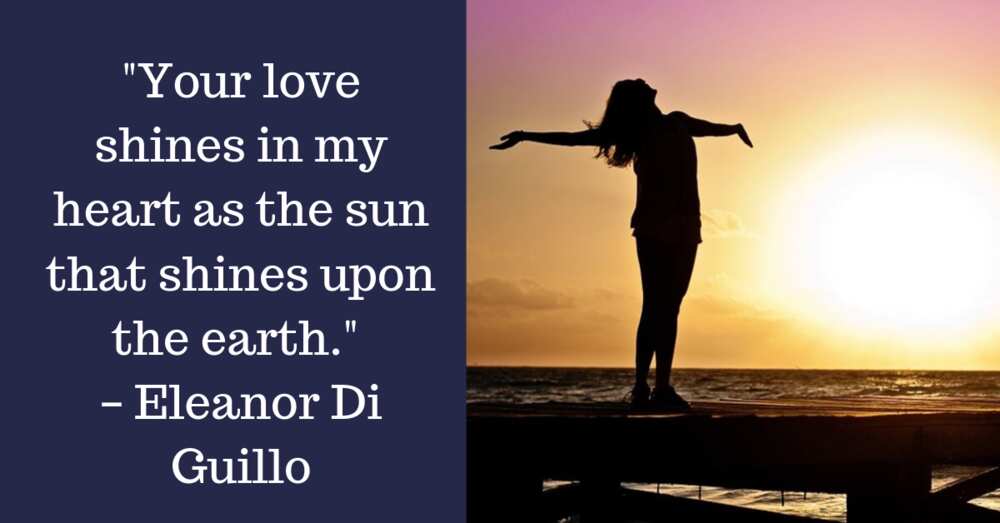 If you want to show your appreciation to your boyfriend or husband, you can send him one of those romantic lines. They are guaranteed to melt his heart.
"Your love shines in my heart as the sun that shines upon the earth." – Eleanor Di Guillo.
"Each day I love you more, today more than yesterday and less than tomorrow." – Rosemonde Gerard.
"My heart is and always will be yours." – Jane Austen.
"If I had to choose between breathing and loving you, I would use my last breath to tell you I love you." – DeAnna Anderson.
"For it was not into my ear you whispered, but into my heart. It was not my lips you kissed, but my soul." – Judy Garland.
"Loved you yesterday, love you still, always have, always will." – Elaine Davis.
"When I tell you I love you, I am not saying it out of habit; I am reminding you that you are my life." – Unknown.
"You are the last thought in my mind before I drift off to sleep, and the first thought when I wake up each morning." – Unknown.
"If I know what love is, it is because of you." – Hermann Hesse.
"I want to wake up at 2 am, roll over, see your face, and know that I'm right where I'm supposed to be." – Unknown.
Relationship quotes for her
Every woman who is head over feels wants to hear romantic words over and over again. Sending her these adorable declarations will solidify your bond and unite your hearts.
"I choose you. And I'll choose you over and over and over. Without pause, without a doubt, in a heartbeat. I'll keep choosing you. "– Unknown.
We are like a deck of cards; different colors and symbols but one cannot work without the whole set.
"If I had a flower for every time I thought of you, I could walk in my garden forever." – Unknown.
"I swear I couldn't love you more than I do right now, and yet I know I will tomorrow." – Leo Christopher.
"You can always feel safe in my arms. I'll never let you go." – Unknown.
"My relationship with you is not like rain, which comes and goes away. It's like air, sometimes silent, but always around you." – Unknown.
"I crown you the Queen of my heart." – Unknown.
"I promise to handle your heart with care and treasure it with love." – Unknown.
"You are the one for me. I have never been so sure of anything in all my life." – Unknown.
"I'll catch every star for you. I'll cross every ocean for you. I will die for you." – Unknown.
New relationship quotes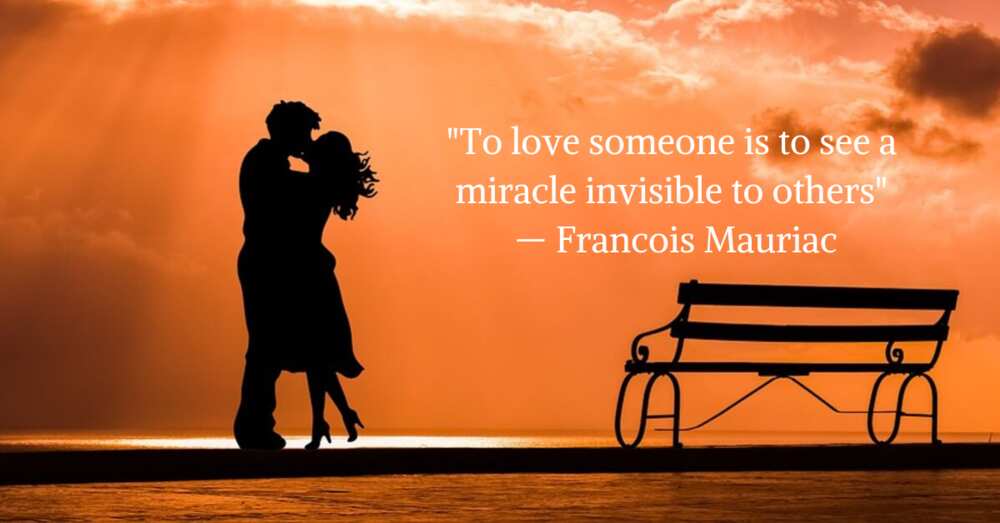 When new feelings blossom, you feel like it is a new and amazing chapter of your life.
"Always remember the three R's of new relationships: respect one another, revel in the wonder, and reach out with kindness every chance you get." – Unknown.
"What started out as attraction has blossomed into love. May we grow together now as we discover one another." – Unknown.
"Just so you know, I'm making the best memories of my life every time I go out with you." – Unknown.
"To love someone is to see a miracle invisible to others" — Francois Mauriac.
"Falling in love and having a relationship are two different things." – Keanu Reeves.
"For the two of us, home isn't a place. It is a person. And we are finally home." — Stephanie Perkins, "Anna and the French Kiss".
"It's not like in the movies. It's better because it's real." — Jenny Han, "To All the Boys I've Loved Before."
"It's not how long you've been with someone that matters, but rather the love you share in your heart." – Unknown.
"New month, new intentions, new goals, new love, new light, and new beginnings." – Unknown.
"I won't forget the first time that we saw one another. That was the unexpected start of you and me." – Unknown.
Cute relationship quotes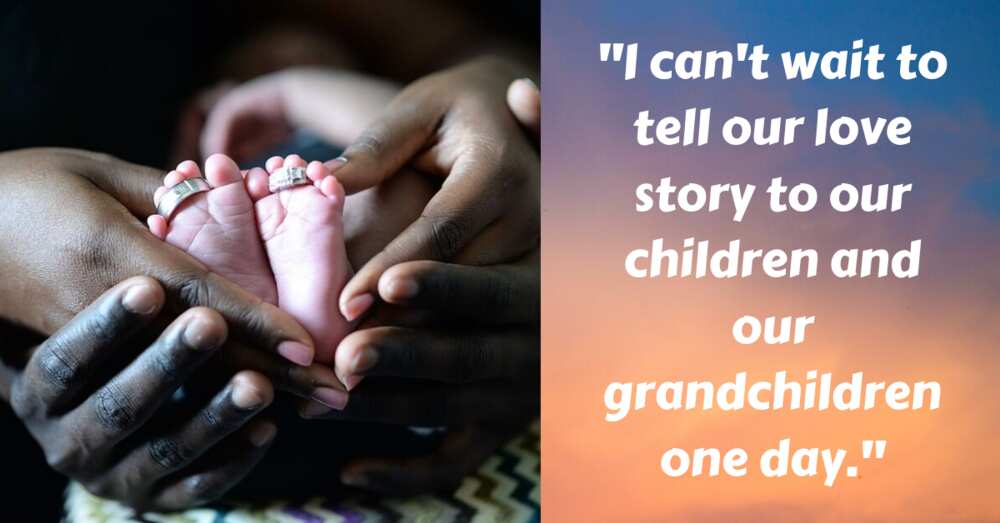 When you love someone, it is an unforgettable feeling that sweeps you off our feet. Everyone has their own definition of this phenomenon, and you can see what a relationship means to different people if you check out some of the popular love quotes.
"We are most alive when we're in love." – John Updike.
"The best thing to hold onto in life is each other." – Audrey Hepburn.
"There are lots of people who can call you by your name, but there is only one person who can make it sound so special." – Kim Jarabelo.
"I am a better person because of you. You help me be the best person that I can be, and you always encourage me to reach my full potential." – Unknown.
"I can't wait to tell our love story to our children and our grandchildren one day." – Unknown.
"Do what you did at the beginning of a relationship and there won't be an end." – Unknown.
"If the feelings are mutual, the effort will be equal." – Unknown.
"Being deeply moved by someone gives you strength while loving someone deeply gives you courage." – Lao Tzu.
"If you ever asked me the number of times you have crossed my mind, I would say only once. You know why? You came and never left." – Unknown.
"The best and most beautiful things in the world cannot be seen nor even touched, but just felt in the heart." – Anne Sullivan.
"For beautiful eyes, look for the good in others; for beautiful lips, speak only words of kindness; and for poise, walk with the knowledge that you are never alone." — Audrey Hepburn.
"Love is when you meet someone who tells you something new about yourself." — Andre Breton.
"Love takes off masks that we fear we cannot live without and know we cannot live within." — James Baldwin.
"If you live to be 100, I hope I live to be 100 minus one day, so I never have to live without you." – A. A. Milne, "The Complete Tales of Winnie the Pooh".
"There is no more lovely, friendly and charming relationship, communion, or company than a good marriage." — Martin Luther.
"If you want a love message to be heard, it has got to be sent out. To keep a lamp burning, we have to keep putting oil in it." — Mother Teresa.
"A strong working relationship requires every participant to be on the same page." — Dinesh Paliwal.
"A great relationship is about two things. First, appreciating the similarities, and second, respecting the differences." — Unknown.
"It takes two to tango like it takes both sides to keep a healthy relationship going, without both sides involved in trying to work things out, then it's a dead end." — Unknown.
"The best feeling in life is when your best friend is your lover; you can't just stop keep falling for the person over and over again." — Unknown.
Funny relationship quotes
Romance is not all about being serious and dramatic. Like any other thing, it can be joked and laughed at, and there are some funny and hilarious sayings about the essence of romantic relationships.
"Before you marry a person, you should first make them use a computer with slow internet service to see who they really are." – Will Ferrell.
"I love you more than coffee, but please don't make me prove it." – Elizabeth Evans.
"All you need is love. But a little chocolate now and then doesn't hurt." – Charles M. Schulz.
"True love is singing karaoke 'Under Pressure' and letting the other person sing the Freddie Mercury part." – Mindy Kaling.
"I love being married. It's so great to find one special person you want to annoy for the rest of your life." — Rita Rudner.
"Love is a lot like a backache: it doesn't show up on X-rays, but you know it's there." — George Burns.
"A relationship is like a house. When a lightbulb burns out you do not go and buy a new house, you fix the light bulb" — Unknown.
"Love is a fire. But whether it is going to warm your heart or burn down your house, you can never tell." — Joan Crawford.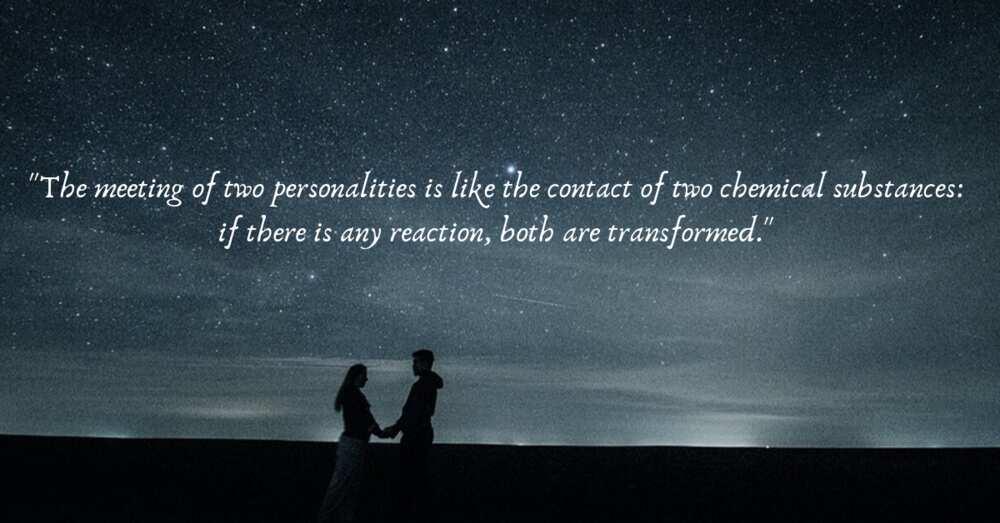 There are so many sweet relationship quotes that show us what romantic feelings really are and remind us of someone special. Enjoy these quotes with your loved one today.
Source: Legit.ng