Sergio Aguero bio: age, height, salary, wife, tattoos
The story of Sergio Aguero, one of the best strikers in modern football, is impressive. The famous player had his ups and downs before he paved his way up to the top. Nowadays, he inspires a lot of children who want to become footballers and play for world-class teams.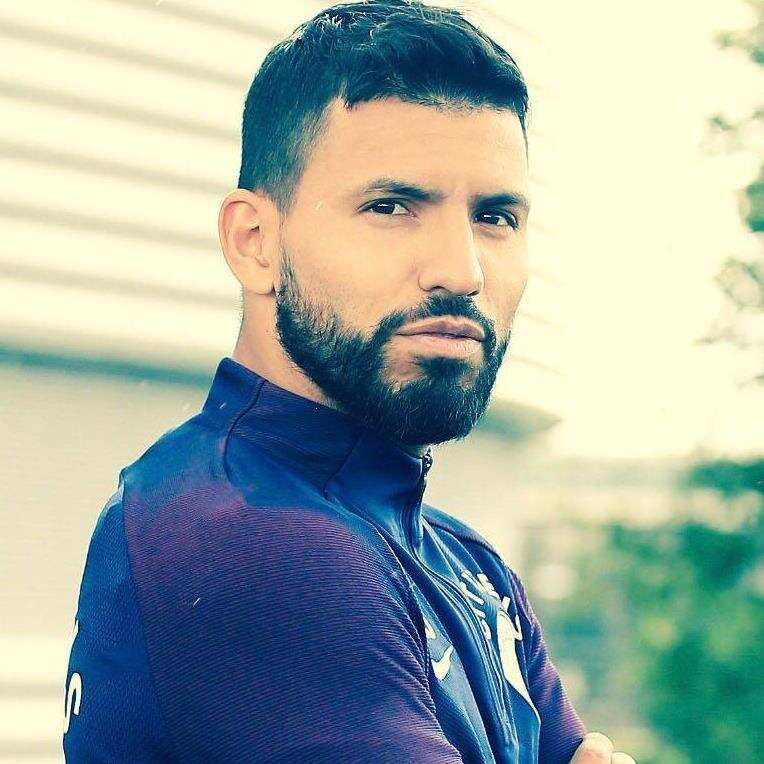 Ever since young years, the regular boy from Argentine named Sergio wished he could one day play football and score a lot of goals. He never failed to work hard for his dreams, and today he is one of the most recognised and acknowledged players in the entire world — not to mention that one of his closest friends is none other than the world's top footballer and multiple Ballon d'Or winner Lionel Messi!
Sergio Aguero profile summary
Name: Sergio Leonel Aguero
Nickname: Kun
Birthday: June 2, 1988
Age: 31 years old
Height: 5 feet 8 inches (1.73 m)
Nationality: Argentine
Hair: Black (dyed grey)
Eyes: Dark brown
Siblings: Yesica, Gabriela, Maira, Daiana, Gaston, and Mauricio de Castillo
Wife: Giannina Maradona (m. 2008 - d. 2012)
Children: 1 (son Benjamin with ex-wife Giannina Maradona)
Sergio Aguero biography: who is he?
The world-class striker Sergio Aguero was born in a regular family in Buenos Aires, Argentina. His parents were struggling financially before and after he was born, and the fact that they were very young themselves was not helping their situation. The future star's father, Leonel, worked as a taxi driver, while his mother Adriana took care of the home. She had a complicated pregnancy and could not find a suitable hospital for a long time because her husband was unable to pay the bill, but thankfully the parents found it in time for baby Sergio to come.
Because of the hassle with documents, many of which were lost in the Buenos Aires flood, Sergio officially got his mother's name, Aguero. He did not get his father's family name Del Castillo, which his siblings had in their documents. Sergio has a total of six siblings, whose names are Yesica, Gabriela, Maira, Daiana, Gaston, and Mauricio. Both his brothers are also footballers, and they play in Argentina.
As a young boy, Sergio got his famous nickname "Kun" because of his favourite Japanese animated series "Wanpaku Amukashi Kumu Kumu". He liked the character Kum-Kum from this cartoon, and his grandparents started lovingly calling him Kun. This nickname stuck with Sergio for so long, that eventually, he decided to have the name "Kun Aguero" on his shirt. The player liked how "Kun" sounded because it was unique: not every day the athlete was nicknamed after a cartoon character.
The father of Sergio loved playing football when he was younger but never built a career in this sport. Still, he was very passionate about the game, and this influenced his young son, who inherited his love for football. Very quickly, Leonel started training his little boy to become a good player. Originally, the family could not afford to enrol Kun into the academy, which is why his father took the matter into his own hands.
Thankfully for the boy, his home country's football infrastructure was strong, and at the age of nine, he got a brilliant opportunity to start his career at Club Atletico Independiente. He played for the junior division of the team for many years, crafting his talent and gaining experience. Finally, he got an amazing opportunity to debut for the team at the age of 15 and became the youngest player to ever start in the division, breaking Diego Maradona's record. The game was against Club Atletico San Lorenzo de Almagro, and Sergio came out as a substitute in the second half of the match. The press praised him very highly.
A few months later, he scored his debut goal for the first team. In 2004 he broke another record, becoming the youngest Argentine player to appear in "Copa Libertadores" tournament. His fantastic performance caused the Under-20 national team management to invite him to join the squad. With Sergio as a forward, Argentina won the FIFA Under-20 World Cup. Since then, a lot of European clubs went on a hunt for the talented striker.
Sergio played for Independiente for three years, appearing 54 times and scoring 23 goals. The talent and drive of the young footballer attracted the scouts of Atletico Madrid, and in 2006 he moved to the sunny Spanish capital. He did not acquire success immediately in Atletico, as he only managed to score seven goals in his first season. Besides, he also got involved in a controversial moment when he used his hand to score a goal. However, soon he recovered from an uncertain season and started playing like the fans expected him to.
In 2007-2008 La Liga season, Kun became one of the most productive players of his team: he scored 19 goals in the league games and became the third best goalscorer. He got the title of "Man of the Match" in a game against Barcelona. Sergio's goals helped the team to qualify for UEFA Champions League from the fourth place, making it the first time in the last ten years that they got a spot in this prestigious tournament.
2008-2009 football season was no less successful for our hero, as he managed to become one of the Pichichi trophy contenders and give his competitors a run for their money. He played a significant role in the qualification of his team for next year's UEFA Champions League. He also played a significant role next season by helping Atletico Madrid to get through to the finals of Copa del Rey and UEFA Europa League.
In 2010, Atletico Madrid won one of the most prestigious club trophies — UEFA Super Cup. They defeated the intimidating Internazionale in the big final. The club appreciated the efforts of Sergio, and he was offered an extended contract for four years and a title of vice-captain. That was the club's way to thank him for everything that he has done for its development and competitive spirit. He showed his gratitude to the club next season by getting on the peak of his form and scoring 20 goals in the league. He managed to score seven goals in a row in seven consecutive games, and pull off a hat-trick against Mallorca for the first time in his career.
Even though Sergio was satisfied with his Atletico Madrid career, deep inside he wanted a new challenge. In 2011, he made an announcement that he was going to leave the club. That left the fans disappointed, and they even booed him in his last game for Atletico. Aguero's statistics for the Madrid team included five years, 175 appearances and 74 goals. That summer, Sergio started a new page of his professional football career by moving to the English Premier League team Manchester City.
Sergio debuted for Manchester in a game against Swansea, and the Citizens won that game. The first season in England was not too fortunate for the Argentine player because of his frequent injuries, but he appeared on pitch occasionally and contributed to the team's success. In the League Cup, Aguero played for the first time against Arsenal and scored the only goal in that game. He helped Manchester City to reach the 1/16 stage in 2011-2012 season's Europa League and consequently was named "Player of the Year" for his team.
Another fruitful season caused a lot of interest from top European teams, namely Real Madrid, but Sergio stayed faithful to the Sky Blues. With him in the squad, Manchester City debuted in the knockout stage of the UEFA Champions League in 2013 and won the League Cup in 2014. That was also the year when Kun signed the new contract with his team, and the Football Supporters' Federation named him as their "Player of the Year" choice. He also got the "Player of the Month" title in Premier League in November 2014.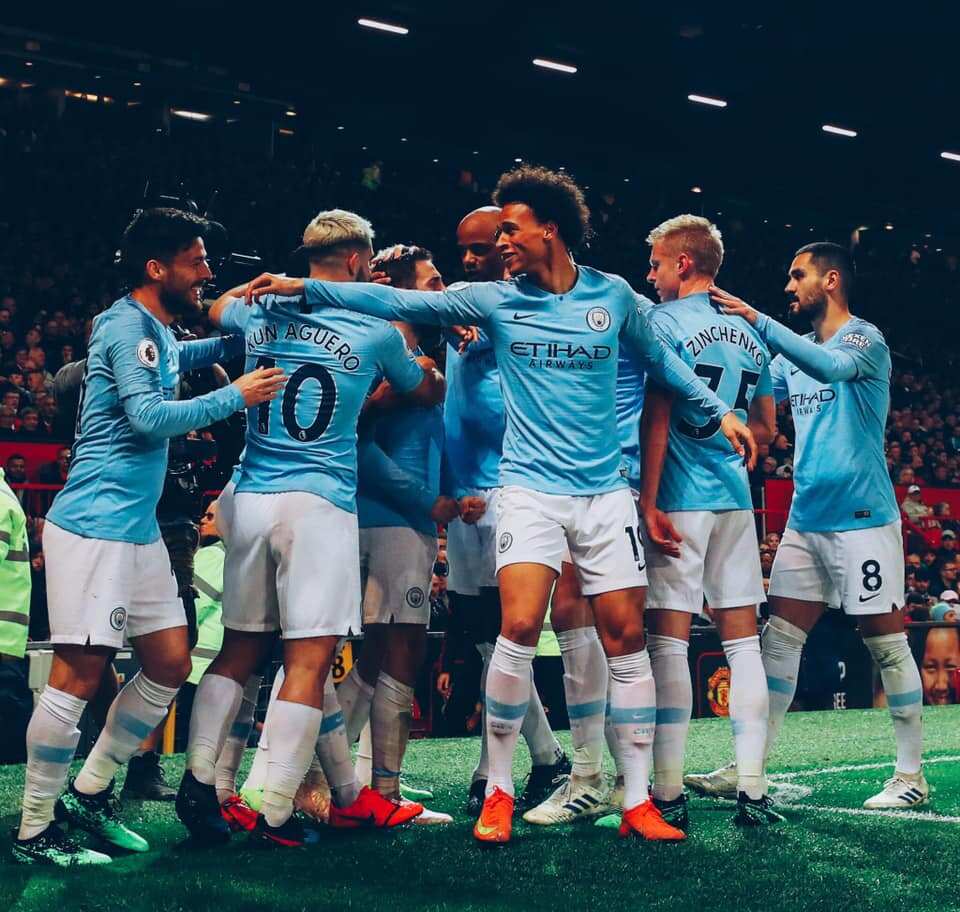 Aguero scored 26 league goals in the 2014-2015 season and won the highest award for goalscorers, the Golden Boot. Naturally, his next season became no less successful: he scored 24 times, and his ratio of minute-to-goal became the best he has ever had.
In the next years, Aguero kept scoring for Manchester City and making large contributions to winning trophies for the team. Manchester City won the English Premier League twice in a row in 2018 and 2019. Kun's Sky Blues career is remembered by eight years, 239 appearances and 164 goals - and he is not done yet.
Sergio is a very productive player in his national team as well — he was a part of Argentina NT for 89 times and scored 39 goals. He took part in three World Cups and three Copa America tournaments. In 2018, he scored at the World Cup twice, and these were his debut goals in this competition, even though his team was knocked out by France in the round of 16. In recent years, Argentina has not won any prestigious trophies, but Aguero, Messi and other footballers are motivated to work hard and finally achieve their international honour.
Aguero is widely considered one of the best forwards in the world. He is also good at passing and vision of the game, as he provides other players with assists quite often. The style of Aguero was heavily influenced by Brazilian footballers Ronaldo and Ronaldinho, and the legends who are also his relative and friend respectively: Diego Maradona and Lionel Messi.
The interesting fact about Aguero's friendship with Barcelona captain is that they used to be roommates in the national team for a long time, ever since they first started playing for the youth squad around 2005. Nowadays, they consider each other to be like brothers, and Messi has written a foreword for Aguero's autobiography "Born to Rise". Kun and Lionel are one of the most famous friendships in modern football, and the proof that distance cannot separate the real connection between people.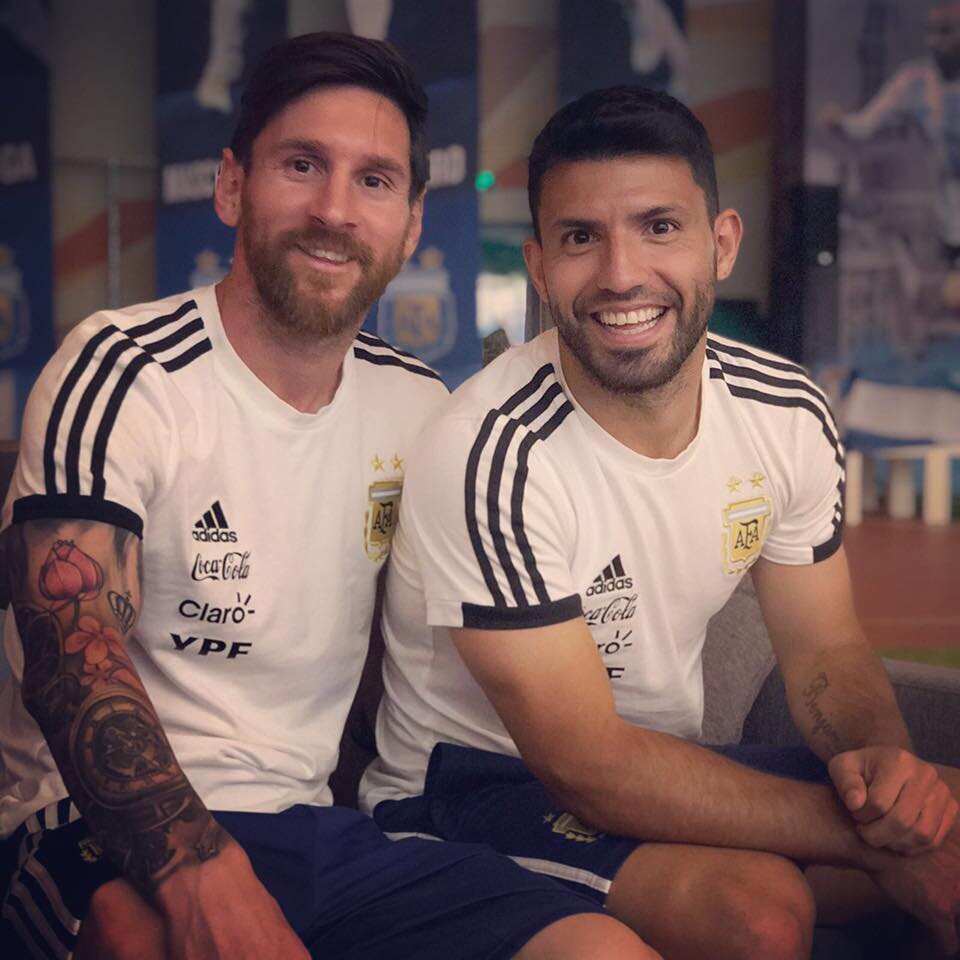 How old is Sergio Aguero?
For those who are wondering about Sergio Aguero age, the athlete was born on June 2, 1988. Today, he is 31 years old, which is an experienced age for a professional footballer.
Sergio Aguero height
The fans of Sergio are wondering how tall their football idol is. The player is 5 feet 8 inches, or 1.73 m tall. It is an average height for a footballer.
READ ALSO: Highest paid cup in football
Sergio Aguero salary
The website totalsportek.com reports that Sergio Aguero Manchester City salary is £250,000 per week, which makes £13 million per year. He has a contract signed until 2020, and he will either renew it with Manchester City or search for a new club.
Sergio Aguero injury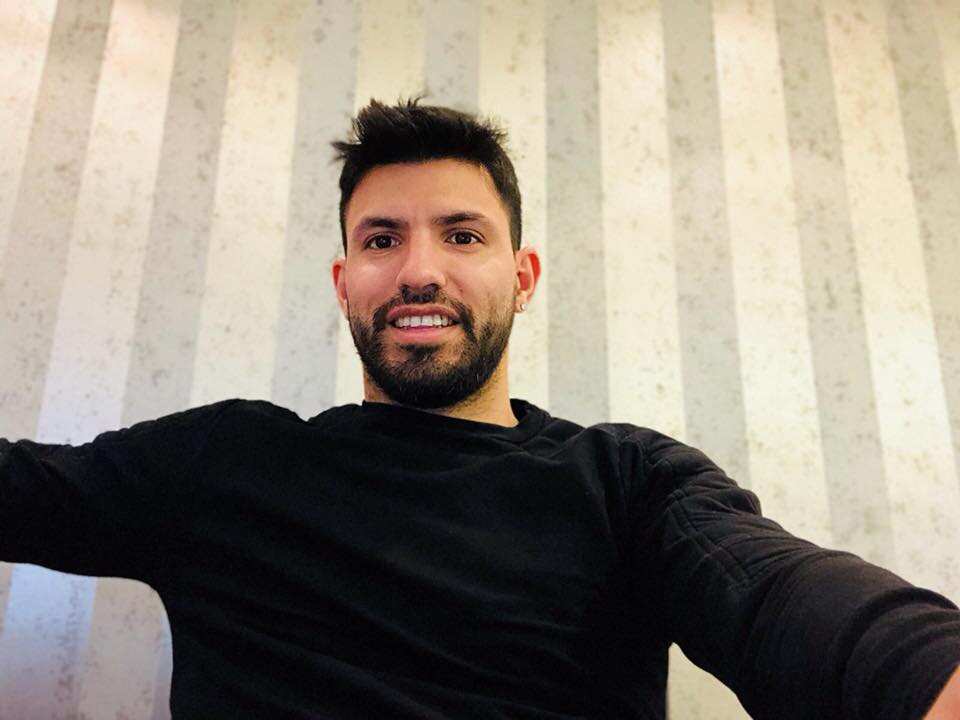 Like every footballer, Sergio sometimes gets injured in his matches and training. His recent injury was a thigh problem in March 2019, due to which he missed two games. However, sometimes, he got knee and groin injuries that ruled him out for a longer time.
There was a time when the player got injured outside football. In 2017/2018 season, Aguero fractured his rib in the unfortunate car crash in Amsterdam. His taxi hit the lamp-post on the way to the airport. It was his day off, and he was coming back from the concert. Thankfully, a fractured rib was the worst thing that happened to the star player, and he managed to avoid more severe wounds. His coach Pep Guardiola understood the situation, saying that he was not driving the car and the most important thing was that he was all right. Aguero recovered quickly, only missing two games of his team and coming back in about half a month.
Sergio Aguero tattoos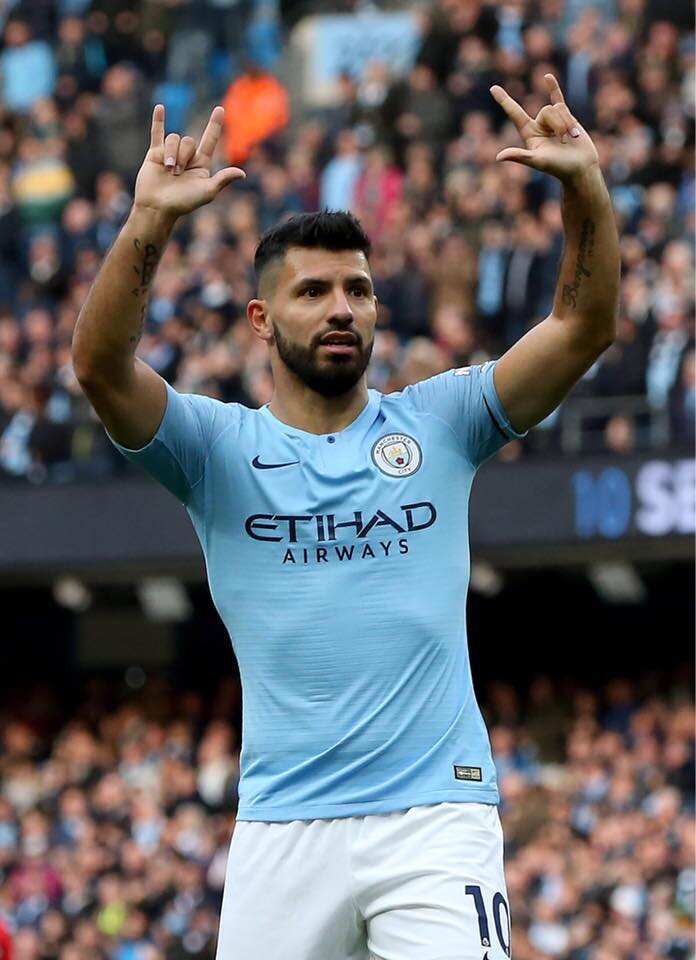 The footballer has a few tattoos, which reflect his personality and interests. On his right arm, he has an inscription written in a fictional language Tengwar from J. R. R. Tolkien's "The Lord of the Rings" novel. The sign transliterates to "Kun Aguero". Another tattoo that the player has is his son's name and birth date on his left arm, which indicates how important family is to him.
Sergio Aguero wife
Currently, Sergio Aguero is not married. For four years, from 2008 to 2012, he was in a union with Giannina Maradona, who is the daughter of Argentina football legend Diego Maradona. They met in 2008, and romance quickly blossomed between them. Giannina gave birth to Sergio's only son, Benjamin Aguero Maradona, in 2009. However, things did not work out between the two, and they broke up in 2012. The child stayed with Giannina, but Sergio spends his free time from football with him.
Many fans are wondering about Sergio Aguero girlfriend. Since he separated from Giannina, he has been linked to a few women, such as pop musician Karina Tejeda, who he broke up with in 2017. However, today Sergio is known as one of the most eligible bachelors in modern football, as he is not in a hurry to put a ring on his finger again.
Recently, the news broke out about the newest flame of Sergio, whose name is Sofia Calzetti. She is a model and the first confirmed girlfriend of Kun since he broke up with Karina Tejeda. The two celebrated Manchester City star's birthday together in a Peaky Blinders-themed setting.
It is a matter of time when Aguero decides to put an end to the life of a bachelor and settle down with someone. He puts all his energy into football and his son Benjamin — whose godfather, by the way, is Aguero's close friend Lionel Messi. With such a star-studded family, there will be no surprise if Benjamin also pursues a career in football. For now, the young boy is discovering the world and determining what he is interested in the most.
Sergio Aguero's football career is mind-blowing, and he makes Argentina proud regularly. Hopefully, he will win more trophies and personal honours.
READ ALSO: Top 10 richest footballers in the world
Source: Legit.ng